By Julian Murdoch
Last week marked the launch of ETF Securities' Physical Precious Metal Basket of Shares (NYSEARCA:GLTR), a fund created to allow investors to obtain exposure to four precious metals in one go. To do this, 0.03 ounces of gold, 1.1 ounces of silver, 0.004 ounces of platinum and 0.006 ounces of palladium will back each share of the fund.
Given how stellar all the precious metals have performed as of late, the new fund sounds like a great deal. But is it?
Well, to understand that, first we must look at the metals themselves.
These days, the headlines analyze each up and down move in gold in excruciating detail — and for good reason: Gold is up 25 percent in the past 12 months. But it's not the only precious metal that is enjoying fabulous returns: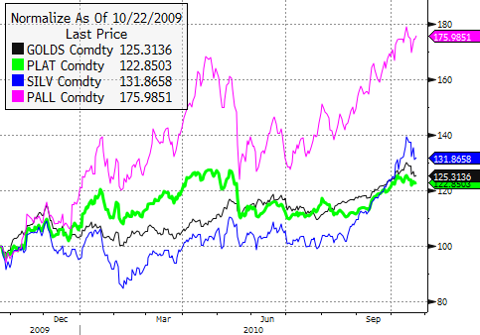 (Click to enlarge)
Platinum is the worst performer of the group, but even still, it's up almost 23 percent year-over-year. Silver has risen 31 percent, while palladium has jumped an astonishing 75 percent since this time last year.
Platinum
Let's look at platinum first. Platinum futures closed at $1,673 on Friday, up 11.5 percent since the beginning of the year, but not quite returning to their $1,731 highs, struck back on April 22.
Platinum prices are highly influenced by gold's moves, but increases in car sales, as well as general recoveries in both the stock market and jewelry sales, have helped rebuild demand for the metal.
On the supply side, a couple of strikes in South Africa have helped support prices upward. One strike at Northam Platinum (NOPLF.PK) had cut production to the tune of 1,000 ounces of metals a day (platinum, palladium, rhodium and gold) for 43 days. While the strike has since ended, the company expects it will take weeks to get the mine back to producing at full capacity. (Granted, Northam Platinum isn't anywhere near as large as other producers in the industry, but when the world's total annual supply of platinum is just 6 million ounces, any supply disruption will be felt.)
But increased supply could help pressure prices downward, too. For example, top platinum producer Anglo Platinum (OTCPK:AGPPY) remains on target to meet its production target of 2.5 million ounces this year. The company, a unit of Anglo American, expanded its production in the third quarter by 11 percent, in an attempt to take advantage of platinum's increasing prices.
Anglo Platium isn't the only one bumping production in response to rising prices; a number of South African mines are planning on increasing production in the next few years. This includes Anooraq Resources (ANO), a junior miner in the country, which expects to double production at one mine, and already has plans to start a new mine forecasted to produce 300,000-400,000 ounces each year. Anooraq already owns the third-largest platinum reserve in South Africa, most of which is, at this point, largely untouched.
Silver
On Friday, silver closed at $23.290 — almost halfway back to its all-time high of $50/oz, hit back in 1980 when the Hunt Brothers attempted to corner the market. This time, however, silver prices are buoyed by a combination of factors, including gold prices, industrial demand and demand from investors.
In 2009, silver demand came mainly from jewelry demand (17.6 percent) and industrial demand (39.6 percent). According to the Silver Institute, investment demand for the metal (coins, bars, ETFs and so on) had grown by leaps and bounds last year, increasing over 180 percent from 2008 to 2009—but it still only made up 15 percent of total demand.
Still, silver investment continues to grow. As of Oct. 22, iShares Silver Trust (NYSEARCA:SLV) held 10,224 tonnes of silver in its vaults, whereas one month earlier, the trust had held 9,613.02 tonnes. That's a 6 percent increase in just 30 days.
As we've said so many times on HAI, silver is in a unique position compared to gold, because its demand is fueled not just by safe-haven paranoia, but also by industrial needs — so as the economy recovers, silver prices should maintain their rise.
And now that the investment community is increasingly interested in silver, that could also help support prices. An article from the Financial Times recently noted:
Hedge funds that are bullish about gold have begun taking positions in the silver market, aiming to profit from its higher volatility.
Palladium

Palladium is platinum's relatively cheaper sibling, and as such is used primarily in automotive and industrial uses. On Friday it closed at $598/oz, but many familiar with the metal are expecting prices to continue to rise in the coming months due to supply constraints — primarily from Russia.
In 2009, Russia supplied about around 42 percent of global palladium production — roughly 2.7 million ounces — some of which came from stockpiles the country had built up back when palladium was not yet in such high demand. But since Russian stockpile levels are state secrets, the question now is: How much of that stockpile remains?
Norilsk Nickel, itself responsible for around 39 percent of the world's palladium, doesn't think much remains of the Russian stockpile. "This year will be the last year when any substantial quantity from this stock has any chance to enter the market," said Norilsk Nickel's deputy general director for sales and distribution Viktor Sprogis in an article by Reuters.
Do You Need a Little GLTR?
Back to GLTR. So is it worth the metal it's based on?
First off, you need to look at why you want to invest in these metals. After all, the four metals are fairly well correlated, so holding all four won't give you much in diversification:
| | | | | | |
| --- | --- | --- | --- | --- | --- |
| Security | PLATINUM | SILVER | GOLD | PALLADIUM | S&P 500 |
| PLATINUM | 1 | 0.754 | 0.638 | 0.803 | 0.536 |
| SILVER | 0.754 | 1 | 0.8 | 0.688 | 0.477 |
| GOLD | 0.638 | 0.8 | 1 | 0.52 | 0.23 |
| PALLADIUM | 0.803 | 0.688 | 0.52 | 1 | 0.588 |
| S&P 500 | 0.536 | 0.477 | 0.23 | 0.588 | 1 |
Correlation of daily spot returns over 12 months, ending Oct. 22, 2010
Many investors choose to invest in silver, platinum and palladium because they believe these metals are undervalued compared to gold, and they want to play off that relationship. But by tossing gold into the basket, large gains (or losses) in the other metals may be tempered by even the smallest movements in the gold behemoth.
That's not even counting the fact that ounce for ounce, there isn't nearly as much platinum or palladium in the basket — meaning GLTR doesn't exactly offer much in the way of exposure to these metals, comparatively.
Besides, many silver, platinum and palladium investors want to work these metals' volatility, hoping to buy low and sell high on any given transaction. But going with a basket of metals just doesn't allow you to capitalize on the metals' underlying movements in the same way as playing the individual metals could.
Now, if you're looking to buy all four metals just to have them, then this may be an ideal product. But if you're driven by other motivations — for example, you think palladium still has a way to go before topping — then you may be better served by purchasing each metal individually, whether in physical bullion or via a physically backed ETF, like SIVR, PPLT or PALL.
But one thing all metals investors should keep their eyes on is how large GLTR grows. Each 50,000-share creation unit of GLTR is backed by 1,500 ounces of gold, 55,000 ounces of silver, 200 ounces of platinum and 300 ounces of palladium. While as of now, those amounts comprise just a small part of demand for each of the underlying metals, should the fund take off, it could theoretically become a much larger demand driver — and even influence prices down the road.
Disclosure: No positions