Ensco (NYSE:ESV) is one of the most attractive off-shore drilling companies due to its strong fleet of 77 rigs - including both ultra-deepwater and shallow-water units. The offshore drilling sector has been under pressure due to concerns about day rates - as a result, these stocks have fallen substantially. Ensco has been on an upward trend since the start of May. However, the stock is still down over 5% year-to-date. Our regular readers know that we have a bullish stance on the offshore drilling sector and believe this pull-back allows the believers of the sector to add to their positions. We believe Ensco is one of the few companies in this sector that are best-positioned to exploit the growth over the next few years.
Increasing Rigs Fleet
Recently, there have been fears about a slowdown in the sector. However, Ensco has remained focused on its long-established strategy of upgrading and expanding the size of its fleet. The company is the second largest off-shore driller with a current order backlog of more than $10 billion. This order backlog ensures a consistent and increased revenue stream for the company and has also enabled it to report solid growth in net margins.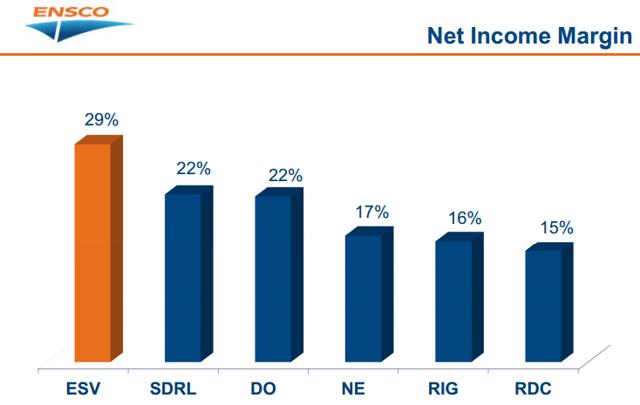 Source: Investor Presentation, June 2014
Further, Ensco ordered several new additions to its fleet which will be delivered by the third quarter of 2015. The company has also followed its standardized design format in the upcoming fleet, due to which, it achieved the second newest ultra-deepwater fleet among its competitors. The new additions to the fleet are more efficient toward production and should get comparably better daily rates with a significant cost saving advantage. Moreover, the majority of new asset base, with same standardized design, will also enable Ensco to further reduce its annual allocated maintenance costs which will increase profitability. The image below shows the average age of the fleet of Ensco and some of its competitors - Only Seadrill (NYSE:SDRL), which is our top-pick from the sector, has lower average age of the fleet than Ensco. Both of these companies have a considerable advantage with respect to the fleet age, compared to the other companies. Diamond Offshore (NYSE:DO) has the oldest fleet while Transocean (NYSE:RIG) and Noble Corporation (NYSE:NE) have relatively newer fleet. However, their average age is still more than double of Seadrill and Ensco's fleet.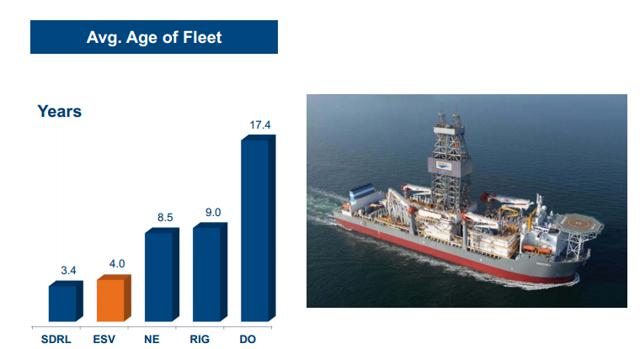 Source: Investor Presentation, June 2014
According to recent fleet updates, Ensco's newly-built ultra-deepwater drillship DS-8 has been given a five-year contract with French oil giant Total SA (NYSE:TOT) to drill offshore in Angola. Previously, the company secured a contract for ENSCO DS-7 in Angola, with a day rate of approximately $648,000. However, the new contract will start during the third quarter of 2015 at an initial day rate of $610,000 - beating analysts' estimates of $500,000. Moreover, the company is allowed to periodically increase the day rates during the contract period and will be receiving an average day rate of around $650,000 during the period - leaving the backlog to just around $1.2 billion.
Future Growth Prospects
Rising oil prices have helped offshore drillers fetch improved day rates for their future contracts. Due to which, these companies are constantly increasing and upgrading their drilling fleet to benefit from the upward market trend. However, analysts believe that the current market situation will prevail through 2015, which is not due to the weak fundamentals of the underlying companies, but due to the short-term oversupply in the market. Ensco is getting early delivery of its third of four enhanced Class-A rigs: ENSCO 122, built by Keppel FELS Ltd (KFELS). This rig has been scheduled for availability in the fourth quarter of 2016 and is contracted to NAM, a Dutch oil company, from late 2014 to late 2016.
The company has entered into an agreement with KFELS to construct premium jack-up rigs which will be operational by 2015-16. Further, Ensco partnered with KFELS to generate next generation rigs that have set industry benchmarks to become Super A-Class rigs in the market. The international deepwater markets are looking stronger and the company expects to benefit from a recovery in oil-directed drilling. Ensco also announced two strong jack-up contracts in North Sea and Southeast Asia for ENSCO 100 and ENSCO 108, which will be available by third quarter of 2018.
Conclusion
Despite fears about the day rates and the expected slowdown, activity remains strong in the sector. The recent contract wins by Ensco and Seadrill show that the demand for high-specification rigs is strong and the day rates are not being affected. Furthermore, the fundamentals of the business as well as sector are strong, and we believe Ensco is one of the best picks in the sector.
Additional Disclosure: This article is for educational purposes only and it should not be taken as an investment recommendation. Investing in stock markets involves a number of risks and readers/investors are encouraged to do their own due diligence and familiarize themselves with the risks involved.
Disclosure: The author has no positions in any stocks mentioned, and no plans to initiate any positions within the next 72 hours. The author wrote this article themselves, and it expresses their own opinions. The author is not receiving compensation for it (other than from Seeking Alpha). The author has no business relationship with any company whose stock is mentioned in this article.