The global solar industry witnessed several ups and downs in the recent past. First there was an oversupply problem back in 2011, thanks to Chinese solar manufacturers, then interventions from different governments improved demand-supply condition of the industry, and solar stocks posted growth in year 2013. Going forward, the industry is set to grow as countries like China, Japan, and U.S. are expecting strong demand in 2014. Global installation can surpass 40GW in 2014 alone. Due to the importance of this industry, different countries are trying to indulge in a race to strengthen their local solar industry through regulatory tactics. In the past, China subsidized manufacturing of solar panels giving price advantage to Chinese panel manufacturers. Recently, the U.S. imposed tariffs on Chinese manufacturers in order to create level playing field for U.S based solar players. This decision from U.S. department of commerce clearly benefits solar players like First Solar, Inc. (NASDAQ: FSLR) and SunPower Corporation (NASDAQ: SPWR). However, the world trade organization ruled against the imposition of tariffs by U.S. department of commerce. This creates uncertainty as to what will happen and who will be the winners or losers of the industry? Rest of the report is dedicated to answer both of these questions.
WTO ruling and its potential effect
Judges of the world trade organization ruled that the U.S. broke its rules by imposing duty tariffs on Chinese solar panels citing that the duties are inconsistent with Marrakesh Accord 1964. The accord states, as mentioned by Reuters:
"These duties can only be levied when there is clear evidence that state-owned or partially state-owned enterprises passing on the subsidies are public bodies."
The panel was unsatisfied with the evidence produced by the U.S. and hence ruled in favor of Chinese solar panel manufacturers.
It seems that the ruling, if enforced, could bring the efforts of the U.S. department of commerce to ground zero. In other words, this will be advantageous to Chinese solar manufacturers in U.S. Solar market. However, this will not be the case; not in the short-term at least. Firstly, the duties will not be lifted altogether. "The duties will not drop by more than 1%," said SolarWorld trade counsel and partner at Wiley Rein LLP, Tim Brightbill. Secondly, either party can appeal, which can take 6-12 months. And if the appeal gets rejected, a window of 6-15 months is given to bring the measures to conformity. So, the duties will remain intact until 2016 at the earliest. More importantly, the U.S. administration is not giving up as U.S. trade representative, Michael Froman made it clear. He said:
"The Administration is carefully evaluating its options, and will take all appropriate steps to ensure that U.S. remedies against unfair subsidies remain strong and effective."
This indicates that whether the duties stay imposed or not, the U.S administration is dedicated to eliminate price advantage held by Chinese manufacturers.
Implications for the U.S industry
All in all, the duties will remain intact in short-term while U.S. authorities find others way to make life difficult for Chinese manufacturers. Consequently, U.S. Solar businesses like SolarCity Corp. (NASDAQ: SCTY) making use of Chinese solar panels will suffer as a direct result. Chinese suppliers shipped 3GW of solar modules in the U.S during 2013. This figure will surely come down as a result of hefty duties. On the other hand, this development is promising for U.S. based panel manufacturers as they gain the ability to compete with Chinese manufacturer on price basis. Note that duty tariffs can cause the prices of Chinese solar panels to rise by 14%. Therefore, solar panels sales of U.S. based manufacturers are expected to rise.
Implications for major U.S. solar players
First Solar and SunPower are expected to benefit from this situation. In contrast, SolarCity faces short-term difficulties, and it is trying to mitigate the short-term threats. In my view, First Solar and SunPower are better-positioned than SolarCity amid duty-tariffs on Chinese manufacturers. Moreover, the impact of WTO's decision does not seem to materialize in the near future. Therefore, at least short-term advantages lie with First Solar and SunPower. Let's focus on First Solar for now
First Solar is a vertically integrated solar business. The company designs, manufactures and sells solar modules. It also provides related services. As downstream solar services attract a higher margin, the company's margin is quite healthy when compared to commodity photovoltaic module manufacturers.

Source: First Solar Website
The company is in a better competitive position as compared to Chinese manufacturers because:
Efficiency of its CdTe cells has been improving resulting in lower balance of system costs. First Solar recently achieved a modular efficiency of 17%. The road map now looks like this: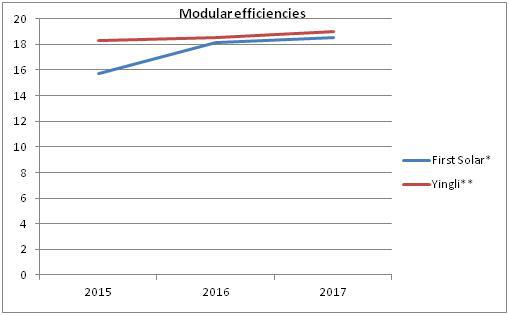 *First Solar press release
**Focus Equity estimates
Moreover, CdTe modules are becoming suitable for area constrained installations like rooftop markets. Silicon based modules has efficiency advantage over CdTe but the gap is narrowing down as shown in the graph above.
The cost/watt is lowering for CdTe as compared to silicon based modules. First Solar's CdTe cost/watt, as at Q2 2013, is around $0.59, which the management is keen on reducing by 21% in 2015. Add the duties imposed on Chinese modules to the mix that can increase the cost/watt of Chinese panels to $0.66 (Focus Equity estimates), the picture is quite clear as far as First Solar's competitive advantage is concerned. According to GTM research, "Chinese firms are quoting module pricing in excess of 80 cents per watt for delivery in the second half of 2014, compared to levels of 70 cents per watt at the end of 2013."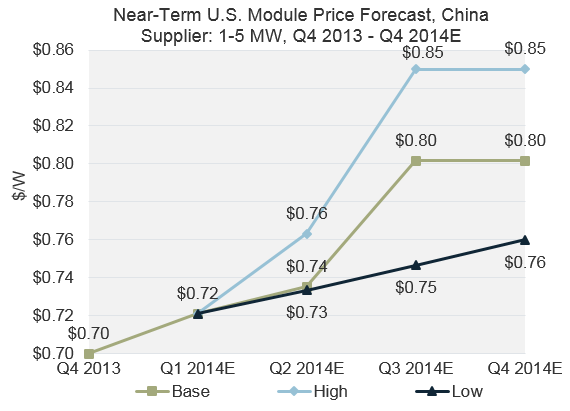 Source: GTM Research
| | | |
| --- | --- | --- |
| Module manufacturing costs | First Solar | Yingli Solar |
| Q2 2013 | 0.59/watt | |
| 2015 | 0.5/watt* | 0.66/watt** |
*Management expectations
**Impact of duty tariffs for U.S. shipments added.
Note that CdTe based modules are suitable under low irradiance and high temperature conditions and can yield more power than the silicon based modules at similar efficiencies.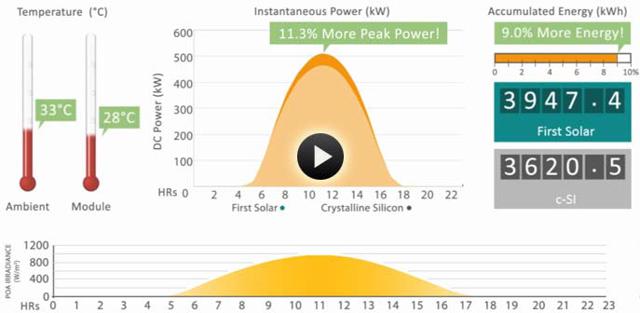 Source: First Solar Website
Cost advantage for Chinese modules is lost because of duty tariffs. Efficiency advantage, which is also fading away, is compensated by lower temperature coefficient and optimal performance of CdTe in varying lighting conditions. All in all, the CdTe is becoming a replacement for commodity Chinese modules, and the tariff impositions served as an icing on the cake for First Solar.
More importantly, the price of poly silicon doesn't affect First Solar's costs. On the other hand, Chinese manufacturers are exposed to the risk of rising poly silicon prices. GTM predicts that poly silicon costs will increase to $24/kg by the end of 2014. This translates to a growth of 13% over Q1 2014 price. See the chart below: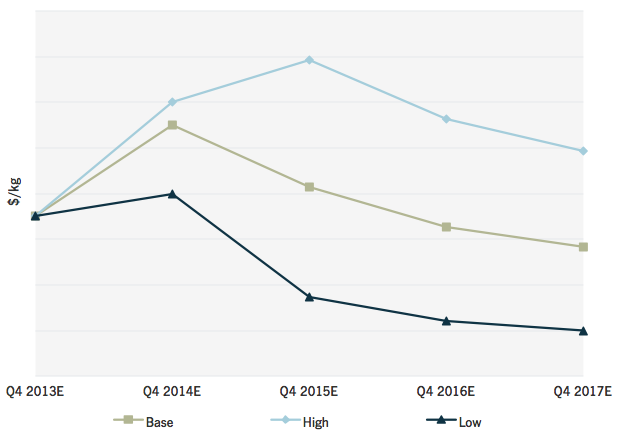 Source: GTM Research
Note that this is a short-term advantage for First Solar as poly silicon prices are expected to come down in the long run.
Bottom line
WTO ruled against the imposition of duty tariffs by the U.S. The impact of this decision, however, will not translate into U.S. solar industry, not in the short-term at least. If the U.S. eventually had to make amends to duty tariffs imposed on Chinese solar manufacturers, it seems that the impact will not be material. First Solar and SunPower will be the primary beneficiaries of these tariffs. First Solar will benefit because of improving efficiencies and the inherent benefits of CdTe technology in varying temperature and lighting conditions. The fact that the duties imposed offset the benefits of balance of system costs (due to slightly higher efficiencies) for Chinese manufacturers bode well for First Solar. The company has the opportunity to fill the supply gap that can arise as a result of expensive Chinese PV modules.
Disclosure: The author has no positions in any stocks mentioned, and no plans to initiate any positions within the next 72 hours. The author wrote this article themselves, and it expresses their own opinions. The author is not receiving compensation for it (other than from Seeking Alpha). The author has no business relationship with any company whose stock is mentioned in this article.