by Sheena Lee
Baidu (NASDAQ:BIDU) posted strong third quarter results, leading several analysts to raise their price target estimates on China's largest search engine. A few, however, think that the run-up in the company's stock price may be coming to an end, or has even been overdone.
The median price based on the most recent 12-month targets of sell-side and independent analysts tracked by Alacra Pulse is $115, up from $90 in less than a month. The mean target of $111.88 is close to Monday's closing price of $109.75.
Current 12-month price targets of selected sell-side and independent analysts. Click image to enlarge.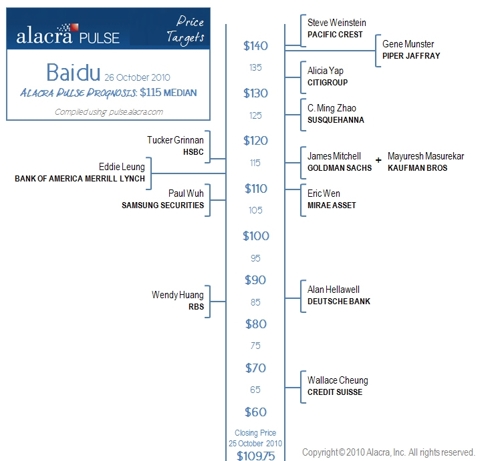 On the high end is Pacific Crest analyst Steve Weinstein who repeated his Outperform rating on Baidu and lifted his price target on the stock to $140, from $80. Weinstein said that "2011 or 2012 will be the year e-commerce reaches critical mass in China and merchants begin to embrace search marketing, providing another leg of growth. Based on these drivers, we expect growth to exceed 50% in 2012."
Noting that Baidu "still trades at P/E to growth discounts to China/U. S. based peers," Scott Kessler at Standard & Poor's also raised his target to $140, from $90.
Piper Jaffray equity analyst Eugene Munster said he believes the company's shares are undervalued, and hiked his rating on Baidu to Overweight from Neutral. He added that the stock could hit $139 in 12 months. Munster, whose previous target was $81, said: "We believe the impact from the transition to Phoenix Nest" – the company's online ad platform – "will remain significant over the next two years, enabling the company to grow revenue 60% in 2011 and 45% in 2012."
Susquehanna analyst Ming Zhao also raised his target on Baidu to $125 from $100, and he expects the online search firm to be supported by a 15 percent sequential growth in customer deposit on its balance sheet.
As noted by Alacra Pulse, Zhou was early to the Baidu party, setting his $100 target back in April.
Tucker Grinnan at HSBC raised his target to $116 from $80 but maintained a Neutral rating.
Goldman Sachs' James Mitchell said Baidu is a "revenue expansion story" and increased the price target on Baidu to $115 from $105, following the release of its quarterly results. He kept his Buy rating and is forecasting 65% revenue growth in 2011 and 39% in 2012.
Kaufman Brothers analyst Mayuresh Masurekar boosted his price target by 34% to $115 from $86 and maintains a Buy rating. Kaufman Bros. cited recent data from iResearch which suggests that Baidu is continuing to gain market share against rivals like Google (NASDAQ:GOOG). Search sales surged 73% in Q3, up from a 71% rise in Q2 and 68% rise in Q1.
However, some analysts warned that because Baidu has grown so quickly, it could be difficult for the company to sustain its current rate of expansion. "They've been looking for the next growth driver," said Eric Wen of Mirae Asset Securities, who rates Baidu at Hold and has a $110 price target on the firm. Baidu needs new sources of revenue as growth in its search-engine business is expected to slow next year, he said.
Bank of America Merrill Lynch analyst Eddie Leung has pushed up his price target for the Chinese company to $113 from $86, but pointed out that risks include: major operating or regulation events, a macroeconomic slowdown, and failure to pick up e-Commerce opportunities due to competition.
On the low end is Credit Suisse analyst Wallace Cheung, who raised his price target on Baidu to $65.80 from $63.20, and has an Underperform rating on the company. Paul Wuh at Samsung Securities last month downgraded Baidu to Hold from Buy, while nudging his target up to $107 from $105, and Wendy Huang at RBS has a Sell rating with a target of $85.
(Sources: Alacra Pulse, TechTraderDaily, Proactiveinvestors, Bloomberg, StreetInsider, SmarTrend.)