Amazon's Price To Sales Ratio
As you can see from the chart below, Amazon's (NASDAQ:AMZN) price to sales (P/S) ratio has fluctuated significantly over the last year. It has ranged from a high of 2.65 in December 2013 to a low of 1.7 in May of this year. At the moment it is near the midpoint in the one-year range, being 2.1. As a result, we feel there is scope for it to move higher and recent momentum has shown that Amazon's P/S ratio has been showing an upward trend over the last couple of months. However, what impresses us about the trend is how stable it is relative to previous changes in the P/S ratio. Often, stable upward movements are a good indication that there has been a gradual change in market sentiment and, as such, we would expect to see Amazon's P/S ratio continue its upward movement over the short term.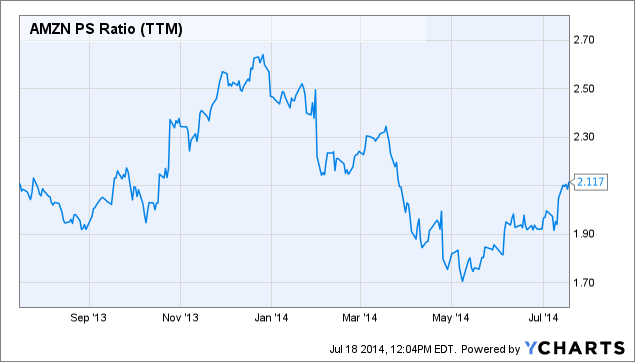 AMZN PS Ratio (TTM) data by YCharts
Indeed, the five-year chart below shows that there is considerable scope for Amazon's P/S ratio to move higher. That's because it is currently 26.3% below its five-year high of 2.85, which indicates that Amazon could offer good value for money at current levels. Sure, the last 2.5 years have seen Amazon's P/S ratio trade in a narrower range than between 2010 and 2012, but the spike at the end of 2013 (when it reached 2.65) shows that there is scope for a higher valuation.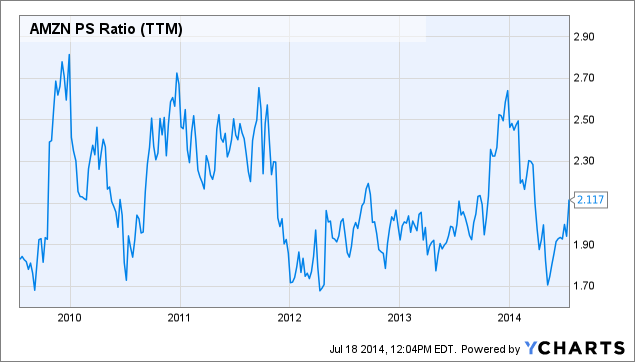 AMZN PS Ratio (TTM) data by YCharts
Furthermore, Amazon appears to offer good value compared to sector peer eBay (NASDAQ:EBAY). Indeed, the chart below clearly shows that Amazon offers better value for money based on the P/S ratio than eBay. That's because Amazon's P/S ratio is 45.7% lower than that of eBay. However, what we're focused on is the change in difference between the two with it being unusually wide for the last couple of years. For example, the widest point between 2010 and 2012 was around 50% in early 2011, and the difference between the two companies' P/S ratios was far less than 50% for the majority of those three years, as shown in the chart below.
In the last couple of years, the difference has widened to a maximum of 62%, but in recent months this has started to reverse. As mentioned, this has been due in large part to an increase in Amazon's P/S ratio and we feel that this trend will continue. Indeed, we feel it is entirely possible that the gap between the two companies' P/S ratios will revert back to its 2010-2012 range as investors realize that the difference during the last couple of years has become too great.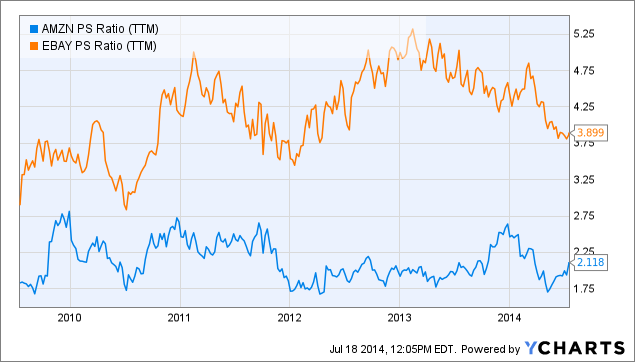 AMZN PS Ratio data by YCharts
We're also bullish on Amazon due to what we feel is a sound strategy of diversifying and entering new markets. We believe this is the best way for Amazon to make its low-margin, high-sales business model work and the latest development on this front came this week when the company announced the launch of its Kindle unlimited e-book subscription service. It will provide users with access to around 600,000 e-books and 2,000 audiobooks for an all-in price of $9.99 per month. Clearly, the margins will be tight - especially since Amazon will be undercutting incumbents Scribd and Oyster, but we are optimistic about developments such as these and feel that they can leverage Amazon's low margin business model to produce an improved bottom-line going forward.
Conclusion
We feel that Amazon represents good value for money at current price levels. That's because its P/S ratio is at the midpoint of its one-year range and has been trending upwards over the last few months. The trend has been fairly stable, which indicates to us that it could continue and, as such, Amazon could see share price strength. In addition, Amazon's P/S ratio is cheap compared to sector peer, eBay, and we feel that the gap between the two companies is too wide and will further narrow. Indeed, the difference in P/S ratios between the two companies has, we believe, been too great since 2012 and we think it will revert back to its previous 2010 - 2012 range. Therefore, we remain bullish on Amazon's prospects going forward.
Disclosure: The author has no positions in any stocks mentioned, and no plans to initiate any positions within the next 72 hours. The author wrote this article themselves, and it expresses their own opinions. The author is not receiving compensation for it (other than from Seeking Alpha). The author has no business relationship with any company whose stock is mentioned in this article.