Once again, several interesting companies have been recommended to me for research in the comment stream of a quarterly update article for research. I briefly dipped into researching Valener (OTC:OTC:VNRCF) before deciding it was not going to be a purchase. Over the next few weeks, I will be examining in detail a number of names from my watchlist.
I was first introduced to Ross Stores Inc. (NASDAQ:ROST) when we lived in the states a decade ago. For a family with middle-school kids, Ross Dress For Less was a great place to get necessary clothing and household items. I try to spend an afternoon there with a long list whenever we get to the states (only about every other year now). I am more of a jeans-and-sweater type, (not at all a fashionista), which makes shopping at Ross -- quality brand names at a discount -- quite suitable.
After reviewing it briefly when I was investigating Costco (NASDAQ:COST), this past January, ROST did not stay on my watchlist. The name came up again here and I have been watching the stock chart since May when it started the consistent downtrend. Just as I like a bargain in my clothing shopping, a falling stock piques my interest.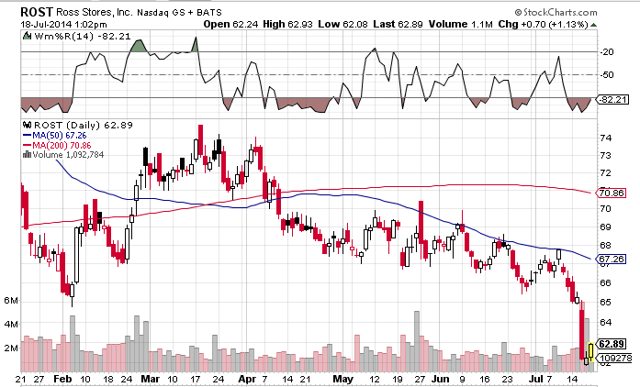 Click to enlarge
I like to wait for a drop, and then a confirming higher second bounce before buying in, and have been watching for signs of a higher low indicating the trend is ready to turn around.
The last time ROST was trading at this price was about a year ago. For more than a year, investors have thought the company was worth more than it is right now. Something has changed with the company, the sector, or investor sentiment.
The first thing I note here is the small dividend with the yield at 1.29% this morning. Quite disappointing. The annual and significant increases are more encouraging, but do not make up for such a small dividend. My goal is to receive a 9% total return on average. With such a small dividend, I am relying on share price appreciation for the majority of the expected returns if I buy shares in this company. I like to be able to control as much of my return as possible and in this case, I am giving up control to crazy Mr. Market. Positives of note are a lower beta of 0.65 and 90% institutional ownership.
Ross operates 1,276 stores. 1,146 are Ross Dress For Less locations, the rest are the new "dd's Discounts."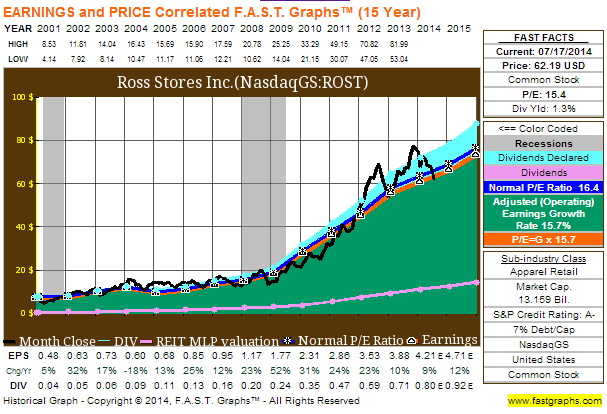 The graph for ROST is very encouraging, especially in this market when many companies, such as the previously mentioned Costco, are overvalued. ROST has been overvalued, but this correction brings it inline relative to earnings. As the earnings expand, so should the share price. Adjusted earnings growth is displayed on the chart as 15.7%. The debt rate is very low at 7%.
The dividend history is impressive as well, but my enthusiasm is cooled by the low yield.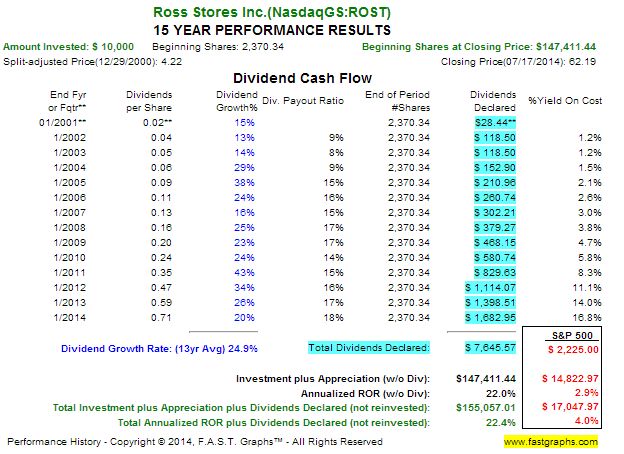 The Chowder Rule adds the dividend plus the 5 year average dividend-growth rate together, targeting at least 12%. Using the numbers displayed here, the 5 year average dividend-growth rate is 30% alone.
I am in the midst of reading "The Ultimate Dividend Investor" by Josh Peters, published by Morningstar. It has been a good read. On page 133, he discuses his Dividend Drill Return Model. I ran ROST through the drill and came up with a return of 12.92%. To be conservative, I used the Estimated Earnings of 11.6% provided by FAST Graphs on the lower chart, not displayed.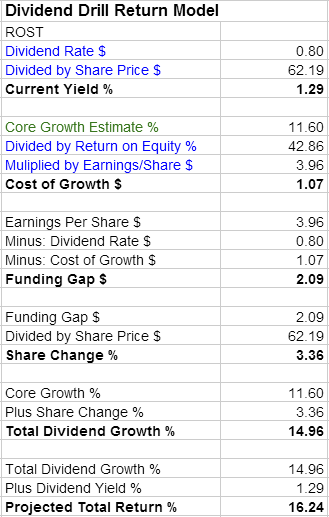 This analysis indicates I can expect a 12.92% return on my ROST investment.
Reports
S&P Capital Reports gives Ross Stores a 4 star buy with a 12 month target of $80. They calculate that fair value is $78.70, which represents a 27% increase from here. This will make up for the lack in dividends. ROST is ranked as "most undervalued," and scores 99% on their investability quotient. S&P gives ROST an A+ quality ranking. These are all very encouraging.
S&P also warns about insider sells. Insider Ink report shows there was quite a rash of selling in March and April. The negative technicals (the slow erosion followed by the downward drop that makes me lick my lips) are also noted.
Thomson Reuters gives Ross Stores an average score of 7 out of 10, relatively inline with the market.
Broken down, this is:
6/10 for Earnings
10/10 for Fundamentals
8/10 for Relative Valuation
10/10 for Risk (low risk)
2/10 for Momentum (once again that downward trending chart)
1/10 for Insider Trading
This shows me a strong foundation with some concerns, but nothing that would immediately frighten me away from this company.

Company Website
The presentation, this one from May 2014, is always an accessible read, but be aware that this is strong investor advertising and is not likely to show the whole picture.
The core customer and how they target her is quite interesting, as they are targeting: me!
I love charts, and this one showing growing earnings is encouraging - as long as the earnings continue to grow.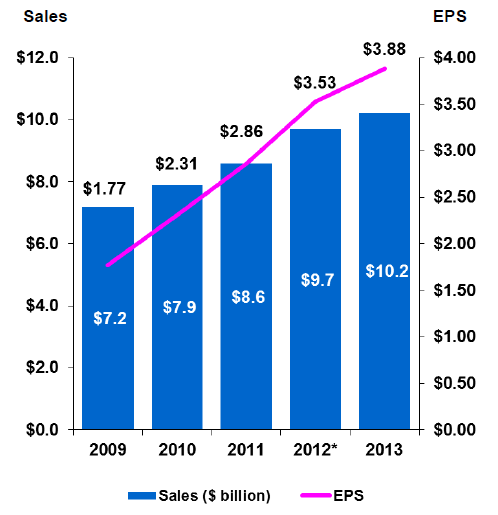 The former CEO from 1996 to 2014 was Michael Balmuth. He has stayed on as Executive Chairman of the Board. Barbara Rentler, former President and Chief Merchandising Officer became CEO June 1st. She has been with the company for 28 years in a variety of capacities.
Projections for the next quarter seem to be positive:
"During the first three months of fiscal 2014, we repurchased 2.0 million shares of common stock for an aggregate price of $139 million. We expect to buy back a total of $550 million in common stock during fiscal 2014, which will complete the two-year $1.1 billion authorization approved by our Board of Directors in January 2013."

Looking ahead, Mr. Balmuth said, "For the 13 weeks ending August 2, 2014, we are forecasting same store sales to increase 1% to 2% on top of 4% and 7% gains in the second quarters of 2013 and 2012, respectively. Earnings per share for the 2014 second quarter are projected to be in the range of $1.05 to $1.09, up from $.98 last year."

Mr. Balmuth concluded, "Based on our first quarter results and guidance for the second quarter, we now project earnings per share for the 52 weeks ending January 31, 2015 to be in the range of $4.09 to $4.21, compared to $3.88 for the 52 weeks ended February 1, 2014."
News
There does not seem to be a lot of news centered on the company itself lately, which can be construed as a good thing. The company seems to be humming along with nothing particularly exciting happening.
The dividend was increased on schedule as expected (first payment of the year in February. The last earnings reported was inline with expectations.

Click to enlarge
Recently, the stock has made headlines with an increased short interest and then on July 16th, it was downgraded by Sterne Agee from Buy to Neutral. Suddenly the share price dropped from $65.27 to $62.12, a 4.8% one-day drop!
Seeking Alpha
The vast majority of Seeking Alpha articles have been positive on Ross Stores this year, with a couple creatively titled, "Ross: Invest for Less" (just HAD to use it).
Other titles sum up clear sentiment: "Ross Stores: A Great Growth Stock With At Least 20% Upside."
One noted the short selling: "Ross Stores: 5 Different Insiders Have Sold Shares During The Last 30 Days."
Is it Best of Breed? How does it fit into the current portfolio?
Ross Stores Inc. is the biggest of the off-price retailers, and in general I am looking for Best of Breed. In the retail space, I already own Wal-Mart (NYSE:WMT), which is the largest retailer; Walgreen (NYSE:WAG), which is the largest pharmacy; and Alimentation Couche-Tard (OTCPK:OTCPK:ANCUF), the largest convenience store chain. ATD is conveniently a Canadian company for a Canadian investor. Ross Stores seems to be a good fit with other holdings in the portfolio. These holdings only total 4.33% of my portfolio, so there is room for one more.
What challenges does it face? What would make me sell?
The retail sector has not been in favor of late. Margins are slim, and competition is fierce. One misstep and fickle consumers will move on. Target (NYSE:TGT) may be just starting to recover from misunderstanding the Canadian consumer. We are not actually a 51st State, and certainly do not want to feel like an American dumping ground. Oops.
It seems a little peculiar to think about selling when you are still thinking of buying, but having a clear idea of what would make you sell a company when you buy it is a strategy for success.
If Ross Stores was to reach its target price by Christmas, I may have a hard time not selling and moving towards a higher dividend paying sector companion that has not had such a big move. If ROST was to fall equally (about 30%) and nothing else has changed about the company, I would be very interested in doubling the holding. If the dividend was to be cut, I would be an immediate seller, no matter the current price. To go from a high dividend-growth company to a dividend-cutting company would signal very bad things to come.
The substantial insider selling is the most concerning thing I have come across in my research. Insiders sell for many reasons, but so many selling at about the same time is concerning. The analyst downgrade, which precipitated the share price downdraft, is less concerning, but still a concern. Obviously the analyst (one of 29) did not believe the stock continued to be something they wished to recommend as a buy at that current price. There could be many reasons for this.
The reality is, though, that nothing changed about the company or the stock in the past two weeks, other than the ratings downgrade. What did change is the trajectory of the share price and that intrigues me. Where could it go now?
ROST has been something I have been watching in recent months. I have also been looking for an opportunity to increase my holdings in the retail sub-sector. My ideal allotment for retail is 5% of my portfolio. I was planning to increase the positions I currently have, but this opportunity came up, and I grabbed it. I think ROST will make a nice companion to the WMT, WAG, and ATD holdings.
As I said, I like to wait for a drop, and then a confirming higher second bounce before buying in. Usually, that is. This time, I initiated a position July 17th at $62.19. I probably should have waited until fall, when consumer discretionary stocks generally begin their usual annual upswing, but I did not. Time will tell if it was the right decision.
Time is one thing that I do have. I do not need to realize an immediate gain or get in at just the "right" price. I do need, on average, the 9% a year to get me to my goals. I think buying ROST at this price will help me get there, whether I hold it for 30 years and see it grow from a growth-with-a-small-growing-dividend stock into a mature dividend payer, or whether I hold it for the next 9 months.
By the way, I still have and wear some of those clothes I bought at Ross a decade ago.
Disclosure: The author is long WMT, WAG, ANCUF, ROST. The author wrote this article themselves, and it expresses their own opinions. The author is not receiving compensation for it (other than from Seeking Alpha). The author has no business relationship with any company whose stock is mentioned in this article.