The last time I wrote about Wells Fargo & Co. (NYSE:WFC) I stated, "I like the stock but won't be buying any of it this week, and will choose to wait until I see it report. If the stock drops on earnings but estimates are beaten, I'll definitely pounce on it." Since writing the article, the stock has dropped 1.86% (but got as low as 3%) versus the 0.72% gain the S&P 500 (NYSEARCA:SPY) posted. Wells Fargo is a bank holding company which operates in three segments: Community Banking, Wholesale Banking and Wealth, Brokerage and Retirement.
On July 11, 2014, the company reported second-quarter earnings of $1.01 per share, which were in line with analysts' estimates. In the past year, the company's stock is up 20.29% excluding dividends (up 23.05% including dividends) and is beating the S&P 500, which has gained 17.71% in the same time frame. Since initiating my position back on May 21, 2013, I'm up 12% inclusive of reinvested dividends and dollar cost averaging. With all this in mind, I'd like to take a moment to evaluate the stock to see if right now is a good time to purchase more for the financial sector of my dividend portfolio.
Fundamentals
The company currently trades at a trailing 12-month P/E ratio of 12.66, which is inexpensively priced, but I mainly like to purchase a stock based on where the company is going in the future as opposed to what it has done in the past. On that note, the 1-year forward-looking P/E ratio of 11.95 is currently inexpensively priced for the future in terms of the right here, right now. Next year's estimated earnings are $4.29 per share and I'd consider the stock inexpensive until about $64. The 1-year PEG ratio (2.99), which measures the ratio of the price you're currently paying for the trailing 12-month earnings on the stock while dividing it by the earnings growth of the company for a specified amount of time (I like looking at a 1-year horizon), tells me that the company is expensively priced based on a 1-year EPS growth rate of 4.23%. Below is a comparison table of the fundamental metrics for the company for when I wrote all articles pertaining to the company.
| | | | | | | | |
| --- | --- | --- | --- | --- | --- | --- | --- |
| Article Date | Price ($) | TTM P/E | Fwd P/E | EPS Next Yr. ($) | Target Price ($) | PEG | EPS Next Yr. (%) |
| 08Aug13 | 43.27 | 11.73 | 10.76 | 4.02 | 60 | 2.53 | 4.63 |
| 06Nov13 | 42.44 | 11.17 | 10.59 | 4.01 | 60 | 3.06 | 3.65 |
| 02Apr14 | 49.76 | 12.79 | 11.67 | 4.26 | 64 | 2.28 | 5.60 |
| 04May14 | 49.58 | 12.33 | 11.61 | 4.27 | 64 | 2.71 | 4.55 |
| 08Jul14 | 52.25 | 13.00 | 12.18 | 4.29 | 64 | 2.95 | 4.41 |
| 18Jul14 | 51.28 | 12.66 | 11.95 | 4.29 | 64 | 2.99 | 4.23 |
Financials
On a financial basis, the things I look for are the dividend payouts, return on assets, equity and investment. The company pays a dividend of 2.73% with a payout ratio of 35% of trailing 12-month earnings while sporting return on assets, equity and investment values of 1.4%, 13.9% and 9.8%, respectively, which are all respectable values. Because I believe the market may get a bit choppy here and would like a safety play, I believe the 2.73% yield of this company is good enough for me to take shelter in for the time being. The company has been increasing its dividends for the past 4 years. Below is a comparison table of the financial metrics for when I wrote all articles pertaining to the company.
| | | | | | |
| --- | --- | --- | --- | --- | --- |
| Article Date | Yield (%) | Payout TTM (%) | ROA (%) | ROE (%) | ROI (%) |
| 08Aug13 | 2.77 | 26 | 1.4 | 13.6 | 9.9 |
| 06Nov13 | 2.83 | 32 | 1.4 | 13.8 | 9.9 |
| 02Apr14 | 2.41 | 31 | 1.4 | 13.9 | 9.8 |
| 04May14 | 2.82 | 35 | 1.4 | 14.1 | 9.8 |
| 08Jul14 | 2.68 | 35 | 1.4 | 14.1 | 9.8 |
| 18Jul14 | 2.73 | 35 | 1.4 | 13.9 | 9.8 |
Technicals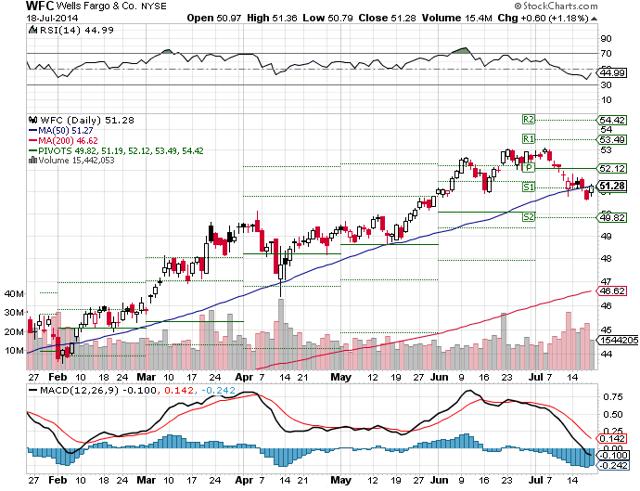 Looking first at the relative strength index chart [RSI] at the top, I see the stock muddling around in middle-ground territory with upward trajectory and a current value of 44.99. I will look at the moving average convergence-divergence [MACD] chart next. I see that the black line is below the red line with the divergence bars increasing in height. As for the stock price itself ($51.28), I'm looking at $52.12 to act as resistance and $49.82 to act as support for a risk/reward ratio, which plays out to be -2.85% to 1.64%.
Brain Drain?
Tom Wolfe, the leader of the bank's fastest growing divisions (credit cards and auto lending), is going to be leaving the company at the end of the year. Mr. Wolfe will be retiring after having come over from the Wachovia during the acquisition back in 2008. One of Mr. Wolfe's accomplishments is that he was able to bring Wells above Ally Financial as the nation's largest auto lender. If you recall, earlier this year the company named John Shrewsberry as the new CFO after Tim Sloan left the post to become the head of Wholesale Banking. Wells is one of these organizations which will always do well because it is managed very well; no matter who moves out, there is always someone who is groomed to step in. This company reminds me a lot of the San Antonio Spurs, year in, year out, the Spurs are always contenders for the championship because they have a system which is orchestrated pretty well and no matter who you plug into the equation you get the same result; greatness.
Conclusion
During the NBA Final in early June one of my friends asked me what my second favorite is and I responded with the San Antonio Spurs. I have a love/hate relationship with the Spurs, they don't have the flashiest of players, but they are so well orchestrated by Coach Pop and have several leaders on the court. At times they are ridiculously boring to watch, but they have a formula in place that makes them win every year. Why do I mention the Spurs you ask? I mention the Spurs because I believe Wells Fargo is kind of like the Spurs of the investing world. A boring stock but it just keeps increasing in value ever so slowly. They have leaders in high positions that leave but are able to fill the positions to produce the same quality results. It's all a formula of having great leadership, having teammates that know what their roles are, and executing those roles to perfection. Fundamentally, I believe the stock to be inexpensively valued on next year's earnings estimates but expensive on earnings growth expectations. Financially, the dividend is pretty good and has room to grow in the future. On a technical basis the stock seems to be experiencing bullish momentum but I don't like the risk/reward ratio right now. I like the stock and bought a batch after the earnings dip but won't buy anymore next week.
Disclaimer: This article is meant to serve as a journal for myself as to the rationale of why I bought/sold this stock when I look back on it in the future. These are only my personal opinions and you should do your own homework. Only you are responsible for what you trade and happy investing!
Disclosure: The author is long WFC, SPY. The author wrote this article themselves, and it expresses their own opinions. The author is not receiving compensation for it (other than from Seeking Alpha). The author has no business relationship with any company whose stock is mentioned in this article.