Every earnings season, without fail, there are opportunities created by Wall Street bears piling on particular companies due to short-term weakness or moderate downward revisions made during quarterly earnings reports. Sometimes the sell-off is warranted, but often it is overdone, creating excellent entry points for long-term investors. By looking at the fundamentals and long-term outlook for individual stocks, that get pummeled for a bad quarter, investors can identify which companies are needlessly punished and which stocks deserve a the sell-off.
For example, last quarter Under Armour (NYSE:UA) posted strong results where the company grew net revenue by 36% and increased its 2014 outlook to a range of $2.88 billion-$2.91 billion (+24-25% Y/Y increase), but also warned of a potential slowdown in year-over-year revenue growth due to tougher comparisons. As a result the stock sold off by over 16% to just $46/share. Since the sell-off, the stock has risen 25% in fewer than 3 months to a closing price of $58.61/share on 7/18/14. Opportunities like this don't come around often, so investors must be ready to pull the trigger when they see well established companies with a clear future growth path drop sharply from an overreaction by the market.
SanDisk (NASDAQ:SNDK)
SanDisk was the latest victim of market overreaction due to short-term headwinds. The company reported a solid 2Q2014 with revenue of $1.63 billion slightly ahead of analyst estimates of $1.60 billion, and EPS of $1.41 beating analyst estimate of $1.39. The stock lost over 12% in one day due to a slightly weaker Q3 revenue projection of $1.68 billion-$1.73 billion compared to analysts' estimates of $1.74 billion. A fear of weakening margins in Q3 also added to the bears' downward march of the stock. A potential near-term 1-2% reduction in margin and a potential $10 million-$60 million shortfall in Q3 earnings shouldn't be responsible for a $2 billion loss in market value.
Looking at the reasons for the tighter margins, the sell-off makes even less sense. Susquehanna Financial Group analyst Mehdi Hosseini stated:
"We attribute this to the strategic decision by SanDisk management to accommodate a key customer, Apple, with significant volume of embedded and client (solid-state drive) products. We remind investors this same customer helped SanDisk outperform in Q1, and now as a number of new products ramp, including embedded mobile, it is holding SanDisk back from margin expansion."
Making a strategic decision to secure a long-term strategic partner, like Apple, should be seen as a positive, not a negative. This decision will pay off investors in the long run as SanDisk gains a powerful partner. Another important factor in the long-term health of the SanDisk is the shift away from mechanical hard-disk drives for data storage and toward solid-state drives for servers and PCs.
The sharp decline in SanDisk stock would be understandable if the company was selling at high multiples, but the stock has a modest valuation and a strong balance sheet. The company currently has a P/E of 19.6, a forward P/E of 17.1 and FY 2015 P/E of 14.3. The balance sheet has over $2.6 billion in cash compared to just $2.0 billion in total debt. A debt/equity ratio of .27 is also in line or better than market competitors, such as, EMC 0.22 and Micron (NASDAQ:MU) 0.53.
Advanced Micro Devices (NYSE:AMD)
AMD can do no right in the eyes of Wall Street. Regardless of the kind of quarter AMD turns in, the AMD bears come from every direction to criticize the stock and drive down the price. Even though management has successfully steered the company back from the brink of bankruptcy and found strong footholds in new business initiatives, analysts still find way to fault the stock. This is readily apparent when you look at price movements over the past 15 months. Sharp declines are generally followed by quick rebounds in price.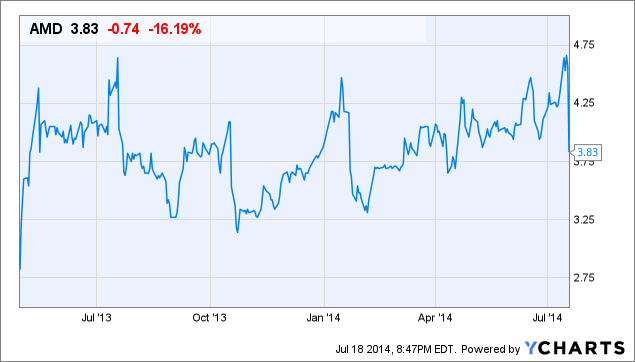 Most recently the stock dropped 16% after posting an EPS loss of 5 cents, or $0.02 gain excluding items, and forecasting weaker than expected Q3 revenues of $1.47 billion compared to an analyst consensus of $1.57 billion. However, AMD's revenue rose 24% in the second quarter and net income improved 100% from -$74 million to -$36 million year-over-year. The company also expects to achieve 50% of total revenue from new markets like game consoles and low-power servers by the end of 2015. The company's primary objective over the past several years has been to diversify its business away from the PC market and expand its presence into new territories, which the company has found success in achieving.
AMD also improved its balance sheet by restructuring debt at lower interest rates and won't have any significant debt due until 2019. The large debt load was seen as one of the primary red flags by critics, but the company has given itself plenty of time to complete its transition in time for the debt to be paid off without hurting the balance sheet. With over $900 million in cash and just over $2 billion in total debt, the balance sheet isn't as bad as many investors are led to believe.
The company is in the middle of a massive transition that should start seeing profits by the end of 2014. Analysts expect the company to have EPS of $0.15 for the second half of the year. This also gives the stock a forward P/E of 23.3. Rather than looking at the positives in AMD, many investors only see the negatives which results in a stock price that tends to fluctuate substantially. Patient long-term investors that can stomach price fluctuations have an opportunity to get in at a great entry point with this latest sell-off.
Conclusion
SanDisk and AMD are just 2 examples of overreactions by the market that long-term investors can take advantage of. Whenever a company sees a 1-day decline over 10%, it immediately sparks my interest to get in at the bottom. Due diligence is obviously a must during a sell-off, but investors will start to see many stocks are victims of overreaction and profit can be made from the fear of other investors jumping ship. These sharp declines during earnings season, which are a result of short-term weakness, should always be seen as an opportunity to accumulate quality stocks that are in the midst of a sell-off.
Disclosure: The author has no positions in any stocks mentioned, and no plans to initiate any positions within the next 72 hours. The author wrote this article themselves, and it expresses their own opinions. The author is not receiving compensation for it (other than from Seeking Alpha). The author has no business relationship with any company whose stock is mentioned in this article.