Overview
The last 12 months has seen global investors chasing yield, often regardless of the underlying value of the assets being invested in and with disregard to or complacency of underlying risk. This has led some investors to more volatile sectors and/or assets likely to experience future volatility due to changes in the world economy. Investors have sought solace in emerging markets following a big sell-off earlier in 2014, as well as Corporate Junk Bonds or lower rated corporate securities, or in some cases even investing again in the subprime mortgage market.
Chasing yield has the potential to expose investors to large losses in capital and income when markets correct quickly due to changing macroeconomic factors. Investors should instead consider incorporating listed infrastructure companies into their portfolios to provide a defensive bias to their portfolio overall, while benefiting from reliable earnings which will deliver both income and capital growth.
Infrastructure Myths to Debunk
1. Listed Infrastructure is highly correlated to equities.
Infrastructure companies provide essential goods or services to communities, which have a low level of correlation to the economic cycle due to operating in an environment with contracted or regulated price structures to hedge against inflation. Over the last ten years, global listed infrastructure assets have delivered higher returns with lower risk than general equities.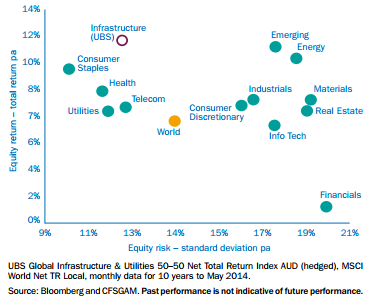 2. Infrastructure assets are low growth in rising markets.
Infrastructure companies generate growth from structural change rather than cyclical market changes. Change will often occur in different sub-sectors as those areas experience structural change. Examples include the development of mobile communication networks requiring the infrastructure to support expanding networks, changes in the energy industry requiring pipelines across massive distances and networks to support multi-generational supply lifetimes, and changes in the renewable energy sector requiring construction, development and maintenance of sustainable energy generation assets. The world needs to spend $50 Trillion in infrastructure over the next 20 years to meet the demands of global growth.
3. Infrastructure is highly geared and less defensive.
Infrastructure companies with very high levels of debt will affect the overall makeup of equity in the company and the long term viability of the asset in the event short-term focus is applied through the entities business model and operating structure. However, good quality and long term successful infrastructure companies are usually conservatively geared and operated under sensible business plans to remain profitable and deliver return to shareholders. In difficult market conditions or macroeconomic change, infrastructure assets are less susceptible to negative influences because they deliver essential goods and services. This was evident in the global financial crisis of 2008-2009, whereby earnings of global infrastructure companies fell by 10% compared with 60% for general equities.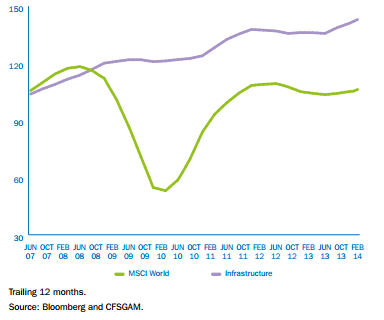 What do listed global infrastructure assets look like?
Outlined below is a brief snapshot of four global listed infrastructure assets that could be considered for inclusion in a diversified investment portfolio:
Enbridge Inc. (NYSE:ENB)
Enbridge is a Canadian headquartered company delivering energy needs to North America. It is responsible for energy transport through a sophisticated delivery network of pipelines and other operating assets, including oil and natural gas with increasing involvement in power transmission. The company is currently trading at $48.92 per share (52 week H/L = $49.27 / $39.98), has a dividend rate of 1.28 and a Yield of 2.63, and earnings per share of 0.66 (source Yahoo). While ENB has high leverage, it is attracting interest with investors and fund managers due to its extensive pipeline network and structural change being driven by natural gas in North America.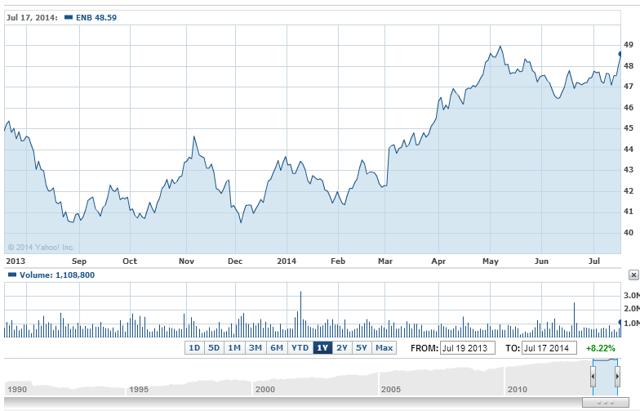 TransCanada Corporation (NYSE:TRP)
TransCanada is another North America energy infrastructure company focused on pipelines and power generation opportunities. It has 35,500 miles of wholly owned pipelines, 407 billion cubic feet of gas storage, and 21 wholly or partially owned power plants. The company is currently trading at $50.70 per share (52 week H/L = $51.21 / $42.21), has a dividend rate of 1.76 and a Yield of 3.50, and earnings per share of 2.17 (source Yahoo).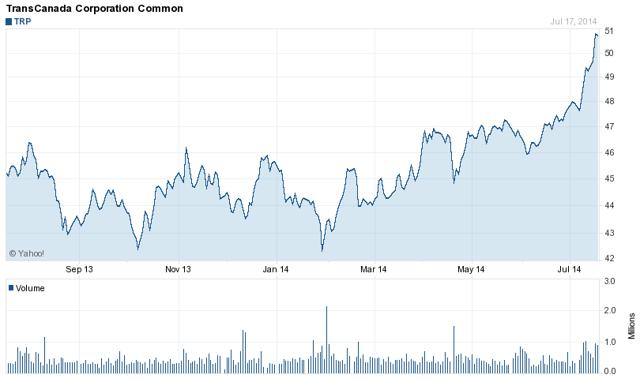 Groupe Eurotunnel (OTC:GRPTF)
Groupe Eurotunnel SA manages and operates the channel tunnel between Britain and France, including the vehicle shuttle service and it earns revenue on other trains using the tunnel. It holds a very long dated concession agreement based on these operations. It is also diversifying into maintaining rail infrastructure for ports and industrial areas, and owns three ferries it leases back to a ferry operating company, maintaining the transportation network across the Straits of Dover. The company is currently trading at $13.40 per share (52 week H/L = $13.65 / $7.52), has a dividend rate of 0.20 and a Yield of 1.50, and earnings per share of 0.26 (source Yahoo).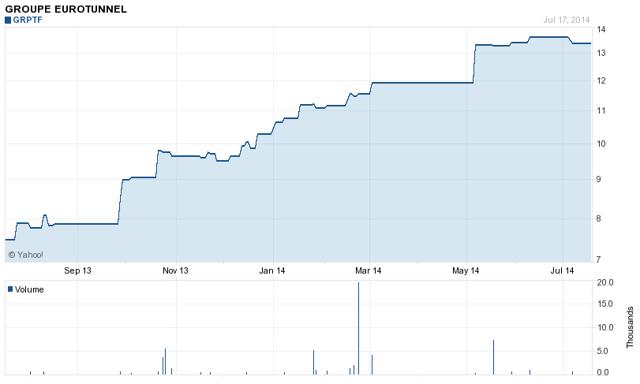 Transurban Group (OTC:TRAUF)
Transurban manages and develops urban toll road networks in Australia and the USA, and is one of the top 20 companies on the Australian Stock Exchange. It is focused on providing transportation solutions for government and private industry clients. It recently conducted a large equity raising to help fund a controlling interest in a consortium that acquired Queensland Motorways Limited. It is working towards building capacity on toll roads in Sydney and Melbourne in return for toll increases and concession extensions that are favorable for the company. The company is currently trading at $7.28 per share (52 week H/L = $7.48 / $5.86), has a dividend rate of 0.33 and a Yield of 4.60, and earnings per share of 0.11 (source Yahoo).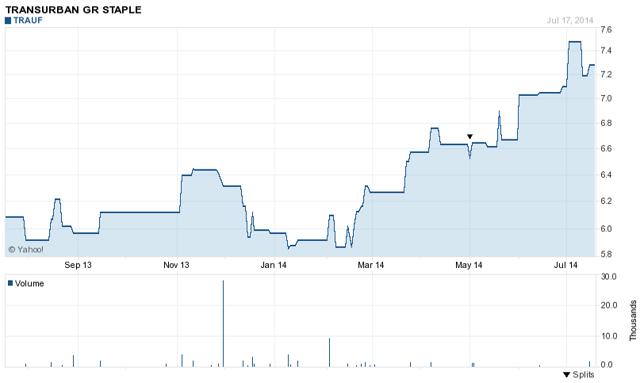 Conclusion
With signs that the global chase on yield remains a continuing theme, listed infrastructure companies provide an alternative investment asset for investors to diversify their portfolios, taking advantage of companies operating in an environment that is less susceptible to market downturns due to their core capabilities being the delivery and supply of essential goods and services. Rather than chasing momentum and yield, investors should consider inclusion of listed infrastructure companies as a conservative defensive bias for their portfolios as part of a strategy to deliver ongoing sustainable income and capital growth regardless of market conditions.
Disclosure: The author has no positions in any stocks mentioned, and no plans to initiate any positions within the next 72 hours. The author wrote this article themselves, and it expresses their own opinions. The author is not receiving compensation for it (other than from Seeking Alpha). The author has no business relationship with any company whose stock is mentioned in this article.
Additional disclosure: The author has exposure to the companies mentioned, through managed investment funds, domiciled in Australia. The Carey Group provides access for Australian clients to global listed infrastructure assets through our investment partners Magellan Asset Management, RARE Infrastructure and Macquarie Group. This information is of a general nature only and has been provided without taking account of your objectives, financial situation or needs. Because of this, you should consider whether the information is appropriate in light of your particular objectives, financial situation and needs. You should seek independent financial advice prior to making any investment decisions of your own.
Editor's Note: This article discusses one or more securities that do not trade on a major U.S. exchange. Please be aware of the risks associated with these stocks.