Analysts are all over the map when it comes to Apple's (NASDAQ:AAPL) Q3 sales of iPhones and iPads. iPhone sales estimates run from 31.8 million to 39.68 million.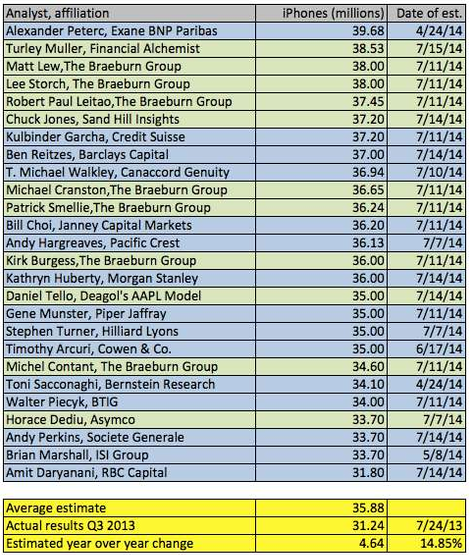 Source: Electronista
The spread of estimates makes calling the quarter a crap shoot by any standard. The difference between the high and low estimate is almost 8 million units which at about $600 average selling price for an iPhone represents about $5 billion in revenues. With each iPhone contributing some $300 to pre-tax profit more or less in my estimation and Apple paying taxes at a 26% rate plus or minus, over $1 billion of net income is at stake.
Analysts' calls on iPads are not much better ranging from 12 to 16 million units. That difference of 4 million units comprises about $1.6 billion revenues but is less material to profits than the iPhone.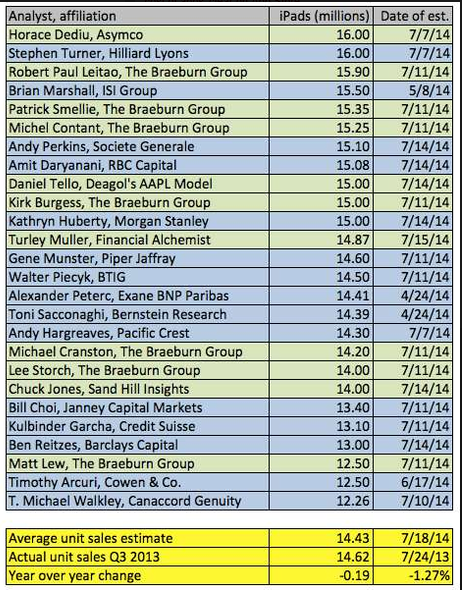 Source: Electronista
My view is that the estimates are generally high. Smartphone market growth has eased off this year with estimated growth in the 20% range year over year from IDC and Gartner with signs that growth in China in particular is weak. Kantar Worldpanel reports Apple losing share in most markets. Slower growth and lower share do not translate into higher unit sales.
Apple has bolstered sales in recent quarters by selling the ageing iPhone 4S at discounted prices in emerging markets, a ploy that supports its market share but contributes only marginally to net income. By some estimates 10 million of Q2 unit sales of 43 million came from 4S models and while the market greeted the quarter with enthusiasm, the results would have been a major disappointment without those 10 million units. Despite the volume the resulting lower average selling prices saw Apple increase year over year profit up only marginally in Q2 with earnings per share higher mainly on the strength of share buybacks.
Competition in both smartphones and tablets has not abated with industry leader Samsung reporting a soft June quarter and citing both softer growth and competition as the underlying reasons. It is hard to see how Apple could be immune to the same forces.
I have not changed my estimate for the Q3 results an iota. I see iPhone sales of about 33 million units with 9 million coming from the 4S fire sale. That should result in revenues of $19 to $20 billion.

The iPad is harder to call in some ways given inventory management decisions and Apple's practice of recording revenues when devices are shipped to carriers rather than when they are purchased by users. I will be surprised if Apple sells more than 12 or 13 million iPads in Q3 with a revenue contribution of about $5 or $6 billion. Throw in $10 billion for Macs, iPods, iTunes and the other Apple revenue lines and I see a quarter with revenues in the range of $35 or $36 billion, at the low end of Apple's guidance, while the street has higher expectations. The combination of high expectations and weak fundamentals is a toxic mix for investors which can often lead to a sharp share price correction. The prospect of blow out demand for the highly anticipated iPhone 6 could mute the damage if Apple does miss, but my bet is that the stock trades lower. As a result, I remain short the name.
Disclosure: The author is short AAPL. The author wrote this article themselves, and it expresses their own opinions. The author is not receiving compensation for it (other than from Seeking Alpha). The author has no business relationship with any company whose stock is mentioned in this article.