Rite Aid (NYSE:RAD) is moving ahead well to excel in the growing U.S. retail drug store market. Despite the intense competition in the industry from market giants like Walgreen (NYSE:WAG), the company has been consistently registering a healthy financial performance in the recent past. Initiatives like remodeling stores into Wellness stores and the recent acquisition of RediClinic are helping the company improve its operational performance. I believe RAD's consistent investments in growth generating initiatives will fuel growth for the company in the long term.
Over the recent few years, the Drug Store Industry witnessed strong growth, mainly due to healthcare reforms. Also, in the future, I believe the industry will continue to grow due to healthcare reforms like the Affordable Care Act (ACA) and an aging U.S. population. The chart below shows the growing pharmacy and drug store sales in the U.S.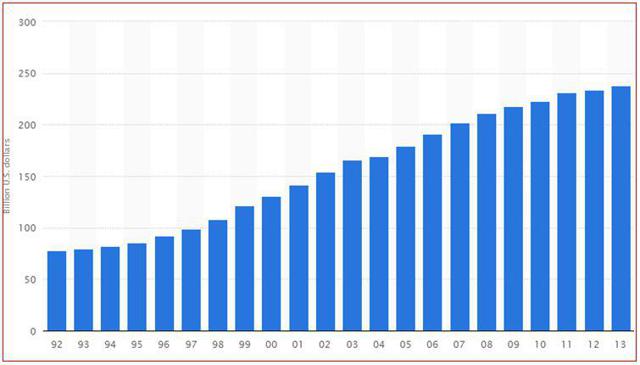 Source: Statista.com
Healthy Financial Performance
The company has been consistently delivering a healthy financial performance in the recent past. Following a healthy 1QFY15 performance, the company reported strong monthly results for June earlier this month. The monthly June results for the industry remained strong due to promotional activities and favorable weather. RAD also grew its sales for the month of June. The company registered a decent same store sales growth of 3.9%, as compared to the same period last year. The company managed to increase its pharmacy comparable store sales by 5.4%, despite the introduction of generic drugs, which adversely affected sales by 1.69%.
WAG has also been posting a healthy financial performance. WAG outpaced RAD's sales growth for the month of June; with a 3.3% increase in basket size, the company's total sales rose 8.9% year-on-year for June. In addition, with a 7.3% increase in prescriptions filled in at comparable stores, the company's June comparable sales jumped up 7.5%, as compared to the same period last year. The following table shows that both RAD and WAG have been growing their monthly sales at a healthy pace.
| | | | | | | |
| --- | --- | --- | --- | --- | --- | --- |
| | January | February | March | April | May | June |
| RAD | 3.2% | 3.1% | 3.5% | 5.2% | 5% | 5.4% |
| WAG | 2.9% | 4.5% | 3.5% | 7.6% | 4.4% | 7.5% |
Source: Companies Monthly Sales Reports
Growth Initiatives
To survive a competitive industry environment, RAD has been consistently taking steps to improve and grow its operations. RAD has made a smart move of introducing better healthcare offerings in its existing store space by converting its stores to new Wellness stores. With the focus on niche aspects of retail pharmacy, Wellness stores have been steadily helping the company grow same store front-end sales and script counts. In 1QFY15, RAD's Wellness stores' front end sales and Rx sales were 2.6% and 1.2% higher as compared to its non-Wellness stores. In its efforts to steadily expand the Wellness store format, by the end of 1QFY15, RAD completed Wellness remodels at 29% of its total locations. The following chart shows the increasing Wellness stores.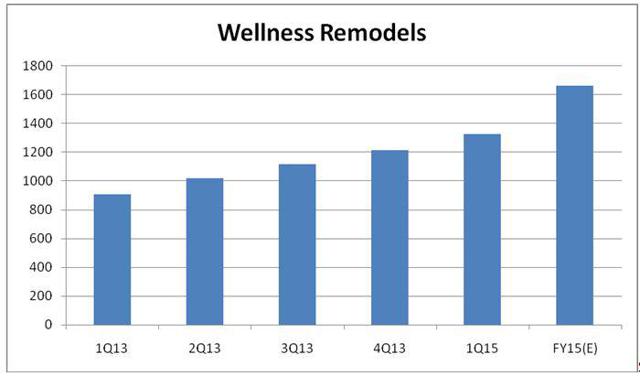 Source: Company's Quarterly Earnings Reports
Going forward, the company's focused efforts in Wellness store format will portend well to grow its revenues, as Wellness stores are more productive and efficient as compared to non-Wellness stores. The company's chairman and CEO, John Standley, highlighted the future potential of Wellness stores. He said, "From a strategic standpoint, it's important to note that our Wellness stores will serve as a primary vehicle for launching innovative merchandising solutions, expanded healthcare offerings, and over the next few years our relocation and new store program."
Moreover, the company's recent acquisition of RediClinic is also a promising initiative. In the next 18 months, in its plan to rollout RediClinic, RAD will launch 70 in-store clinics in its Wellness stores. These newly-launched stores will drive prescription and OTC sales, which will portend well for the company's revenue base in the long run.
Debt Maturity and Guidance
The company is in a growth phase and has been making consistent growth investments; it therefore requires cash flows to finance growth initiatives. Along with making growth investments, the company plans to reduce debt, which will help it improve its risk profile. However, the company can adjust its plans to repay debt, as it does not have any significant debt maturities in the near-to-medium term, which mitigates balance sheet risk. The following chart shows the company's debt maturity profile.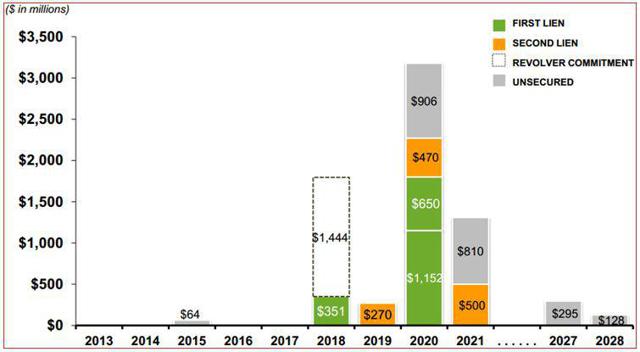 Source: Company's Presentation
The company reaffirmed its CAPEX guidance of $525 million, out of which $225 million will be allocated to store remodeling ($500,000 per remodel). Also, the company expects to generate free cash flows in a range of $350-$400 million, and expects to prepay its 10.25% second-lien 2019 notes in October 2014. Moreover, RAD provided an adjusted EBITDA guidance range of $1,275-$1,350 million, based on expected revenues of $26-$26.5 billion for FY2015. Also, the company reaffirmed its same store sales growth guidance of 2.5%-4.5%.

Conclusion
As RAD has been moving ahead smoothly with its growth initiatives like Wellness store remodeling, I believe the company has strong growth prospects. Consistent with its growth potential, analysts are anticipating a robust next five years growth rate of 40% per annum. Also, the company does not have any significant debt maturities in the near term, which reflects that the company does not have near term balance sheet risk. Also, current valuations for the company remain attractive, as the stock is trading at a forward P/E of 14.85x, as compared to its peers' average of 16.10x. Also, the company has a lower PEG of 0.5, as compared to its peers, which indicates the company offers cheap growth. The following table shows that RAD has attractive valuations in comparison to its peers. Due to the aforementioned factors, I am bullish on the stock.
| | | | | |
| --- | --- | --- | --- | --- |
| | RAD | CVS Caremark (NYSE:CVS) | WAG | Average |
| Forward P/E | | 15.2x | 18.3x | 16.10x |
| PEG | 0.5 | 1.2 | 1.4 | 1.0 |
| P/S | 0.25x | 0.70x | 0.90x | 0.60x |
Source: Yahoo Finance
Disclosure: The author has no positions in any stocks mentioned, and no plans to initiate any positions within the next 72 hours. The author wrote this article themselves, and it expresses their own opinions. The author is not receiving compensation for it (other than from Seeking Alpha). The author has no business relationship with any company whose stock is mentioned in this article.