On Friday, before the market opened, NQ Mobile (NYSE:NQ) came out and announced that they were dismissing their auditor, PwC, and replacing them with Marcum Bernstein Pinchuk, LLP as their registered public accountant.
In a press release put out first thing Friday morning, NQ states that:
The Company's Audit Committee has dismissed PricewaterhouseCoopers Zhong Tian LLP (PwC (OTC:OTC:OTC:PWESF)) as its Independent Auditor. Effective immediately, the Company's Audit Committee has engaged MBP as its new Independent Auditor with respect to the fiscal year 2013 and subsequent periods.

Following consultation with PwC, the Company's Audit Committee confirms that there is no disagreement between the Company and PwC on any matter of accounting principles or practices, financial statement disclosure, or auditing scope or procedure.
In proving that there is no rhyme or reason to the markets, NQ stock - after plunging more than 15% in pre market trading - opened and rocketed up towards the $5 mark. Trading during the day spanned from as low as $3.60 and as high as $5.10 - quite the massive spread.
As you see from the chart below, traders clearly thought this was one step closer to the company becoming compliant with their filings. By noon on the east coast, NQ had breached $5/share once again

Bears spent a good part of the day in disbelief of the trading, and proclaiming the auditor switch as a victory for the short side.
Muddy Waters had this to say in response to the morning's press release:
"PwC's refusal to issue an audit opinion results from the fact (that) NQ is a fraud," Muddy Waters founder Carson Block told Reuters in an email. "By not issuing any opinion, PwC effected a backdoor resignation that attempts to save face for its client."
And, I tend to agree with them. The circumstantial evidence certainly seems to be lining up, doesn't it? First, claims of fraud. Then, a special investigation that - despite not "finding fraud" per se - found evidence of data tampering. Now, an unexplained delay in the company's 2013 annual report has stretched to nearly 90 days from when it was first due. Employing another firm is not going to speed things up - they're going to have to conduct the audit from the ground up, all over again.
As my friend, SA Contributor Keubiko pointed out on Twitter, there's a major difference in the amount of partners at the old audit firm versus the new one:
(h/t @Keubiko)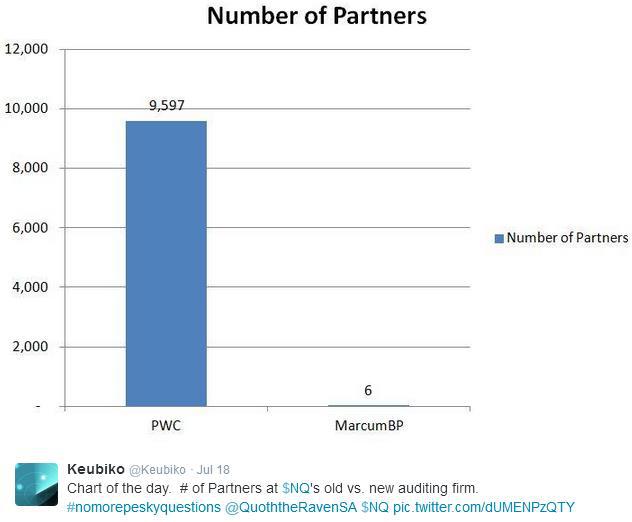 So, QTR thinks this may be a good time to finally go short NQ for a couple of reasons:
1. Again - it's going to be a long time before NQ can get an audit opinion out of their new firm - if they do ever get that far. So, 2013's annual report is still weeks away, at best.
2. The switching of auditors, in general, is a massive red flag. Reminder: this comes after the chair of the audit committee resigned "for personal reasons".
3. We have the advantage of the ridiculous run up from Friday.
All in all, I'm predicting that we won't see an audit out of this new firm. I think regulatory agencies may want to step in and examine the facts before NQ gets much further. Questionable financials that lack an audit are certainly on the list of things that the SEC can halt a stock for. Again, that's simply an educated guess on my part - I'm trying to be somewhat objective here.
In all of my past pieces, I hadn't advocated take a position - either long or short. In today's piece, I'm noting that its getting hard to ignore the potential short trade here. The reason for writing this piece in addition to the piece that I put out on Friday was to make note of the significant price run up on Friday.
It's likely the news is going to settle over the weekend, with saner heads hopefully prevailing and seeing this as a red flag. QTR contends that NQ will likely make a good short candidate here.
Best of luck to all investors.
Disclosure: The author has no positions in any stocks mentioned, but may initiate a short position in NQ over the next 72 hours. The author wrote this article themselves, and it expresses their own opinions. The author is not receiving compensation for it (other than from Seeking Alpha). The author has no business relationship with any company whose stock is mentioned in this article.