The Alerian MLP Index - AMZ - ended on Friday 0.93% higher for the week. The weekly gain puts the AMZ 0.11% back into positive territory for the month of July and 15.62% YTD total return. The S&P 500 was up 0.54% for the week. There were 12 new 52-week highs and zero new lows among the MLP and related stocks tracked on MLPData.com
Kinder Morgan kicked off earnings season for KMP, KMI and EPB on Wed. July 16, and CEO Richard Kinder's interesting commentary on the natural gas sector provides some insight:
On the growth in natural gas production:
"The EIA said on Monday that Marcellus production will be at 15.5 billion Bcf per day in August, and they projected it will surpass Qatar's gas production in September. Now Qatar is the world's third-largest producer of natural gas. I think that gives you an idea of the extent of the production ramp-up that's occurring in the Marcellus."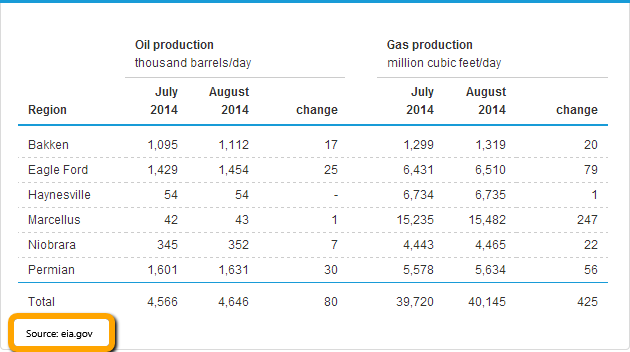 Over the last 7 months, Kinder has signed 3.5 bcf/day of natural gas transportation commitments with another 1.7 bcf/day in pending contracts. Kinder noted that the bulk of the 1.7 bcf was related to third-party LNG export facilities.
Concerning midstream growth prospects:
"In another matter, another estimate of CapEx of -- estimated to be needed to transport all of this rapidly increasing natural gas production, came from the Inga Foundation this week, and they estimated that there would need to be $114 billion spent on gas infrastructure between now and 2020."
On the impact of the condensate ruling on Eagle Ford supply and demand:
Yes, it's a very good question... and it cuts a lot of ways. There's a big disagreement in the industry or, I think, on how big this condensate move really is and whether people are going to have to apply for permits or just ride on the decision of the department on those 2 requests. We think they probably will only get comfort if they actually file for their own permits."
Unit Value Winners and Losers
The week's top performer, Hi-Crush Partners (NYSE:HCLP), announced a second quarter distribution with a 9.5% increase over the Q1 rate. Variable distribution payer Dorchester Minerals LP (NASDAQ:DMLP) appears to be trading higher on the relative discount to Viper Energy (NASDAQ:VNOM), a new mineral rights MLP. Since the listing of VNOM, DMLP is up over 23%. Seadrill Partners LLC (NYSE:SDLP) increased its distribution by 7% to $0.5425 per common unit compared to Q1.
In the losers' column, units with exposure to Refining General Partners, Phillips 66 Partners LP (NYSE:PSXP), Valero Energy Partners LP (NYSE:VLP) and Marathon's MPLX LP (NYSE:MPLX) were affected by the continued speculation on condensate exports and the basis reduction's impact on refinery volumes and margins. Given the drop down nature of these growth stories, the revaluation would seem to be misguided, but we will need to hear the conference call updates to assess whether drop down timing or EBITDA levels might be reforecast. The large unit value gains since their 2013 IPOs (130% and 70%, respectively) indicate higher market expectations on distribution growth rates.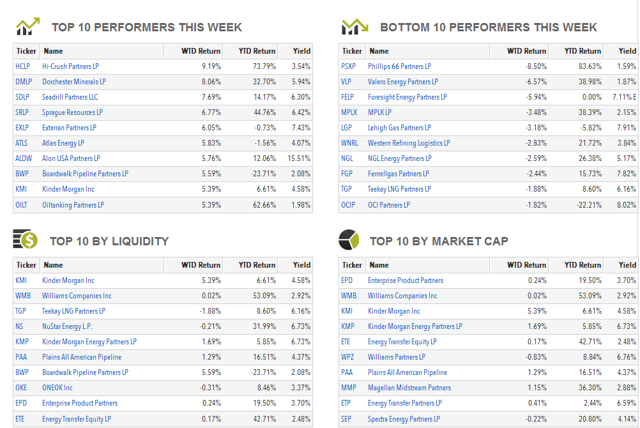 Distribution Rate Changes
It is a common practice for MLPs to announce distributions several weeks before their earnings release dates. Out of 20 distributions announced this week, 14 were for a higher rate than paid the previous quarter. There were no decreases. Beside Hi-Crush Partners, two MLP GP companies, Western Gas Equity Partners LP (NYSE:WGP) and Targa Resources Corp. (NYSE:TRGP), increased distributions by 8.5% and 6.56%, respectively.

ETF, CEF and Mutual Fund Money Flows
Money flows into the MLP focused funds have been consistently at $300 million for three straight weeks. Of the $299 million collected this week, $232 million went into mutual funds and $67 million into ETFs.
Next Week's Earnings Calendar
The pace of earnings picks up next week with 7 reports on the calendar.

To get this round-up each week, please make sure you are following MLPData here on Seeking Alpha.
All charts and tables provided by MLPData.com unless noted otherwise.
Disclosure: The author has no positions in any stocks mentioned, and no plans to initiate any positions within the next 72 hours. The author wrote this article themselves, and it expresses their own opinions. The author is not receiving compensation for it. The author has no business relationship with any company whose stock is mentioned in this article.