In the now historical Bill Gates - Microsoft (NASDAQ:MSFT) vs Steve Jobs - Apple (NASDAQ:AAPL) rivalry, both companies' profiles have been significantly altered by their successor CEO's decisions and visions.
In the case of Tim Cook, Apple has faced some new challenges in maintaining their loyal iPhone customer base and has made Board changes and newly announced deals with the likes of IBM. For Microsoft, the Steve Ballmer era has given way to the new regime of Satya Nadella, and the new CEO is already taking bold steps towards shaping Microsoft in his own profile and vision.
Nadella's New Normal
Microsoft's recent announcement of 18,000 job cuts next year equates to roughly 14% of its work force. Although most of the jobs would come from the April Nokia Corp. acquisition of phone and tablet personnel, it is still the largest pink slip event in the company's history.
Nadella has the unenviable task of satisfying the shareholder and analyst critics who blamed Steve Ballmer for Microsoft's past underwhelming and slow growth rate coupled with what had been perceived as an unfocused acquisition and product expansion strategy. Some of the fixes that Nadella has commenced undertaking include the following:
Increasing the use of iOS in the cloud to compete more directly with Google Android and Apple iPhone mobile platforms, including the latest version for MS Office;
Halting production of Nokia phones supporting Google's Android system and shifting the line to Windows (supporting a rival OS made no fiscal or strategic sense);
Focus sales and marketing of Nokia smartphones in the lower and mid tier mobile platforms, especially in the emerging market sectors, which are showing the fastest growth rate vs. the oversaturated high end market;
Ending the practice of product groups refusing to share software code with colleagues at other divisions, such as between Windows and Office teams;
Shutting down XBox Entertainment Studios, a Steve Ballmer pet project for creating television type programming content for XBox game consoles, which critics cited as a financial drain;
Capitalize on the recent turnaround in personal computer sales for Windows software applications;
Adding more aggressive innovations and marketing support for Windows in the consumer sector, now that it has captured a significant base in the enterprise sector.
A Strong-Willed CEO
While Nadella still has to implement changes while dealing with a Board where Gates and Ballmer maintain significant Board influence, he is in a strong position to impose his will on those moves that the Board approves, given Microsoft's hefty $22B + net income.
Consolidation and simplification are good places to start. The Nokia initiatives to integrate the Finnish company into the Microsoft culture and product family is a critically recognized prudent and sound tactic.
The policy changes surrounding code sharing also address a team ethic that other critics have cited as lacking in the past.
Some Concerns Over New Strategy
Not all analysts have concurred with Nadella's announcements. Some believe that Windows phones have already failed in the market and will follow RIM's Blackberry, so to invest more efforts there will be a waste. Some have also called for selling off XBox, as it has fallen behind Sony's latest PlayStation platform's sales.
MSFT Stock Responds Positively; Investors Should Consider Optimism, As Well
Making decisive cuts and innovations to keep Microsoft cutting edge will garner critical and Board support as reflected in Microsoft's stock price. The layoff announcement was greeted with a 5% positive stock price uptick in 2 trading sessions and hit a new multi year high.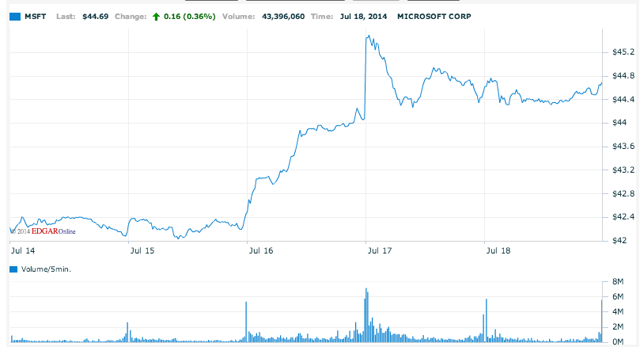 Click to enlarge
(Nasdaq.com)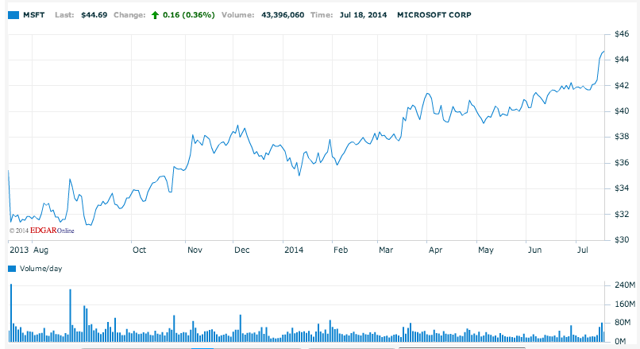 Click to enlarge
(Nasdaq.com)
As the fruits from the rest of Nadella's recent and future decisions become manifest, we will see if the trend shall continue. If so, we could see Nadella hailed as the Microsoft answer to Steve Jobs and his new policies as part of "The Nadella Doctrine."
MSFT has beat expectations for earnings and revenues the past three quarters consistently. MSFT has particularly beat revenues by significant amounts each of these quarters -- $35 million, $850 million, and $744 million, respectively. Shareholders look forward to the next earnings release July 22nd.
MSFT also pays an annualized dividend of $1.12, for a decent yield of 2.52%.
With a price-to-earnings ratio of 16.74, MSFT's price is generally in-line with its earnings, compared with other rising tech behemoths, such as Facebook (NASDAQ:FB), which has a 91.23 P/E.
Along with those MSFT investors, who have responded positively to Nadella's swift moves thus far in 2014, we are increasingly positive on MSFT and suggest others be so, as well.
We invite readers wishing to join the discussion on Microsoft to click the +Follow button above the title of this article, and those looking for the latest updates to click +Get real-time alerts.
Disclosure: The author has no positions in any stocks mentioned, and no plans to initiate any positions within the next 72 hours. The author wrote this article themselves, and it expresses their own opinions. The author is not receiving compensation for it (other than from Seeking Alpha). The author has no business relationship with any company whose stock is mentioned in this article.