Netflix (NASDAQ:NFLX) will report its 2Q14 results on Monday after market. The earnings call will be live via webcast on NFLX website (link). Consensus expects EPS of $1.44, vs $0.49 a year ago, on $1.33b in revenue (+25% y/y).
In Q1, NFLX reported a solid quarter with EPS of $0.86 handily beat consensus $0.81 and own guidance of $0.78. Subs growth in domestic stream was strong as NFLX offer a good mix of original and exclusive content to attract new viewers while retain existing ones. In addition, the company also offered a positive Q2 guidance.
Price hike Déjà vu?
The key focus on Monday will be the effect of price hike during Q2. Recall that NFLX said it expected to increase the streaming service by $1-2/month for new subs in Q2, while grandfathering the current subs at the original price for one to two years.
For those who have followed NFLX for at least 3 years (and this author has), the impact of the last price hike around mid-2011 (+60% increase for DVD and streaming bundle) caused NFLX to lose 800k subs and a 77% drop in stock price over the subsequent four months.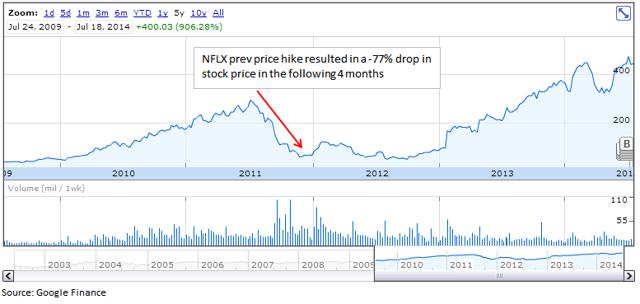 While I expect minor subs churn in the upcoming Q, I do not expect the magnitude to be similar to that of the previous price hike given that the current hike is approximately a 12% increase compared with the previous 60%. Moreover, NFLX has established a better content library than it had three years ago so viewers are less willing to churn just because of a $1-2/month increase in their monthly bill.
Finally, new subs growth could be stable in the upcoming quarter as NFLX rolls out shows such as "House of Cards Season 2" and "MITT". New original series such as "Grace and Frankie" and "Marco Polo" are great addition to the current lineup of "Orange is the New Black", "The Killing" and others.
International expansion rolling into the 2H14
Consensus expects international subs of 13.4m at the end of Q2 and I believe that continued international rollout will be a critical factor to NFLX's future growth. However, such growth will take some time given that NFLX is facing competition from pirated content in Latin America and competition from Amazon Prime (NASDAQ:AMZN) in the UK, so these two markets will ramp up slower than expected. The only bright spot will be places where payment infrastructure, strong IP laws and competitive dynamic are similar to that of US/Canada. Those places include Western Europe, Scandinavia and Netherland. That said, expect Germany and France to be NFLX's next target.
Disclosure: The author has no positions in any stocks mentioned, and no plans to initiate any positions within the next 72 hours. The author wrote this article themselves, and it expresses their own opinions. The author is not receiving compensation for it (other than from Seeking Alpha). The author has no business relationship with any company whose stock is mentioned in this article.