Amazon (NASDAQ:AMZN) will report 2Q14 results next Thursday (July 24th) after market close. Live webcast of the event can be found on AMZN's investor relations website (link). Consensus expects $-0.15 in EPS on $19.3b in revenue. In Q1, AMZN reported a solid set of results with media revenue up 8% y/y and electronic and others up 27% y/y. Most importantly, other revenue, comprised of mostly AWS, saw sales up 58% y/y and now account for 6% of total sale.
Heading into the Q, investors should look into several key themes: 1) ongoing margin expansion driven by AWS and shipping leverage, 2) build up of the Prime ecosystem, 3) long-term competitive risk from Google (NASDAQ:GOOG) and Alibaba.
Investors can expect ongoing margin expansion driven by AWS and shipping leverage. Despite the recent pricing pressure in data center and cloud storage, I expect AMZN to offset the ARPU pressure with increasing customers given its superior product offering, reliability and scale. In addition, greater contribution from third-party sales, digital content and shipping leverage from its prior investments in fulfillment centers are key drivers behind the margin expansion story along with AWS. I note that AMZN's gross margin profile has improved by 6ppt over the past two years, and I expect further margin improvement to the 30% level this upcoming Q.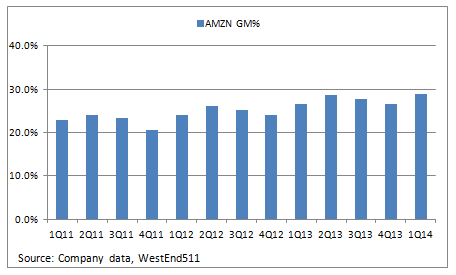 In Q2, AMZN introduced its Prime phone which is available in AT&T. Although I am disappointed at the device pricing that places it on par with other high-end devices such as Apple's (NASDAQ:AAPL) iPhone 5S and the Samsung Galaxy S5, I am positive on the one-year Prime membership that comes with the phone to draw users into AMZN's Prime ecosystem. I believe that each incremental mobile device, be it the tablet or the smartphone, will help to drive AMZN's ecommerce volume and content sale. Most of all, they will gradually build up the Prime ecosystem, making it a relevant player in the current state of the industry that is dominated by AAPL and GOOG. Why do I expect Prime to become a relevant ecosystem? The price hike on Prime services appears to be a success in that churns (if any) were small enough to not have any meaningful impact on AMZN's revenue, which suggests that AMZN continues to command pricing power and that the consumers see the value in Prime. Rising Prime member base will likely drive device sale, thereby gradually building up an ecosystem.
While I am positive on AMZN's near-term growth driven by AWS, content and shipping leverage, I am concerned about the long-term competitive risk that it is facing. On the ecosystem front, Prime competes head-on with AAPL and GOOG as all three looks to build interoperability among devices. This front will likely require significant investment as each player wants to lock users into their own ecosystem, and I view this as a long-term negative on AMZN due to its smaller war chest. On the ecommerce front, GOOG and Alibaba are key risks to AMZN's core business, but I expect GOOG to focus more on strengthening its integration with retailer online sites and Alibaba to maintain a low profile as it develops a rudimentary knowledge of the North American ecommerce market. Nonetheless, both GOOG and Alibaba have strong interest in ecommerce and hence a threat to AMZN's core business.
Disclosure: The author has no positions in any stocks mentioned, and no plans to initiate any positions within the next 72 hours. The author wrote this article themselves, and it expresses their own opinions. The author is not receiving compensation for it (other than from Seeking Alpha). The author has no business relationship with any company whose stock is mentioned in this article.