PACCAR Inc. (NASDAQ:PCAR) is a manufacturer of the Peterbilt, Kenworth, and DAF branded trucks established in Seattle, Washington in 1905. On July 3rd, the stock gapped 5% upward after rumor of a takeover bid from Volkswagen surfaced.
The rumor was speculated by competitor Daimler Trucks' chief executive Wolfgang Bernhard, who mentioned to analysts that "serious, multiple sources" suggest to him that Volkswagen was interested in purchasing PACCAR next year. Volkswagen has since denied the rumor. However, considering Bernhard's status in the industry and the fact that he served on Volkswagen's management board from 2005 to 2007, I would not be surprised if Volkswagen does indeed bid for PACCAR.
Takeover speculation alone does not merit owning shares of the company. Where PACCAR gets interesting is in the relative underperformance of the shares compared with its revenue growth. This is in part because consensus 2014 expectations are for the company to generate $17.52 bil in sales, a meager 2.3% year over year increase from 2013 sales of $17.12 bil. The low growth expectations are on par with 2014 GDP forecast of 2-3% and I believe it sets up nicely for PACCAR to surprise to the upside for all of fiscal 2014.
This thesis was validated on April 29th when PACCAR announced a blowout first quarter to start 2014. PACCAR reported first quarter revenue of $4.38 bil, increasing 11.7% from 2013 first quarter's revenue of $3.92 bil. The astounding top line growth far surpasses the 2.3% expected for this year. The company also increased its dividend by 10% from $0.20 per share to $0.22. Despite solid revenue growth, investors were underwhelmed as PACCAR warned of a potential industry wide steep fall-off in sales of heavy-duty commercial trucks in Europe highlighted in red on the chart below. Consequently, investors sent shares down 3% after the initial first quarter report.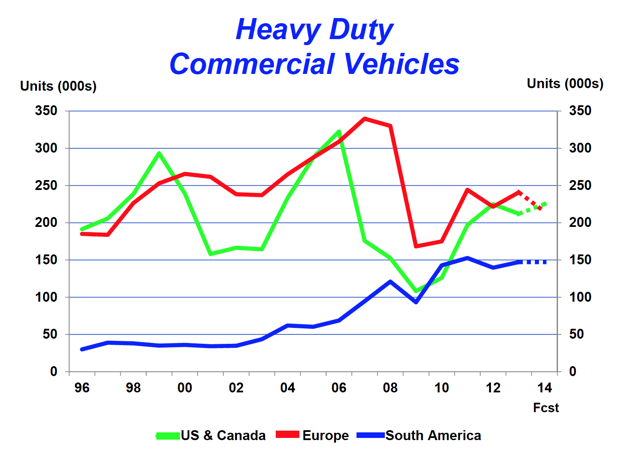 Source: PACCAR May 2014 Investor Presentation
The shares continued their sell-off in the weeks following until a recent low of $60.21 was established on May 16th. Since then, the stock has recovered all of its losses and now looks poised to reclaim its 52 week high of $68.81 after breaking above its 50 day moving average on twice average daily volume. The sell-off in the stock after its Q1 report was a severe overreaction. Although Europe is an important market for PACCAR, it only accounts for 29% of 2013 revenues. Countering the impact of Europe is US and Canada (highlighted in green above) showing forecasted units growth and accounting for 48% of 2013 revenues.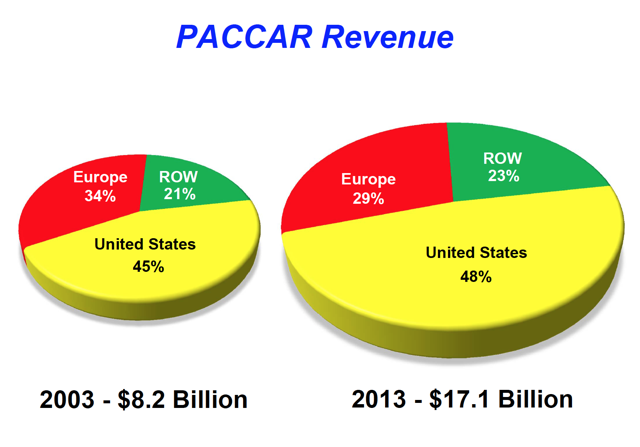 Source: PACCAR May 2014 Investor Presentation
PACCAR is not alone in anticipating strong demand for North America. Cleveland Research recently bumped up its annual forecast for heavy build truck sales due to channel checks indicating strong demand in North America. Further insights can also be garnered from Alcoa's (NYSE:AA) recent Q2 report released on July 18th. The press release stated, "Alcoa increased its 2014 estimate for the North America commercial transportation market to a range of 10 to 14 percent, from a previous range of 5 to 9 percent in the first quarter. The higher estimate is based in part on rising truck orders and backlogs." Considering that aluminum is the main raw material for heavy-duty trucks, Alcoa's statement foreshadows another potential blowout quarter for PACCAR when it reports end of this month.
Recommendation
With the recent weakness in the overall market due to geopolitical tensions around the world, I would use the buying opportunity to accumulate shares of PACCAR. I recently went long PACCAR with a 50% position around the $65 range and will be holding this through Q2 earnings. Should the earnings beat consensus expectations and the share price underperform as it did in Q1's report, I would look to accumulate the other half of my position. My 12-month price target for the stock is $80 using a conservative multiple of 19 on next year's EPS of $4.21 (consensus EPS is at $4.11).
Disclosure: The author is long PCAR. The author wrote this article themselves, and it expresses their own opinions. The author is not receiving compensation for it (other than from Seeking Alpha). The author has no business relationship with any company whose stock is mentioned in this article.