A lot has happened since my last update on Silver Wheaton (NYSE:SLW). Not much on the company-specific level, but very much on the broader level related to gold (NYSEARCA:GLD) and silver prices (NYSEARCA:SLV). The inflation outlook has improved last month, as the U.S. inflation rate "broke out" above 2% for the first time in two years, and the geopolitical tensions have brought the precious metals close to their 52-week highs. And as I expected, Silver Wheaton outperformed the precious metals on an absolute and relative basis, and the stock is now just below its long-term resistance levels. The overall situation and price changes in precious metals will continue to have a crucial effect on Silver Wheaton's price performance going forward, and the current situation favors the long side, but the downside risks remain significant, especially if inflation slows down significantly in the next couple of months.
Improving inflation outlook and geopolitical tensions to drive demand for precious metals
In my last article on gold and silver I wrote about the sustainability of the current rally. The important metrics that I follow when gold and silver are concerned are in favor of the bulls at the moment. Inflation in the United States is finally picking up, and has crossed the 2% threshold for the first time since October 2012. Higher inflation almost imminently leads to higher precious metal prices, and they should continue to benefit if the inflation rate continues to go higher.
Other factors that might contribute to higher prices of gold and silver are rising geopolitical tensions and favorable seasonality. Tensions in Iraq have boosted demand for precious metals as safe haven buying picked up. The Ukraine-Russia conflict is far from being resolved and the recent shooting down of a Malaysia Airlines plane has caused more demand for gold and silver. Israel has launched a ground troups into the Gaza Strip as the exchange of fire escalates. There is also potential for other conflicts to emerge or re-emerge. The troubles in Asia (China-Vietnam and China-Japan territorial disputes) and Syria could also emerge in the future. Seasonality is also favorable for gold in the next six months, as can be seen in my previous article on gold and silver which I linked above.
All of the mentioned factors bode well for precious metals and should have a positive effect on Silver Wheaton's share price going forward. However, it would be normal to see a pullback or at least horizontal price movement for precious metals and Silver Wheaton, since we saw them rise sharply in the last couple of weeks.
Silver Wheaton outperformance should continue going forward
Silver Wheaton has outperformed gold and silver on an absolute and relative basis this year. The stock is up 33% since the beginning of the year, while gold and silver are up 7.8% and 7% respectively. I expect that Silver Wheaton's outperformance should continue going forward, since the company's silver equivalent production is expected to rise 35% from 2013 to 2018. Silver Wheaton's silver equivalent production in Q1 2014 was 9 million ounces, representing an 8% increase from Q1 2013. The rising production should also protect Silver Wheaton shareholders on the downside, as it should offset lower precious metals prices, and the company should benefit immensely if gold and silver price rise significantly in the future.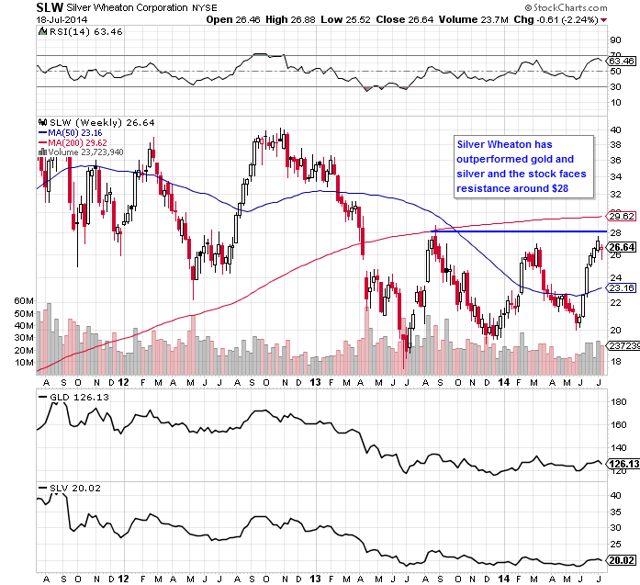 Click to enlarge
Source: Stockcharts.com
And if gold and silver rise significantly in the near-term, the P/E expansion that I talked about at the start of the year is quite possible, and could bring Silver Wheaton's share price above $50 or even $60. This scenario assumes silver prices around $24, which is approximately 20% higher than the current price of silver, and the potential upside is even more significant if the price of silver goes above $24.
Conclusion
Silver Wheaton has outperformed precious metals significantly this year, and the outperformance should continue if the rally in gold and silver continues. The inflation outlook, positive seasonality and safe haven buying are expected to drive demand for precious metals and Silver Wheaton should continue to benefit if these trends persist in the future. The potential upside could be in triple digits if silver gets above $24 (or higher) for a prolonged time period. However, it would be normal for the stock to take a breather and pullback here after a 30% rise in just a couple of weeks. The same could be said for the precious metals.
Disclosure: The author has no positions in any stocks mentioned, but may initiate a long position in SLW over the next 72 hours. The author wrote this article themselves, and it expresses their own opinions. The author is not receiving compensation for it (other than from Seeking Alpha). The author has no business relationship with any company whose stock is mentioned in this article.