I have been bullish on Michael Kors (NYSE:KORS) since the stock came public and have written several bullish pieces on the company here on Seeking Alpha. But the recent trends are not encouraging and the current situation warns of a possible end of the company's rapid ascent. The stock is down almost 20% from its all-time highs while the market continues to go up, and that is an important warning sign for investors. The decline was caused by margin worries as the company has increased promotional activity and some analysts have weighed on the stock as they reduced EPS estimates and price targets. I believe that the current situation warrants caution, and that there is more downside risks than there is potential upside at the moment. I still like the long-term growth prospects, but I am currently neutral on the stock as I believe that it should be avoided in the short-term.
Heeding the warning signs
Several warning signs emerged recently that inspired fear among investors. Three sell-side firms came out on July 15 with warnings, pushing the share price down to levels last seen in February. Sterne Agee analyst Ike Boruchow said that "while sales growth is strong, margins could be nearing the end of the run-way". The firm has tracked sale/clearance styles weekly at the e-commerce websites and observed far more markdowns in Q1 than last year. Boruchow is also concerned with inventories, as they were up 60% at the end of Q4, which was the highest growth rate of FY2014. Another cause of concern is the possible margin pressure. The company's Q4 2014 gross margin expanded just 20 basis points over Q4 2013 which was in contrast to strong margin growth in previous years. In fact, analysts are now projecting FY2015 gross margin to be down 20 basis points over FY2014.
Another warning sign is the valuation contraction. A look at the TTM P/E ratio chart below shows that KORS is now cheaper than it has ever been and I believe this is a reason to be concerned, as most growth companies are cheap when their growth is expected to slow down significantly. The TTM and forward valuation seem compelling now, but they may deteriorate further if estimates start go down. Some analysts have already trimmed their EPS expectations. Sterne Agee lowered its FY2015 and FY2016 EPS estimates to $3.95 and $4.55 respectively (from $4.00/$4.70) and Jefferies was more aggressive as it lowered its FY2015 and FY2016 estimates to $3.60 and $4.00 respectively from $4.00 and $4.60. This just might be the start of the negative earnings cycle for Kors, and we can look at Coach (NYSE:COH) to see what happens to a former high-flying growth stock when its earnings cycle goes negative.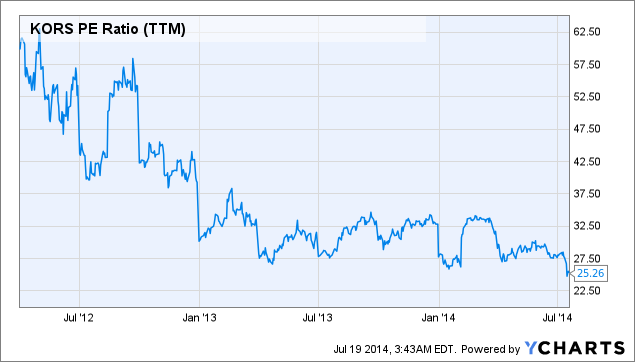 Source: YCharts.com
A lesson from Coach
Coach was the growth stock to own before Kors emerged and took market share from Coach. Coach was actually growing earnings and revenue in double digits when the stock topped in 2012. Growth slowed down to single digits in 2013 and turned negative in 2014 while the share price halved and the stock is now the cheapest it has been since the depths of the recession in 2009. This is why I am concerned with Kors' valuation contraction. As you can see from Coach's example, there might be room for Kors' valuation to go down significantly from here. If Kors' revenue and earnings growth and growth expectations decelerate significantly in the next couple of quarters, the stock could go down 20% to 40% from here. On the other side, if the company delivers another blowout quarter in August, the stock could retest its all-time highs, and go up 20% to 25%. But given the previous reaction to a better than expected earnings report, the fiscal Q1 2015 report should be really good and alleviate the concerns that were outlined in this article. I don't like these odds, and I am taking a neutral (or rather a slightly bearish stance) here until I see more evidence for either the bull or the bear case.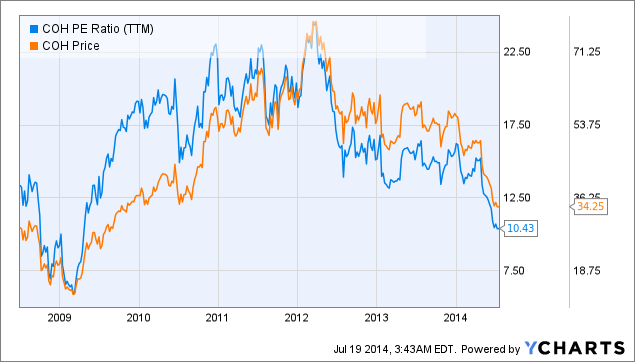 Source: YCharts.com
Conclusion
Given the current situation, caution is warranted, and I would avoid buying Kors after this 20% decline. The reward/risk ratio is not favorable for the bulls, and Coach is a good example what happens to growth stocks once they get out of favor with investors.
Disclosure: The author has no positions in any stocks mentioned, and no plans to initiate any positions within the next 72 hours. The author wrote this article themselves, and it expresses their own opinions. The author is not receiving compensation for it (other than from Seeking Alpha). The author has no business relationship with any company whose stock is mentioned in this article.