Netflix (NASDAQ:NFLX) has made major strides forward in 2014 despite ongoing battles with the FCC and cable companies over the issue of net neutrality. The FCC has now received over 500,000 comments from the public on its pending ruling over the future of the internet. The issue is a hotbed for controversy because it pits internet consumers and service providers against very large cable companies which own the broadband infrastructure. The ruling also has major implications for services that transmit large portions of data, such as streaming video content companies like Netflix.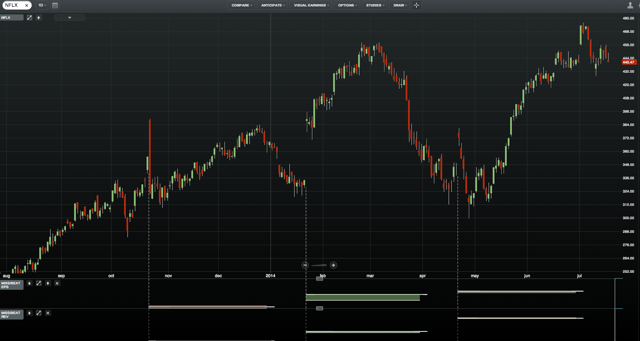 Click to enlarge
Netflix's stock has been on a nice run lately despite some turbulence, and earnings expectations are sky high this quarter. Here's what investors are expecting from Netflix on Monday.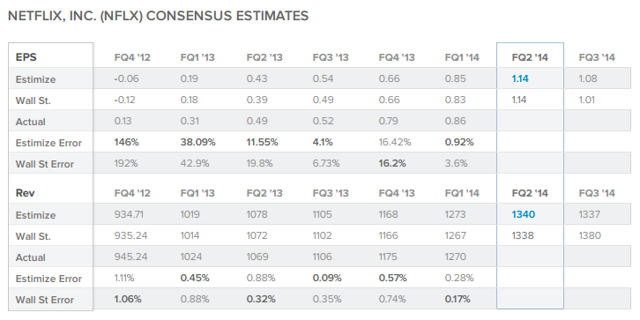 Click to enlarge
Netflix is set to report FQ2 2014 earnings after the market closes on Monday. This quarter 54 contributing analysts on Estimize.com have come to a consensus earnings expectation of $1.14 EPS and $1.340B in revenue compared to a consensus of $1.14 EPS and $1.338B from Wall Street. The Estimize community and Wall Street both have very similar expectations from Netflix and are looking for the online streaming video company to report a year over year earnings gain of 49c per share (133%).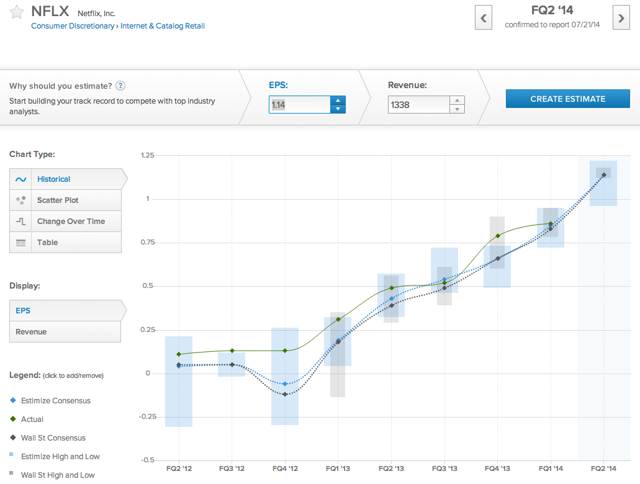 Click to enlarge
As shown in the chart above Netflix has beaten the Wall Street EPS consensus in each quarter over the past 2 years. The shape of the EPS curve bends upward this quarter, signaling accelerating growth in earnings per share. The anticipation of a faster rate of profit growth has likely been one of the key factors driving the demand for Netflix shares since April.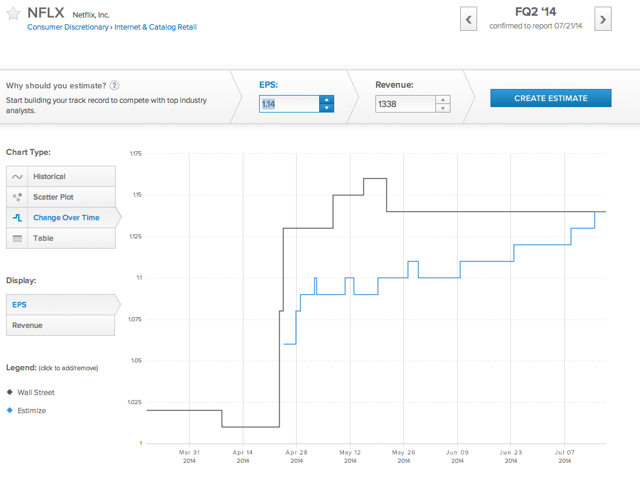 Click to enlarge
Over the past 3 months, Wall Street and the Estimize community have both been revising their earnings estimates upward. Timeliness is correlated with accuracy, and the directionality of analyst estimate revisions are often a leading indicator.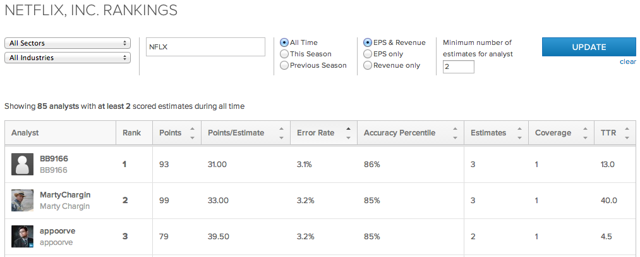 Click to enlarge
Full list here
Estimize.com ranks and allows the sorting of analysts by accuracy, the analyst with the lowest error rate on Netflix with at least 2 estimates scored is an anonymous hedge funder who goes by the username BB9166. Over 2 previously scored estimates BB9166 has averaged an error rate of 3.1%. Estimize is completely open and free for anyone to contribute, and the base of contributing analysts on the platform includes hedge fund analysts, asset managers, independent research shops, non professional investors, and students.
The Estimize consensus was more accurate than the Wall Street consensus 65% of the time last quarter on the coverage of nearly 1000 stocks. A combination of algorithms ensures that the data is not only clean and free from people attempting to game the system, but also weighs past performance and many other factors to gauge future accuracy.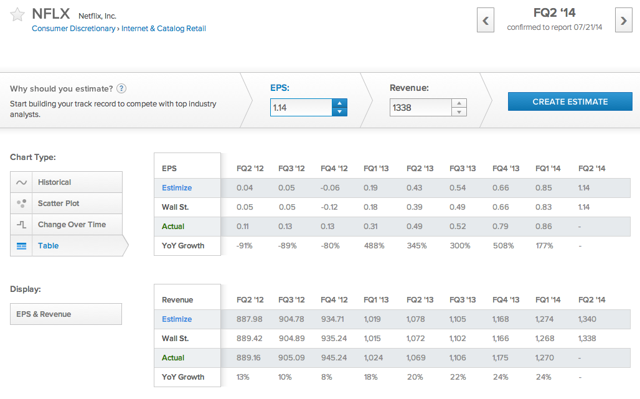 Click to enlarge
Contributing analysts on the Estimize.com platform are forecasting that on Monday Netflix will report earnings in-line with Wall Street's EPS forecast and sneak past the Street's revenue consensus by $2 million (<1%). The Estimize community also expects earnings to grow by a massive 65c (133%) per share compared to FQ2 of last year and for the rate of earnings growth to pick up significantly from a range of 20% to 24% over the past year.
Disclosure: None