"Reality is wrong. Dreams are for real." - Tupac Shakur
Last week was an important one from the standpoint of many intermarket relationships. Homebuilder stocks (NYSEARCA:XHB) continued to badly underperform the S&P 500 (NYSEARCA:SPY) as housing starts missed by the most since 2008. Long duration Treasuries (NYSEARCA:TLT), after their earlier decline in the first week of July, whipsawed to new highs on the year. US small-caps continued their complete relative collapse (price ratio against the S&P 500 below) which came out of nowhere in July and was extremely severe in speed and magnitude, serving as a reminder of the reality that markets can take away performance in the blink of an eye.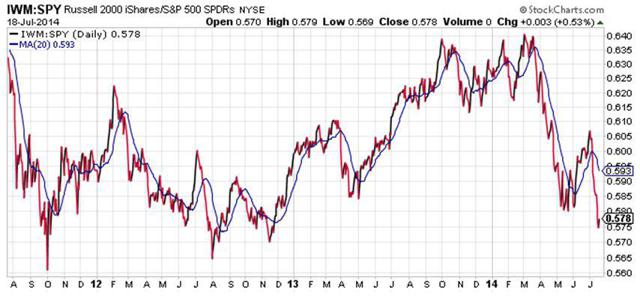 And, of course, the VIX (NYSEARCA:VXX) spiked on Thursday's news of the Malaysian airplane tragedy and ground offensive by Israel, before ultimately falling the day after. Generally, extreme one day spikes in volatility tend to reverse the next day, but of course does not necessarily mean future volatility will remain at low levels. Perhaps most importantly last week, however was the behavior of non-developed countries. Emerging markets (NYSEARCA:SCHE) took a sizeable hit Thursday, only to rebound strongly Friday and still perform well on the week. A meaningful change is taking place, which the bottom graph shows is important to watch for. A moment of reality is coming for emerging market bears, given that emerging market debt (NYSEARCA:EMB) is finally outperforming US junk debt (NYSEARCA:HYG).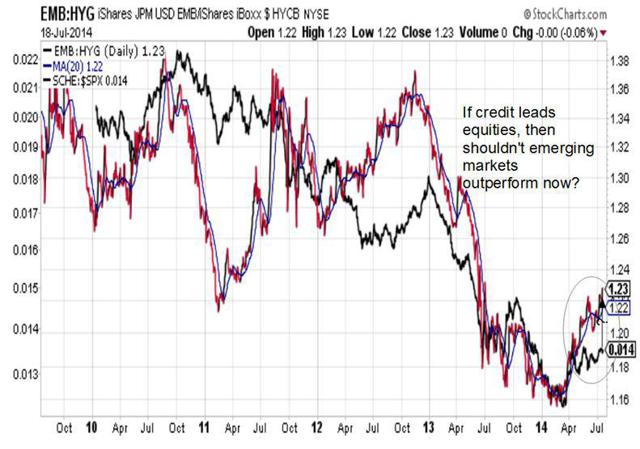 If credit leads equities, it stands to reason that emerging market stocks should begin to meaningfully outperform the US, as they continue to broadly price in a crisis and severe slowdown relative to developed economies. For those looking for the next major move, this could be a dream scenario which plays out. Political change has come to India (NYSEARCA:INP), and may come to Brazil (NYSEARCA:EWZ). Those two alone might be enough to cause funds to flow in EM more broadly, which is where our absolute return inflation rotation strategy are currently positioned given near-term momentum.
All of this, of course, assumes momentum continues, and that conditions still favor equities over bonds which our models week-over-week tell us. As to our beta rotation sector strategy, energy remains the overweight, consistent with momentum in emerging markets and global late-cycle plays leading. Financials (NYSEARCA:IYF) continue to be underweighted as banks overseas perform poorly, and the yield curve flattens.
Disclosure: The author has no positions in any stocks mentioned, and no plans to initiate any positions within the next 72 hours. The author wrote this article themselves, and it expresses their own opinions. The author is not receiving compensation for it. The author has no business relationship with any company whose stock is mentioned in this article.
Additional disclosure: This writing is for informational purposes only and does not constitute an offer to sell, a solicitation to buy, or a recommendation regarding any securities transaction, or as an offer to provide advisory or other services by Pension Partners, LLC in any jurisdiction in which such offer, solicitation, purchase or sale would be unlawful under the securities laws of such jurisdiction. The information contained in this writing should not be construed as financial or investment advice on any subject matter. Pension Partners, LLC expressly disclaims all liability in respect to actions taken based on any or all of the information on this writing.