Last week, global cigarette giant Philip Morris (NYSE:PM) reported its fiscal second quarter results. The company announced a strong quarter, thanks to solid pricing, which helped the adjusted EPS number to beat expectations. The company reiterated its 2014 forecast, and the capital return plan remains on track. Today, I'll look at the results, discuss the company's current situation, and detail what investors should do now.
Q2 results and guidance:
Philip Morris came in just under $7.80 billion in net revenues, which handily beat analyst estimates for $7.52 billion. The company detailed strong pricing and robust market share. When it comes to earnings per share, the company reported $1.17 in EPS, or $1.32 when excluding the $0.15 currency hit. Adjusted earnings came in at $1.41, when taking out the $0.24 charge I discussed in my last article. Take out the $0.15 again, and the adjusted number would have been $1.56. But for now, we'll use the $1.41, and analysts were at $1.24. This was a solid beat.
When it comes to the full year forecast, the company reaffirmed its forecast for reported diluted EPS of $4.87 to $4.97 this year vs. $5.26 last year. Adjusted EPS are still expected to rise by 6% to 8% this year. The company stated that quarterly comparisons in the back half of 2014 would be a bit more challenging, especially in Q4. Also, if the Australian situation I detailed in my last article does not improve, the company may come in at the lower end of its adjusted EPS range.
Balance sheet update::
One item that has become a slightly increasing worry over time is the balance sheet. Philip Morris has rewarded investors in recent years with a tremendous capital return plan, which was fueled by a lot of debt. Many key balance sheet ratios got worse, although they were not at points where we really needed to worry. In Q2, changes in the balance sheet were a bit mixed. In the table below, I've detailed some key numbers going back to the end of 2010. Dollar values are in millions. In yellow, I've compared this year's period against where things stood a year earlier.

*Liabilities to assets ratio.
While working capital increased from Q1 levels, cash decreased a bit. The current ratio edged up slightly, but the liabilities to assets ratio continued its climb. That means that the shareholder's equity balance has gone further into the negatives, approaching a negative $8 billion. Total debt decreased slightly, while net debt increased slightly. In the chart below, I've detailed where these two debt levels stand compared to the 12-month rolling EBITDA level. These ratios are something provided by the company in its earnings releases.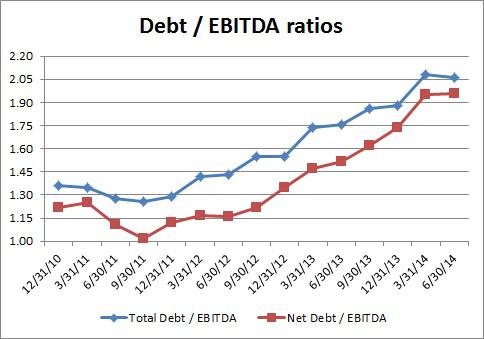 This was the first time since Q3 of 2011 that the total debt to EBITDA ratio declined, which is a good thing. On the flip side, the net debt to EBITDA ratio edged up ever so slightly. Looking at the balance sheet in Q2, investors should be fairly satisfied. While things didn't get much better, we did not see the continued pattern of weakness that we were becoming accustomed to.
Cash flow and capital returns:
In a down year for the company, cash flow has been a key issue. As I detailed in my original dividend raise prediction, Q1 cash flow took a dive when including currency impacts, down nearly 60% (about 37% when excluding currency). The numbers improved in Q2 but were still down a bit. Q2 free cash flow was down about 14% when compared to a year ago, including currencies, and about 1% when excluding them. Through the first six months of the year, the company is down about $1.07 billion in free cash flow, or about $450 million when excluding currencies.
In Q2, the company spent $1.0 billion to repurchase 11.6 million shares. Through the first half of 2014, the company has spent $2.25 billion on the buyback, with a $4 billion target for the year. That would mean slightly less on the buyback in the second half of the year, although share prices are up from where they were early in 2014. Remember, the company will be targeting only $2-$3 billion next year on the buyback, after roughly $6 billion in previous years. That's why the debt level has leveled off a bit here.
In terms of the dividend, the company issued another $0.94 dividend in the quarter. The expectation is that the next dividend will be a raise. My current expectation is still for $1.00 per quarter, which would be a raise of 6.38%. That fits in towards the lower end of the adjusted EPS growth range of 6% to 8%, where I think the company will come in this year. I'll have more on the dividend during August.
Where things stand now:
Now that we are a couple days post earnings, we can look at where estimates stand now. In the following table, I've compared the four names I usually discuss in terms of their 2014 growth estimates and current valuations (based on those estimates). As always, this comparison includes Altria (NYSE:MO), Lorillard (NYSE:LO), and Reynolds American (NYSE:RAI).

We know that 2014 is going to be a down year for Philip Morris, although estimates have come up from their lowest levels. The recent beat should help estimates a little going forward. In terms of valuation, I think that Philip Morris slots in basically where it should be. Philip Morris is a decent buy here, not a screaming buy, but it isn't a short either. In the chart below, I've detailed dividend yields as of Friday's close for these names.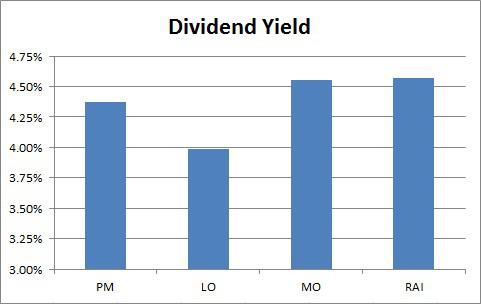 Right now, Reynolds has a slight lead over Altria for the top dividend spot. Altria could take that lead back in the next couple of months with an expected dividend raise. Philip Morris is also expected to raise its dividend in a couple of months, which will increase its yield. Lorillard's yield will remain low for now, especially if Lorillard shares trade up to the takeover price they could be at.
Final thoughts:
Philip Morris reported a strong Q2, but the company's situation really has not changed. 2014 is still expected to be a transitional year with declining revenues and earnings, primarily hurt by currencies and restructurings. The balance sheet held up fairly well, and investors will soon start to look forward to a divided raise in the next couple of months. Shares are reasonably priced at the moment, but investors need to realize that the buyback is slowing down a bit. I don't think this earnings report was that earth shattering, so the story remains the same. Philip Morris remains a solid long term value investment, and investors should accumulate shares on pullbacks.
Disclosure: The author has no positions in any stocks mentioned, and no plans to initiate any positions within the next 72 hours. The author wrote this article themselves, and it expresses their own opinions. The author is not receiving compensation for it (other than from Seeking Alpha). The author has no business relationship with any company whose stock is mentioned in this article.
Additional disclosure: Investors are always reminded that before making any investment, you should do your own proper due diligence on any name directly or indirectly mentioned in this article. Investors should also consider seeking advice from a broker or financial adviser before making any investment decisions. Any material in this article should be considered general information, and not relied on as a formal investment recommendation.