Tuesday afternoon, all eyes will be on Apple (NASDAQ:AAPL) as it reports fiscal third-quarter results. This June ending quarter always seems to be a transitional one for the company, as investors and consumers eagerly anticipate the next series of amazing products. This will also be the first quarterly report for Apple after the stock split, which will provide some additional fun. Today, I'll provide my quarterly Apple earnings preview, not only looking at the quarter to be reported, but the one to come as well. Expectations will be high this time around, especially after last quarter's huge beat, and the run in shares over the last few months.
Looking at past results:
Before I get into the quarter to be reported, it's always good to look back at past results. The table below shows fiscal Q3 in the last two years, with last year's Q3 period in yellow. I also included this fiscal year's Q2, so you can get an idea of how things are sequentially.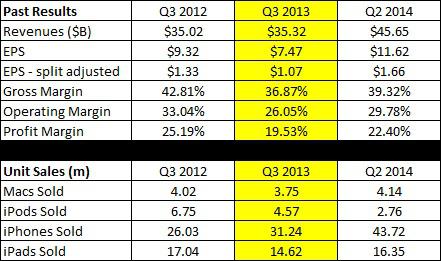 Back in April, here's what Apple guided to for fiscal Q3:
Revenues between $36 billion and $38 billion.
Gross margin between 37% and 38%.
Operating expenses between $4.4 billion and $4.5 billion.
Other income of $200 million.
Tax rate of 26.1%.
When I ran Apple's guidance back in April, using the Q2 diluted share count, I got an EPS range of $7.58 to $8.60. Split adjusted, that would be about $1.08 to $1.23. As long as Apple comes within that range or above it, we will see year-over-year EPS growth for Q3. Now, let's get into the product lines.
Product overview - the iPhone:
Obviously, the iPhone has the largest impact on Apple's results. When I get to my predictions later, I have the iPhone representing around 54% of the quarter's revenues. Apple is expected to show decent year-over-year growth for the phone, thanks to the addition of new carriers, like China Mobile (NYSE:CHL). Right now, the analyst average forecast is for approximately 35.88 million iPhones, almost 15% year-over-year growth.
Expectations are fairly high after last quarter's iPhone blowout, where Apple showed nearly 17% unit growth over the prior-year period. Don't be surprised though if average selling prices come down both sequentially and over the prior-year period. Selling prices usually decline as we get closer to the launch of the new phone, and last year's period did not have the cheaper priced 5c model. I'm a little more positive than the street average, but I'm not going too crazy. I think Apple can do more than 36 million.
Product overview - the iPad:
Back in April, the iPad was the clear disappointment, with sales falling well short of estimates due to inventory fluctuations. Apple CEO Tim Cook stated that demand was not a problem, but I'm not completely sold. Currently, analysts are looking for about 14.43 million iPads to be sold, or about a 1.3% decline over last year's period. I'm not as bullish, but I still think Apple will come in over 14 million. I expect average selling prices to be up over the prior-year period, like we saw in fiscal Q2, but I think that they will be down sequentially. I wouldn't be surprised if the iPad surprises in a big way this quarter (one way or another), but even a big upside surprise could be lost in the shuffle if the iPhone disappoints.
Product overview - the Mac, iPod, and other revenues:
PC sales have started to improve a bit, and I think that will certainly help Apple thanks to its strong ecosystem. Current forecasts call for sales of about 3.91 million units, as compared to 3.75 million in the year ago period. After some of the strong PC results we've seen, I'm going to go a little higher and say that Apple sold 4 million.
As for the iPod, it's almost time to say goodbye to this product line. I'm calling for a 54% drop in unit sales, and for iPod revenues to represent less than 1% of the quarter's total. As for Apple's "other revenues", things like accessories and iTunes, I'm calling for $5.65 billion, up from $5.17 billion in the year-ago period.
My predictions and Q3 estimates:
Every quarter I am asked for my own set of predictions for the quarter, so here's what I will guess:
4.00 million Macs, ASP of $1,275.
2.10 million iPods, ASP of $155.
36.20 million iPhones, ASP of $570.
14.25 million iPads, ASP of $450.
Total revenues of $38.122 billion.
Gross margins of 37.70%.
EPS of $1.25.
I'm a little bit ahead of the upper end of Apple's range, but remember, the bar is a lot higher this time. The current analyst average is for $37.93 billion, which is the upper end of Apple's range. After last quarter's beat, analysts are expecting a strong quarter, so that is a slight risk here. Apple could come in at $37.90 billion for the quarter, just about the top end of its guidance range, and that number would be seen as a miss. I'm towards the upper end of the gross margin range from Apple. Remember, it was the strong iPhone number that led gross margins to be really strong last quarter. A percentage point (100 basis points) of gross margins could basically swing EPS by a nickel.
When it comes to the bottom line, I'm currently two cents ahead of the analyst average for $1.23. One of the most important items to the bottom line will be Apple's buyback. The company had about $44 billion left on the buyback at the end of the prior quarter, when including the raise. That buyback is expected to be completed by the end of calendar 2015. Apple also split its shares 7 for 1 during the quarter. With Apple taking out more debt in this quarter, I'd look for the buyback to hopefully be around $10 billion or so in fiscal Q3.
Looking ahead to fiscal Q4:
Perhaps the most important part of Apple's report will be the guidance for fiscal Q4. With the company expected to launch its new iPhone in September, investors and analysts will try to take apart Apple's guidance for any clues on a launch. Will it be one phone or two? Will there be something else coming? Will one launch come in August and another in September? There are a lot of questions one could ask, and we hope to get some clues this week.
With the launch of a larger screen phone that should be more in demand, plus things like the China Mobile deal still helping, analysts are expecting a sequential rise in revenues and earnings for fiscal Q4. Currently, analysts are looking for $40.44 billion in revenues and $1.34 in EPS, compared to $37.47 billion and a split-adjusted $1.18 in the year ago period. It would not surprise me if the lower end of the guidance range starts with a "3", especially in a launch quarter. We may get a slightly larger range this time around just due to a little extra unpredictability. So I would be looking for a $2-$3 billion range somewhere in the $37-$43 billion range. If I had to guess, I'd say maybe $38 billion to $41 billion.
Final thoughts:
Apple will report earnings this week, and expectations will be high after last quarter's blowout. Analysts are at the high end of Apple's revenue range, with the iPhone expected to show solid growth. EPS are expected to bounce nicely, with some help from Apple's substantial buyback. Investors may be expecting even more out of the company, with shares up $20 since the last report. How will Apple do? We'll find out soon enough, and I'll be back later this week to analyze the results.
Disclosure: The author has no positions in any stocks mentioned, and no plans to initiate any positions within the next 72 hours. The author wrote this article themselves, and it expresses their own opinions. The author is not receiving compensation for it (other than from Seeking Alpha). The author has no business relationship with any company whose stock is mentioned in this article.
Additional disclosure: Investors are always reminded that before making any investment, you should do your own proper due diligence on any name directly or indirectly mentioned in this article. Investors should also consider seeking advice from a broker or financial adviser before making any investment decisions. Any material in this article should be considered general information, and not relied on as a formal investment recommendation.