Last week Seeking Alpha contributing writer, Dale Roberts, wrote an article in which he suggested that "the only thing that drives growth is earnings power" and in his thesis he suggested "dividends are immaterial." He went on to say:
It does not matter if a company decides to return some of the earnings to the shareholders by way of dividends, or decides to reinvest the profits into their own business for future growth.
Wait a minute! I gasped for a breathe. I even read the article again. The author went on to suggest that dividends are not important for retirement funding as he wrote:
…The more research and modeling I did on retirement funding it became apparent the dividends don't matter in that spending stage as well.
Wow. I couldn't sleep well at night if I had simply posted a comment. Nope. I had to vent a little, and this is my reply.
Dividends Matter!
Thousands of empirical studies have shown that companies don't tend to make good use of cash: that is, when they have cash lying around, they tend to spend it on projects that don't benefit shareholders.
So shareholders are better off when they pay out their earnings in the form of dividends. When a company has an investment it wants to make, it's better for shareholders if they have to go outside for capital by floating a secondary equity offering, floating a corporate bond, seeking private debt from a bank or other source, etc.
When they do this they get feedback as to whether or not it's a good investment: if what they want to do is a good idea then the funding will be available on favorable terms, whereas if it's a bad idea then they'll have a harder time getting funding for it. Plus, if they get it, equity analysts will downgrade their existing stock and bonds. That's called capital market discipline.
In short, if company managers are making good use of their cash then they don't need to hold on to dividends because the company will have consistently favorable access to capital. The most common reason for a company to avoid paying dividends is to avoid subjecting itself to capital market discipline --which means company managers preserve the ability to make bad use of their cash. Here's how the legendary investor, Ben Graham, explained it:
Paying out a dividend does not guarantee great results, but it does improve the return of the typical stock by yanking out at least some cash out of the manager's hands before they squander it our squirrel it away.
The author went on to cite the "Modigliani-Miller" theorem that says that the value of the company does not depend on whether the capital comes from equity or debt -- but that is only true under the assumption that dividend policy does not impact company management decisions.
Unfortunately, the overwhelming weight of empirical evidence suggests that dividend policy DOES affect company management decisions: companies that pay out most or all of their free cash flow in the form of dividends do better (other things being equal) than companies that hold on to their free cash flow.
The author went on to cite the "Joe and Theresa" analogy which (upon reading it) clearly suggests that the author doesn't have the slightest understanding of the "Modigliani-Miller" theorem. The difference between them ("Joe and Theresa") is not that Theresa is paying dividends and Joe isn't…It's that Theresa hasn't made the same investment that Joe has made.
A better analogy would be this: Theresa pays dividends: when she wants to increase the number of trees she floats a capital offering, and her actual investments are exactly the same as Joe's. One year, analysts point out that consumers no longer like the taste of the variety of oranges that they have both been producing, and they advise their clients not to participate in the offering.
Theresa gets the message, and stops planting that variety. Joe doesn't get the message -- because he didn't subject himself to capital market discipline -- and ends up making a disastrous decision to expand his holdings of a variety of oranges that nobody wants to buy. He goes bankrupt and ends up dying miserable and broken in a trash-strewn alley where he hoped to find food but finds only his inedible oranges rotting where they were tossed out.
What Better Example than the Monthly Dividend Company©
On Thursday (July 24th) Realty Income (NYSE:O) will announce its second-quarter earnings, and while I plan to take a look at the latest results this week, I'm expecting nothing but the same. That's right. Realty Income is one of the most predictable REITs on the planet and with a growing portfolio of 4,208 single tenant net leased properties, this San Diego-based REIT is a simply a dividend proxy for reliability. Just take a look at the company growth chart below - since 1994, Realty Income has grown from 630 properties to over 4,200 (as of Q1-14).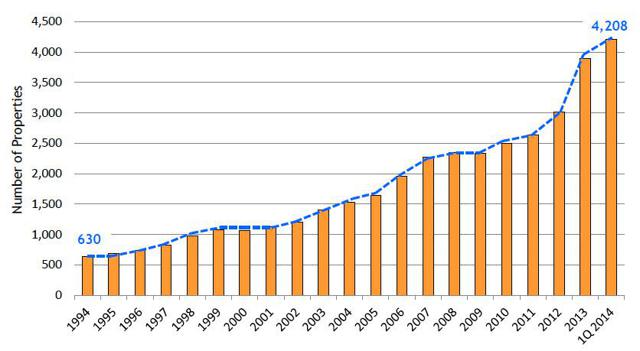 It's true, size does matter. When you consider the fact that Realty Income has one of the most diversified tenant portfolios in REIT-dom. No one tenant represents more than 5.4% of revenue and with 211 tenants today (44% investment grade), Realty Income has evolved into a powerful model of risk control. Here is a list of Realty Income's top 15 tenants (no bank branches):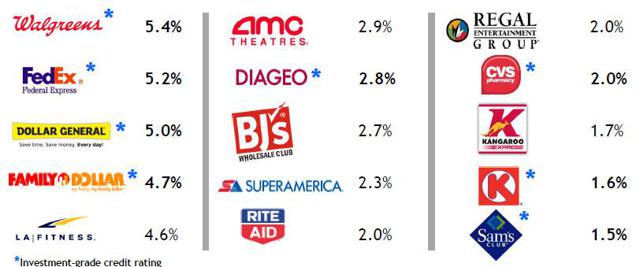 By comparison, National Retail Properties (NYSE:NNN) has a few of the same top 15 tenants as Realty Income; however, NNN does not have the same percentage of investment-grade rated tenants. Also, NNN has around 3.8% of revenue being generated from SunTrust Bank branches (bank branches are shrinking).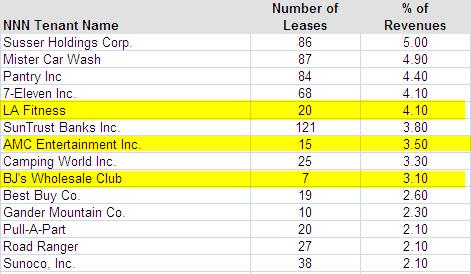 Also, American Realty Capital Properties (NASDAQ:ARCP) is a few days away from closing on the sale of $1.5 billion of Red Lobster-leased assets. In a sale-leaseback with Golden Gate Capital, ARCP will be exposed to increased tenant concentration risk as the REIT will have around 12% of revenue generated from a non-investment grade tenant with declining store sales and declining traffic. ARCP also has a few of the same top tenants as Realty Income. Also, ARCP has 1.8% exposure with Citizens Bank. (chart below reflects tenant list after Red Lobster closes).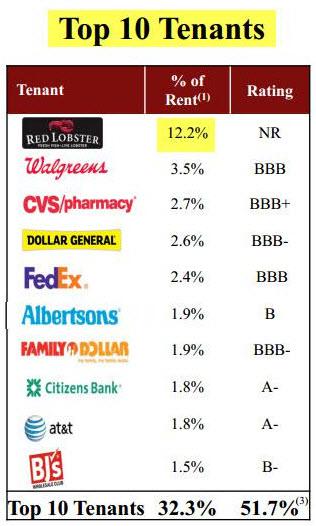 In terms of Industry Diversification, Realty Income has a well-balanced portfolio that includes 47 unique categories. No one industry (or category) represents more than 10% of revenue, and Realty Income's largest industry concentration is convenience stores (or C-stores).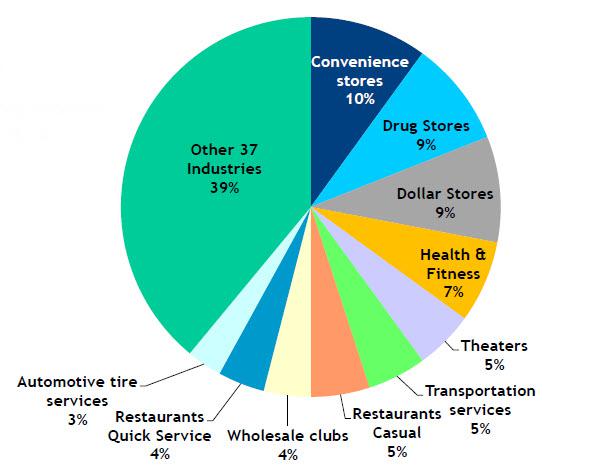 Comparatively, NNN has around 19.6% of exposure in C-stores. That's almost twice as much exposure as Realty Income and a reason to be more cautious when determining a safe margin of safety in your REIT selections. Also, NNN has around 9.5% exposure in the casual dining sector, and Realty Income has around 5%. Again it's important to evaluate the sources of income and consider how rising interest rates could impact certain industries.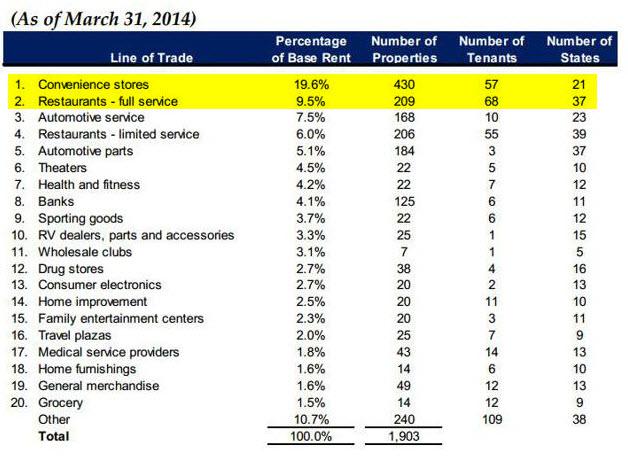 Realty Income owns properties in 49 states and Puerto Rico. The largest concentration of properties is in California (10.6%), Texas (9.8%), Florida (6.1%), and Illinois (5.7%).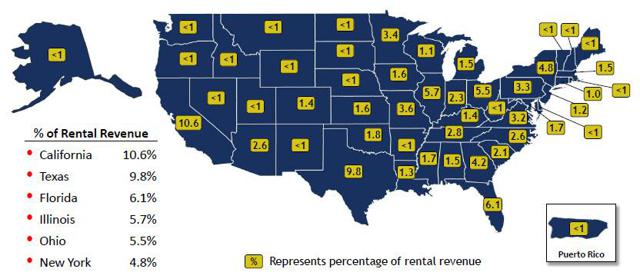 In terms of property type diversification, Realty Income has evolved from around 98% retail-focused (in 2009) to 77.9% (as of Q1-14). It's clear that the company has continued to diversify its property type investments with added exposure to Industrial, Manufacturing, and Agriculture.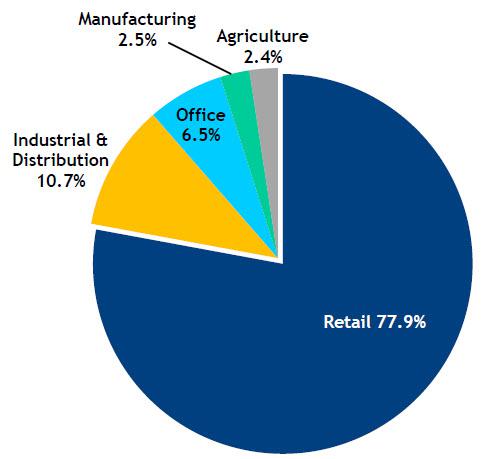 A Blue-Chip Balance Sheet
Last week I wrote an article on 10 "Blue Chip" REITs and Realty Income was (obviously) included on that list. In addition to the powerful diversification attributes (described above), Realty Income also has an exceptional balance sheet. As of the latest reporting period (Q1-14) Realty Income had a conservatively engineered balance sheet that consists of $4.4 billion in debt, $629 million in preferred stock, and $10 billion in common stock.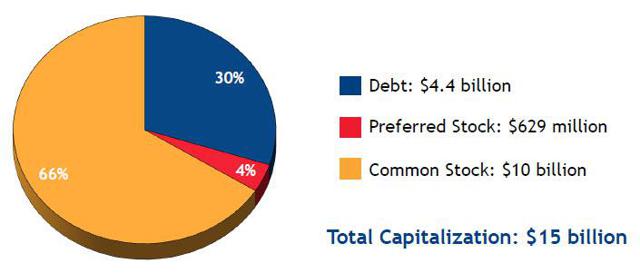 Earlier this summer Realty Income upsized a 12,000,000 share common stock offering, the company placed an additional 1,800,000 shares (purchased by the underwriters upon the exercise of their over-allotment option). The total shares sold in the offering was 13,800,000 shares, and the total net proceeds from the offering, after underwriting discounts and offering expenses payable by the company, is approximately $528.5 million. (see my previous article).
The purpose for the secondary offering was to replenish the credit facility and by issuing equity, the company was able to reduce the revolver so $1.5 billion was available for new investments.
One essential element for Realty Income's "blue chip" blueprint has been to match fund its investments with its long-term liabilities. The company has an average lease term duration of over 10 years, and the company has an average maturity of unsecured debt of eight years. With the exception of short-term facility borrowings, Realty Income also has 100% fixed rate debt (with a weighted average rate of 4.9%). Realty Income has only 17% of secured debt (NNN has the lowest secured debt - less than 1%).

Other important blue-chip balance sheet metrics include Debt/EBITDA coverage of 6.1x, Interest Coverage of 3.9x, and Fixed Charge Coverage of 3.2x. Realty Income as a BBB+ S&P rating (NNN was recently upgraded from BBB to BBB+).

In 2013 Realty Income acquired over $4.7 billion of properties representing 974 assets in 45 states and Puerto Rico. The company expanded its portfolio by 55 new tenants and five new industries. Over 70% of the acquisitions (in 2013) were investment grade rated tenants. During the year, Realty Income raised over $3 billion in three equity offerings and raised $750 million in a 10-year, fixed rate bond offering. Here are some of the brands acquired in 2013: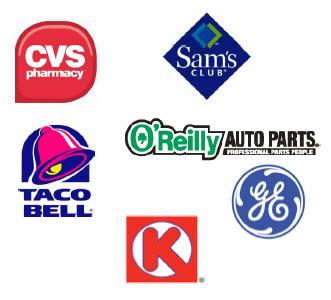 The largest deal in 2013 was the acquisition of American Realty Capital Trust (NASDAQ:ARCT). The $3.2 billion deal added 515 new tenants to Realty Income's balance sheet, including many name-brand (investment grade rated) tenants. The deal increased Realty Income's earnings (or FFO) by around $.20 per share and increased the dividend by 19%.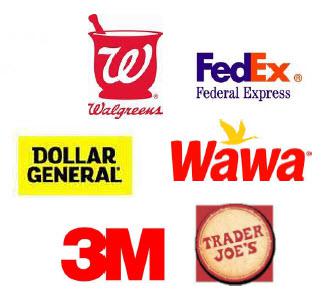 In the first quarter of 2014 Realty Income acquired $657 million of new assets that included 337 properties located in 35 states. The average lease terms of these properties is 14.2 years and the average cap rate was 7.0%. Over 84% of the tenants are investment grade rated. Also during the first quarter, Realty Income raised over $530 million (with around $1.2 billion or available credit). As a result of Q1-14 performance, realty Income's AFFO per share grew by 6.7% to $0.64 and dividends per share grew by 6.4% (from the same period in 2013).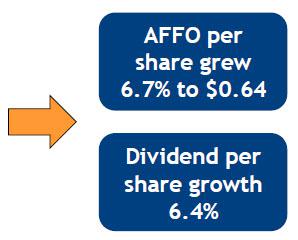 Here's a snapshot of Realty Income today (compared with 12-31-09):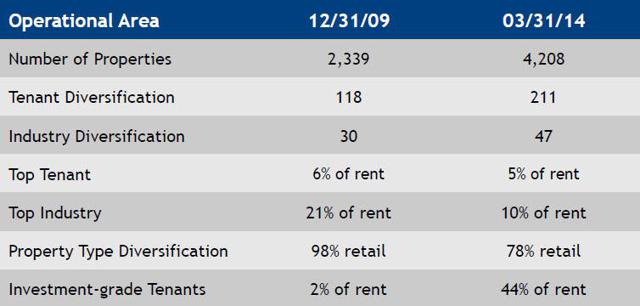 What a Predictable Dividend Model
In the article referenced (above), the author explained:
I understand the lure and emotional attachment to dividends and income. It certainly feels good to "get paid".
Indeed it does. As Josh Peters explained (in The Ultimate Dividend Playbook)
…dividends speak louder than earnings. A company's pattern of dividend payments - its dividend record - can offer valuable clues to underlying corporate performance, clues just as valuable as those provided by earnings reports and other financial data, and definitely more useful than the conclusions someone might draw from looking at a three-month stock chart…
Dividends Do Matter! As Peters explained,
A dividend payment is the ultimate sign of corporate strength.
It's not that investors have an "emotional" attachment to a dividend payment; it's simply that dividends represent a commitment by the company to its shareholders - a commitment that shareholders count on. Dividends are not as mush a "reflection of earnings success" but more so an indication of durability, as Peters explains:
Durability implies that the firm can take a financial punch in one year and come back swinging the next.
In addition, a durable dividend signals an earnings stream that is predictable and can be relied upon over a series of years. Peters summed it up as follows:
Dividend increases provide the best possible evidence of dividend safety.
Realty Income has built its brand value on four words: The Monthly Dividend Company. These four words represent the commitment to investors that the REIT's dividend can be relied upon month after month and year after year. On July 15th the company declared the 529th consecutive common stock monthly dividend, representing an annualized amount of approximately $2.194 per share. Since going public in 1994 the company has increased its (common) dividend 75 times.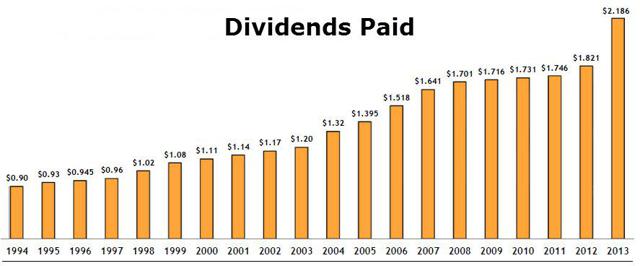 The company's current dividend yield is 4.79% (the peer group average is 5.44%):

Using FAST Graphs, we can illustrate Realty Income's extraordinary dividend history (the aqua blue area represents dividend paid):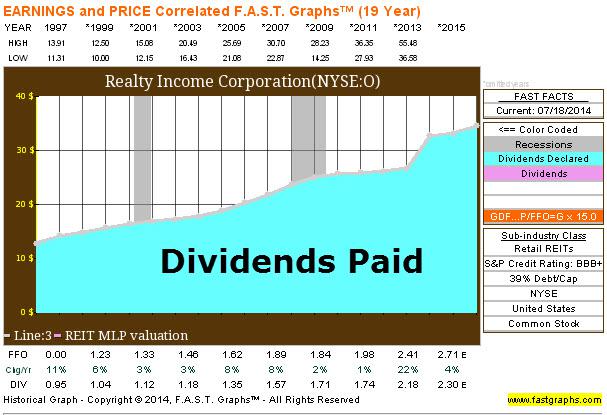 Now, adding the capital appreciation (shaded dark green) and steady earnings (or FFO) growth - the orange line - we can see that Realty Income has maintained a very consistent history of dividend performance.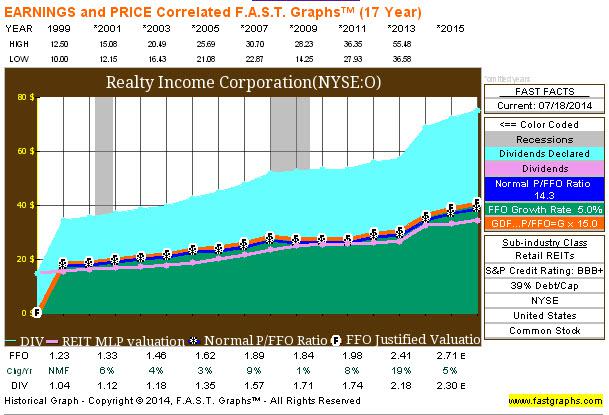 Comparing Realty Income's dividend yield with ARCP's (over the last year) we can see that Realty Income is paying almost the same dividend yield today (4.79%) as it was paying a year ago (4.74%). However, ARCP's spread (compared with ARCP) has increased from 143 bps (a year ago) to 288 bps today - an increase of 145 bps.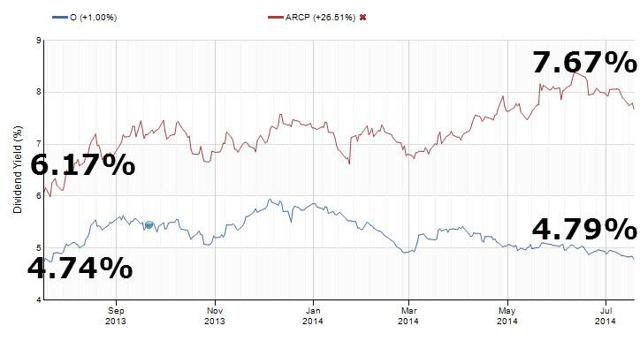 Realty has increased its annual dividend for almost 20 years in a row (that means the company will soon be a Dividend Aristocrat) and over the last three years Realty Income has increased its annual dividend by an average of 8.9%.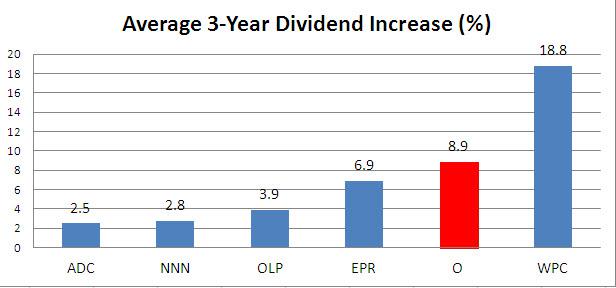 Is Realty Income a BUY Today?
As evidenced by the snapshot below, Realty Income appears to be trading at "sound value." The company's P/FFO (price to funds from operations) multiple is 17.7x (compared with the peer average of 15.3x). However, it's important to note that NNN is trading at 18.5x and ARCP is trading at 16.6x. ARCP has moved up nicely over the last few days reflecting Realty Income's current 17.7x multiple is somewhat of the proxy for the peer group.

ARCP reports earnings on July 29th. As noted in this article (above), the Red Lobster exposure remains a valid risk to consider, although the company has demonstrated financial acumen as evidenced by its improved S&P rating (BBB-) and a more recent alignment of interests (David Kay will replace Nicholas Schorsch as the CEO in October).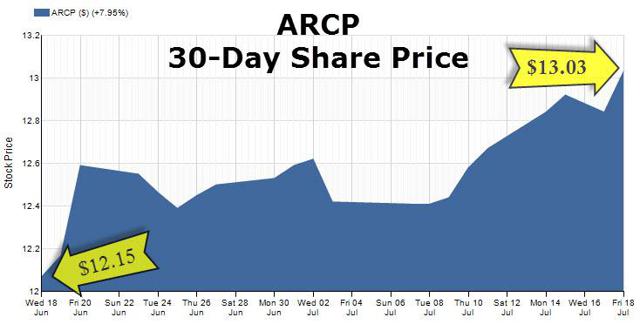 At $45.79, I don't consider Realty Income an attractive entry point (I would wait for a pullback to establish a new entry point). I believe that ARCP is the more opportunistic play, although the premium can be attributed to the higher risk tenant exposure (Red Lobster), immaterial track record (three-year history), and untested management team.
As you consider investing in the Net Lease sector, I think it's critical to address the experience of Realty Income's releasing efforts. ARCP has little history of managing risk. Remember, when cap rates are low and capital is cheap, it's easy to look good. The hardest thing for any REIT is to effectively manage risk and although ARCP has not been around long enough to create a track record, Realty Income has.
During the first quarter (of 2014) Realty Income had 45 leases expire and 39 were released (90% were released to the same tenant, 7% to new tenants, and 3% sold). Over the life of the company Realty Income has experienced 27 bankruptcies (Hollywood Video, Econo Lube n' Tune, Friendly's, etc...). Since 1996 Realty Income experienced 16 bankruptcies and the company captured 95% of the pre-bankruptcy rent. Most importantly, Realty Income's occupancy has NEVER dropped below 96.6% (current occupancy is 98.3%).
So while I consider Realty Income to be soundly valued today, the dividend history is extraordinary. The company has effectively prepared for the future by skillfully managing risk (the potential for loss if things go wrong) and while it is important to establish a sound entry price (a margin of safety), owning shares in a highly predictable dividend paying stock is essential.
So Silly Rabbit, Do Dividends Matter?
Yes, dividends matter! It's the attraction to repeatability - a REIT's strongest sources of differentiation - that makes the asset class one of the most sustainable income alternatives. Most successful REITs have built their remarkable record of dividend performance on consistency, not just high returns.
So while some argue that dividends don't really matter, let me provide you with a chart (below) that demonstrates the accomplishments of "The Monthly Dividend Company." By singularly focusing on its mission of paying monthly cash dividends and employing a consistent business plan, there's overwhelming evidence to support the argument that DIVIDENDS MATTER!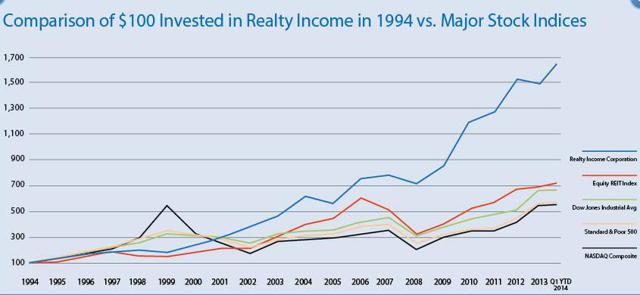 Brad Thomas is the Editor of The Intelligent REIT Investor (aka iREIT Investor). Realty Income is one pick in Brad's SWAN (sleep well at night) portfolio picks. To subscribe to Brad's newsletter, click HERE.
Sources: SNL Financial, FAST Graphs, and Realty Income's Investor Presentation.
REITs mentioned: (NYSE:GPT), (NYSE:GTY), , (NYSE:WPC), (NYSE:ADC), (NYSE:LXP), (NYSE:SRC), (NYSE:CSG), (NYSE:EPR), and (NYSE:OLP).
Disclaimer: This article is intended to provide information to interested parties. As I have no knowledge of individual investor circumstances, goals, and/or portfolio concentration or diversification, readers are expected to complete their own due diligence before purchasing any stocks mentioned or recommended.
Disclosure: The author is long O, DLR, VTR, HTA, STAG, UMH, CSG, GPT, ARCP, ROIC, HCN, OHI, LXP, KIM, WPC, DOC, UDF, EXR. The author wrote this article themselves, and it expresses their own opinions. The author is not receiving compensation for it (other than from Seeking Alpha). The author has no business relationship with any company whose stock is mentioned in this article.