Summary
After a disappointing quarter for Yahoo (NASDAQ:YHOO) and an uncertain future, we recommend that current shareholders sell their shares ahead of Alibaba's planned IPO and investors interested in Yahoo wait until after the divestment of part of Yahoo's Alibaba holdings and for a better valuation. We remain bearish on Yahoo's core business and though the growth of mobile users is encouraging, the cracks in revenue and earnings numbers are too much to recommend investing at this time.
Key Statistics
| | | | |
| --- | --- | --- | --- |
| Share Price | $33.79 | 52-week range | $26.73 -$41.72 |
| Market Cap (Millions) | $34,020 | EV/EBITDA NTM | 22.4x |
| Total Debt | $1,166.3 | P/E NTM | 22.7x |
| Cash | $2,939.5 | Dividend Yield | 0% |
| 2013 Free Cash Flow | $786.45 | 2013 Revenues Ex-TAC | $4,426 |
Source: Factset, July 16th, 2014
Key Developments in Q2
Total Revenue, excluding traffic acquisition costs (Ex-TAC), was down 3% YoY (GAAP revenue down 4.5% YoY), with TAC down 32% YoY

Search revenues up 6%, driven by a more favorable traffic mix; Price-Per-Click up 15% YoY; paid clicks up 3% (deceleration from 21% growth for 2Q13)
Display revenues down 7% YoY, with higher volumes (+24%), but lower PPA (-24%)
Other revenues down 10.5% YoY

Adjusted EBITDA (net of stock-based compensation and restructuring charges) down 7.8%

Includes patent sales of $62MM in 2Q14

EPS up 5% YoY, driven mostly by share buybacks ($6BB in past two years, $719MM in 2Q14)
On Alibaba, Yahoo intends to sell a maximum of 140MM shares, down from the previously stated cap of 208MM

Expected to be fully-taxed, 50% of proceeds to go to shareholders; not announced if special dividend, share buyback, or some combination thereof

Acquisitions and updates:

Search acquired Aviale, a mobile search product for Android
Gemini Marketplace now represents 50% of US mobile display revenue
Yahoo has begun monetization of Tumblr with Tumblr-sponsored posts

450MM monthly active mobile users in 2Q14 (up from 200MM two years ago)
Commentary
Yahoo's quarter overall was disappointing and suggests that Marissa Mayer's turnaround plan for Yahoo's core business will take longer than anticipated. The 3% decline in revenues is worrisome, because it is net of a 32% decrease in TAC, which is affected by a one-time migration of the Microsoft search monetization platform in AsiaPac. The growth in search revenues is encouraging, though tempered by the deceleration in paid clicks, as well as in search revenue growth rates (1Q14 was up 9% YoY). More troublesome is the decrease in display revenue, with lower pricing and higher volumes still leading to a decline in revenues. This suggests a troubled future for Yahoo's display business segment without major changes, especially while Yahoo Ad Manager Plus is behind schedule.
EBITDA and EPS numbers were disappointing on the surface, but are more so considering that EBITDA numbers are padded by the one-time patent sales of $62MM (EBITDA is down 24.6% YoY excluding the patent sales) and the 5% EPS growth is driven mostly by share buybacks (diluted share count down 7% YoY).
We remain skeptical on the long-term monetization of the Tumblr platform until we see numbers pointing towards meaningful revenue contribution. In addition, we are concerned about the long-term organic growth of Yahoo and believe that management will continue to try to grow through acquisition. The 450MM monthly active mobile users in 2Q14 looks encouraging, but may be inclusive of Tumblr users, which is padding the growth prospects. Interestingly, Marissa Mayer stated in the conference call that Yahoo is a "mobile first company," but won't release any breakdown of mobile revenues (other than stating that it is "meaningful").
Finally, on Alibaba, which has been driving Yahoo's stock price over the past year, we feel all the benefits of Alibaba are already priced into the current stock price and cannot predict what will happen post-IPO. We are concerned that management has decreased the amount of shares they will sell and that half the proceeds may remain domiciled overseas for tax purposes. As such, we recommend that current shareholders lock in gains ahead of the planned IPO and that new shareholders stay away for now (from either buying or shorting) until more certainty around Alibaba's stock arises.
Valuation
To derive a fair valuation, we utilized a sum-of-the-part analysis (Credit to Trefis). The four key drivers of Yahoo's valuation are:
Cash (net of debt) - Roughly $2.6BB or $2.60 per share, projected by end of 2014 (inclusive of divestment of 140MM Alibaba shares)
Investment in Yahoo! Japan - Yahoo has a 35% stake in Yahoo! Japan, which has a current market cap of roughly $25BB. Assuming a 35% marginal tax rate, the after tax value of this stake is worth $5.75BB or $5.70 per share
Investment in Alibaba - Yahoo owns 24% of Alibaba (523.6MM shares) and intends to sell off 140MM, approximately 27%, of total shares post-IPO (which has been included in the cash projections). Based on a $130BB valuation for Alibaba (based on internal estimates), the remaining Alibaba shares are worth $13.7BB after-tax or $13.50 per share
Yahoo's core business - the current market price values Yahoo's core business at $12.2BB or $12 per share (P/E of 8.8x consensus earnings of $1.37 per share over the next twelve months). We believe this a slight overvaluation of their core business, based on the lack of evidence of Yahoo's turnaround and their inability to properly monetize its increased traffic numbers. As a result, we value the core business at $8 per share (P/E of 7x on NTM earnings of $1.20 per share). We believe the 7x multiple is justified due to a lack of execution in the turnaround, as well as lower monetization and margins relative to peers.
This derives our fair value estimate of $30 per share. Due to the uncertainty around Alibaba's IPO and a declining core business, we rate Yahoo as a sell.
Yahoo Scenario Analysis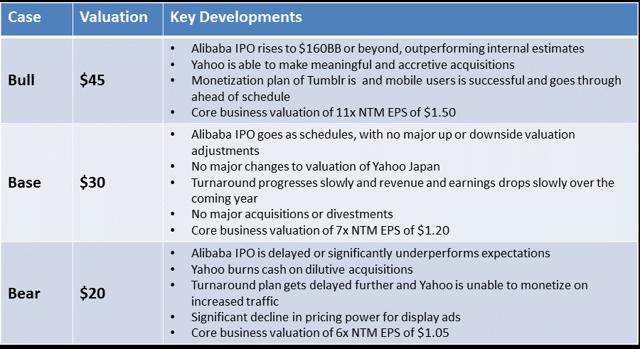 (Source: Self-created, using our models)
Risks
Upside risks include a run-up in Alibaba's valuation post-IPO, faster-than-anticipated implementation of turnaround, potential for acquisitions that add to Yahoo's core business, quick monetization of increased user base, and growth in display ad revenues.
Downside risks include an acceleration of revenue decline and a deceleration in the growth of user base; cash burned through failed acquisitions; a delay or underperformance of Alibaba's IPO; or FX risk from Asian and European exposure.
5-Year Price Chart of Yahoo (vs. S&P 500 and NASDAQ Composite Indexes)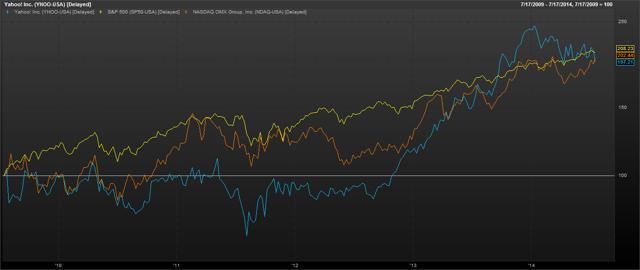 Source: FactSet, July 16th, 2014
Most of the run-up in the recent share price of Yahoo has been from revaluing Alibaba.
Disclosure: The author has no positions in any stocks mentioned, and no plans to initiate any positions within the next 72 hours. The author wrote this article themselves, and it expresses their own opinions. The author is not receiving compensation for it. The author has no business relationship with any company whose stock is mentioned in this article.