With the stock now up over 40% during the last two years, and a P/E finally over 16, has Microsoft (NASDAQ:MSFT) finally returned? The software giant has seen PC sales tank 14% before issuing Windows 8 (worst PC sales drop in history). They have unveiled and launched Xbox One, which didn't have such a successful launch (in depth article here). The giant also went into the tablet market, but built a $900M charge of unsold tablets (it's official: Microsoft's Surface RT launch was an absolute and total disaster).
In fact, the last two years may be considered a constant wreck for Microsoft who had been constantly missing analyst expectations and cutting back growth estimates.
But more recently, things have been beginning to change. Xbox One sales have been claimed to have doubled since the slash in price (source). They are now on a 3rd tablet. Last fall they acquired Nokia's device and services business with a showcase of an Android-Windows prototype phone earlier this year. Earlier this year we have also seen an old CEO go and a new one take over.
Last week Microsoft announced they will lay off roughly 18,000 workers. I look at this as a calling to cut funding for programs that provide low margins and focus on the products with potential. One of those product potentials is the Office 365 package, which I believe has contributed much of its recent growth. The software contributed $2.5B in sales and has more than 4.4 million home users with potential of doubling users and increasing sales to $7-8B in the years to come.
Many of the 18k jobs being cut are from the Nokia division. On Tuesday, Microsoft hinted at ending its Nokia X hybrid phone powered by Android (Microsoft to End The Hybrid Nokia X Series). I personally was hoping to see them continue the hybrid, because the market for Android powered phones is much greater than Windows phones. I don't see that changing either.
Quick and Dirty Fundamental Valuation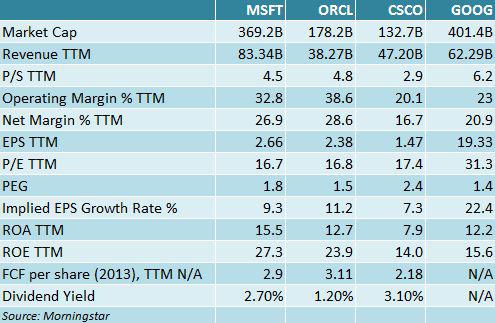 Microsoft is second to Oracle (NYSE:ORCL) when it comes to margins. With around 18,000 jobs being cut, this will obviously increase margins. But what it'll really do is create a more focused, and manageable, workforce being directed by Satya Nadella.
As for the P/E, I consider it fair when looking at Oracle. I conclude by looking at the P/E with the PEG ratio to give me an implied EPS growth rate of 9.3% for Microsoft and 11.2% for Oracle. When we take the dividend into consideration it appears even more even.
Looking at Cisco, Microsoft has a smaller P/E but better margins, future growth estimates, higher free cash flow per share and returns. Even when we take into consideration that Cisco has a higher dividend yield the numbers just don't add up. I don't think Cisco will be able to continue upping dividends with a lower free cash flow. Even if they do I don't see them being able to buy back shares as quickly as Microsoft.
Comparing the companies with Google (NASDAQ:GOOG) (NASDAQ:GOOGL) is a little different, because it's priced as a growth company. Google investors are expecting much more from the company as seen by its implied EPS growth. It is expected to double Oracle, and it's also priced at just about double their P/E. While the rest of the numbers may not be so high, one might justify it as okay to sacrifice financial strength for higher growth.

When looking at the return ratios, it's clear Microsoft is king. The company is doing an excellent job at being profitable with its assets and is also the most profitable with shareholders' equity. Even when we don't take into consideration its capital structure, the firm has a ROE 2.7% above Oracle. We can expect Google to not be quite as profitable or efficient due to their sacrifice of financial stability for fast growth.
Why I believe Microsoft will perform neutral
In 2013, the Microsoft Business Division generated the larger portion of revenues at 31.8% and it's also the most profitable generating 48.4% of operating profits. This division includes the office software, including the cloud based 365 mentioned above. Platform-as-a-service (PAAS) is currently a low concentrated industry, with the top 4 companies owning 45.7% of the total market. Microsoft is tied with Google at 12.1% for highest market share (NetAdvantage Industry Research Report). This suggests a very competitive market that may keep margins down in the near future.
The second largest division in 2013 was server and tools. It generated 26.3% of net revenue, but only 24.4% of operating profit (down almost 2.5% from 2012). The potential for profit in this division is extremely large in the long run and it may not appear so due to the capital intensive up-front costs. While they certainly aren't the market leader in server solutions, the market for such services is quite large. IDC expects the CAGR for such services to be 23.5% through the end of 2016 (NetAdvantage Industry Report). Much like PAAS, Microsoft isn't an industry leader and the industry also has a low concentration.
What Microsoft has to do to get ahead
Microsoft needs to actually stand out. I have just shown that they are in all the right industries with potential for high growth, but I don't see them having any current competitive edge over IBM (NYSE:IBM) for server solutions or Cisco for networking technologies. Setting up such systems requires a lot of money to implement and many companies will be very hesitant to switch over due to the large costs.
I also wish they would have continued with the Android powered phones. Microsoft has proven over the last couple years they can't penetrate the cellphone market, with global market share under 4%. I feel like it was their best chance of acquiring more users, but they killed the project before it began.
Finally, I believe Microsoft will become the drama queen of tech stocks for the next year. I believe the company will be creating and killing more projects than ever before. I won't be surprised to see major restructurings of some of the divisions, potentially killing off the entire internet services division. Microsoft will start looking like a new company in the short run, but I believe it will take a couple years before any of it actually pays off to shareholders.
Disclosure: The author has no positions in any stocks mentioned, and no plans to initiate any positions within the next 72 hours. The author wrote this article themselves, and it expresses their own opinions. The author is not receiving compensation for it (other than from Seeking Alpha). The author has no business relationship with any company whose stock is mentioned in this article.