SanDisk Corporation (NASDAQ:SNDK), the global leader in flash storage solutions, released better than expected earnings results for the second quarter of fiscal year 2014. The lucrative solid state drive "SSD" market had robust growth and solid margins helped SanDisk in generate $1.63 billion revenues with 11% year over year and 8% sequential growth. The revenue growth came with record quarterly revenue generation from both enterprise and client SSD. SanDisk has made significant progress in its SSD business and its SSD solutions contributed 29% of the second quarter revenues compared to 16% in the second quarter of 2013. SanDisk's growing focus on high-end SSD helped to offset the volatile prices for memory chips, boosting the company's stellar results, and taking the stock price to its highest level.
The favorable pricing movements and the company's cost-cutting efforts helped the margins to expand to 48% in the second quarter from 47% a year earlier. However this margin expansion was not good enough to match the industry's average margins and could hurt future profitability. For the quarter net income increased 10% to $329 million, or $1.41 per share, compared to $299 million, or $1.22 per share in the second quarter of 2013. SanDisk may not be the company for dividend seekers; however, the company somehow started taking care of investors and it has increased its quarterly per share dividend to $0.30 or 33% for the third quarter of fiscal year 2014. Going forward if the company keeps its growth pace then it is valid to expect that SanDisk will also keep increasing its dividend to enhance investors' returns.

Source: Earnings Release
Focus On Solid State Drive
In the last couple of years SanDisk has repositioned itself as an enterprise storage provider rather than a removable storage manufacturer. The enterprise SSD market is growing rapidly and will continue to grow at a rapid pace at least for the next five years. SanDisk made significant improvements and its SSD revenues in 2013 almost quadrupled compared to 2012's sales reaching $1.17 billion or 19% of 2013 revenues. Overall the SSD market grew 53.1% in 2013 to $10.99 billion. Looking at SanDisk's quarterly results, it is clear that the company's strong SSD sales will continue to have a major impact on the top and bottom-line growth. This is the reason why SanDisk has tried to shift major revenue proportion from SSD solutions in the last few quarters.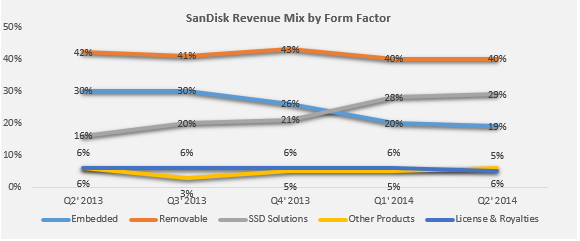 Source: Company Presentation
New Product Line
In the second quarter, SanDisk introduced innovative products to strengthen its portfolio. To target enterprise SSD, the company introduced Optimus MAX SAS SSD, the industry's first 4-terabyte SAS SSD and Lightning Ultra Gen. II 12Gb/s SAS high-endurance SSD. In client SSD, SanDisk introduced SanDisk Extreme PRO a high-performance client SSD with up to 1-terabyte of capacity. For mobile it introduced iNAND Standard, an embedded flash drive solution for entry-level tablets and smartphones in China and other high-growth markets to benefit from the market's growth potential. Beyond 2015, SanDisk's new ULLtraDIMM SSD enterprise-class, ultra-low latency, memory channel storage solution has the potential to further increase its market share in the high-end enterprise SSD space.
Proposed Acquisition of Fusion-io (NYSE:FIO)
Recently SanDisk announced the expiration of the HSR waiting period for the proposed acquisition of Fusion-IO and this satisfies one of the conditions to close the tender offer. Back in the mid-June SanDisk announced it would buy Fusion-IO in a cash deal of approximately $1.1 billion. Under the terms of agreement, SanDisk would buy all outstanding shares of Fusion-IO for $11.25 per share which implies a 20% premium to market price.
The deal will be finalized during the third quarter of fiscal year 2014. Fusion-IO's revenues in fiscal year 2013 were $432 million reflecting growth of 20% year over year.. Similar growth in the current fiscal year would yield revenues of $518 million thus adding about 28% to SanDisk's 2014 SSD revenue at the company's current SSD revenue growth rate.
SanDisk is looking forward to strengthening its SSD business because this acquisition will add over 7000 worldwide customers. Fusion-IO is the dominant vendor in the PCIe SSD market which shipped 531,000 units during 2013. This will further strengthen SanDisk's position in the storage market as PCIe-based SSDs are in high demand among enterprises dealing in online transaction processing and data warehousing. The synergies from this acquisition will help SanDisk to emerge as a major player in the fast growing SSD and flash memory market, thus lending greater stability and growth to its revenue stream.
Conclusion
The company's performance has improved drastically in the last few quarters which lifted the share price higher. Moreover SanDisk delivered surprising earnings results in the last four quarters to beat analysts' estimates at an average rate of 18.75%; this is a very impressive performance. The positive earnings revision for the third quarter is well justified and it is highly likely that the company will beat those estimates. Also the company's margin expanded due to a mix of high-margin embedded and client and enterprise class SSD solution and products. Moreover, SanDisk is witnessing an increase in the demand of its SSD products which will boost its top line. The decline in cost per gigabyte and increase in average selling price per gigabyte is also an opportunity for SanDisk.
SanDisk is a fairly valued stock and it is trading at a forward price to earnings multiple of 16.1 times in comparison to the S&P 500's PE of 17.4 times. In the next five years, SanDisk's earnings per share are expected to grow by high double-digits of 18.75% which is a very impressive growth rate. Because of the company' new acquisition, continuing growth in the SSD business and new product line, analysts have assigned an average target price of $112.28 which will give rise to an upside potential of 15% to its current price of $97.62.
Disclosure: The author has no positions in any stocks mentioned, and no plans to initiate any positions within the next 72 hours.
Business relationship disclosure: The article has been written by a Gemstone Equity Research research analyst. Gemstone Equity Research is not receiving compensation for it (other than from Seeking Alpha). Gemstone Equity Research has no business relationship with any company whose stock is mentioned in this article.