About a year ago, I looked into an investment of Under Armour, Inc. (NYSE:UA), the premier performance apparel brand. At the time, it seemed like a great idea. A fairly high, but reasonable P/E for a strong brand name business, projected growth opportunities within footwear and international expansion coming into the forefront. Since that timeframe, Under Armour has exploded into valuable partnerships in the Olympics and an increasingly marketable brand that has raised its market value by nearly 100%. Ever since then, I wanted to find the next Under Armour.
Lululemon (NASDAQ:LULU), at a time, was singing a similar sweet tune with growing brand awareness and operating performance. Revenue growth was nearly 40% for the past 4 years with net operating profit growing way over 50% before 2013. Furthermore, Lululemon had an even greater attribute: a strong customer base. People who shopped at Lululemon didn't just like their products, they loved them. Better yet the company was a designer and retailer of premium athletic apparel (mostly for women), presumably meaning higher prices, higher margins and more value for shareholders. I thought to myself that if this premium brand has the operating margins and growth, then this could be a compelling opportunity for a nice growth stock. What I found from this experience is that price when making an investment decision is paramount in reducing investment loss and maximizing long-term returns.
The Story
As I stated a little earlier, the Lululemon growth story was a wonderful opportunity coming out of the financial crisis. But near term, this security has been an absolute nightmare. The company has lost 33% of its equity value YTD.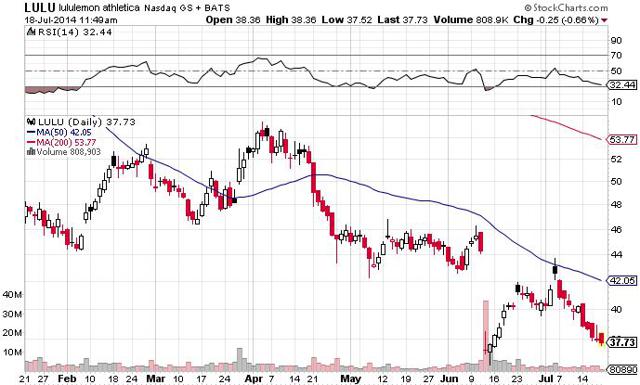 (Source: Stockcharts.com)
Ever since spring 2013, Lululemon has suffered a headwind of problems starting with their "see-through" yoga pants fiasco. Here is an excerpt from their 10-k:
"In mid-March 2013, we determined that certain shipments of women's black Luon bottoms received from our factories and available in our stores from March 1, 2013, did not meet our specifications. As we became aware of this issue, we pulled what we believe to be all of the affected items from our stores, showrooms and e-commerce sites and began working with our supplier to replace the fabric and with our other manufacturers to replace these items as quickly as possible."
(Source: Item 7 of LULU 10-k, Management's discussion and analysis of financial condition and results of Operations)
What a headache! And to make matters even worse, the company had to hire a new CEO and Chief Product Officer in the past year. Although Laurent Potdevin has stated that the focus will be on the core business and making fiscal 2014 an "investment year", investors haven't rewarded the new chief with a rousing cheer and bids into the struggling retailer.
On top of that (it never stops does it), Founder Dennis "Chip" Wilson has been butting heads with the Lululemon board, trying to exert his influence on the retailer with his 28% stake in the company. As highlighted in this Wall Street Journal Article, Wilson has fought against newly appointed board members and disagrees with how the company is investing primarily in the globalization of the brand rather than product development. For LULU, it's true that not all news is good news.
Valuation
Let's look at some competitors to get a better picture of where LULU stacks up in the apparel industry.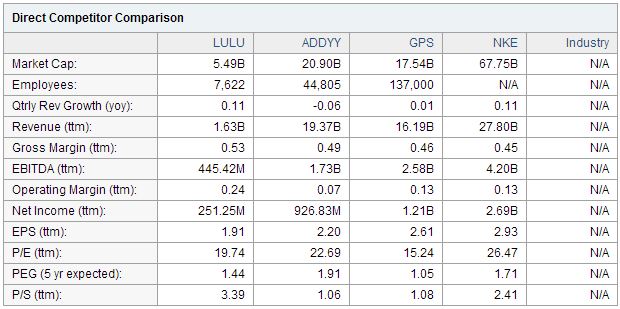 (Source: Yahoo! Finance)
Clearly, Lululemon has noticeably better Gross and Operating margins and sports a better P/E ratio than Adidas (OTCQX:ADDYY) and Nike (NYSE:NKE) while excluding the Gap (NYSE:GPS). Revenue growth by Quarter is also beating the others by a considerable margin. Despite these presumably nice metrics, let's look a little closer at a DCF valuation of Lululemon.
The DCF model below assumes the following: The 5 year averaged ratio of Depreciation and Amortization to Sales, Taxes to Sales, Capital Expenditures to Sales and Working Capital to Sales, are all applied to future projections. Also, base case growth applied to EBITDA is 15% for first 3 years, with 3% growth indefinitely as a going concern. I applied this simple growth track to illustrate a scenario in which Lululemon was able to return to solid operating growth despite a modest 5% increase in EBITDA from the prior year. WACC is 10% due to no long term debt in the balance sheet and cost of equity being 10%. Additionally, stock price used is $37.79 as of 7/18/2014, 1:19 pm.


(Source: Personal DCF valuation model and forecasts)
Now based on its -33% YTD stock fall, it may seem like LULU is an obvious buy based on historical performance. But due to rising competition in the yoga space and relative saturation of current domestic market, growth will become very challenging going forward. Additionally, using other methodologies to come to an appropriate equity valuation may yield higher results, but based on this simple and widely accepted DCF philosophy I believe that Lululemon is still not a great buy from a value perspective.
Now being the investigative investor that I am, I also have found that a 20% EBITDA growth for the next 3 years and 3% constant growth afterwards yields the current market price of $37.79. Fair enough (no pun intended), but the proof needs to be in the operating results for the next few quarters. They need to rapidly expand their boundaries from North America and Australia into the booming Asian and recovering European markets. Their image must be rehabilitated in order to prove that they can be competitive with Under Armour and Nike. However, this scenario is certainly possible.
Ultimately, prospects look bleak when focusing on the base case DCF valuation metric. And at the moment, LULU looks a little pricey for my liking. But there is no question that this company can rebound with the right capital expenditures and global strategy to create sustained organic growth. For now, I am still on the sidelines waiting and watching.
Disclosure: The author has no positions in any stocks mentioned, and no plans to initiate any positions within the next 72 hours. The author wrote this article themselves, and it expresses their own opinions. The author is not receiving compensation for it. The author has no business relationship with any company whose stock is mentioned in this article.
Editor's Note: This article discusses one or more securities that do not trade on a major U.S. exchange. Please be aware of the risks associated with these stocks.