The U.S. Coal Industry continues to experience tough business conditions. The stock price performance of coal stocks was largely negative during 2Q14. As we are heading into the 2Q14 earnings season, I believe the stock price performance will be pressurized due to weak met coal prices and rail issues affecting steam coal volume. Also, coal companies are likely to provide an update on sales and production volume guidance. Walter Energy (NYSE:WLT), a pure-play met coal producer, recently announced preliminary 2Q14 met coal sales and production. The company has been struggling to deliver a satisfactory financial performance in the recent quarter due to soft met coal demand and weak met coal prices. Also, WLT recently opted for a $320 million senior secure note offering to improve its financial flexibility.
Liquidity
As the Coal Industry conditions remain tough, WLT has been consistently making efforts to improve its financial flexibility. WLT has been making efforts to cut costs, reduce CAPEX and extend maturities to survive the difficult industry conditions. Also, the company has been considering the sale of non-core assets to improve its liquidity position. Currently, WLT has $430 million in cash equivalents, which according to UBS analyst Kuni Chen, is enough to survive until the end of 2015. WLT recently opted for a private offering of $320 million of 9.50% senior notes due in 2019. The proceeds from the issue will be used to repay $298.1 million of outstanding debt under its revolving credit facility. Also, amendments to a $2.73 billion credit agreement allow WLT to increase the size of the total credit available under the credit facility and amend the financial maintenance ratio. The amendment will allow the company to improve its financial flexibility in the short term. The company is also targeting asset sales of $250 million in 2H14; the company is likely to discuss the progress on its planned asset sales during the 2Q14 conference call.
Production Cuts and Weak Met Coal Prices
Weak met coal markets remain a concern for coal companies and investors. Excess met coal supply, mainly from Australian producers due to a weak Australian Dollar, and weak met coal demand from China have kept met coal markets oversupplied and limited a price recovery. Recently, the met coal quarterly benchmark price settled at a six-year low of $120/ton for 3Q14, flat quarter-on-quarter. The met coal market is believed to be oversupplied by 30 million tons, despite global production cuts of approximately 40 million tons in the recent two years, according to Moody's. Due to weak met coal prices, Moody's and S&P have cut WLT's credit ratings from Caa1 to Caa2 and B- to CCC+, respectively. The continuous weak met coal prices signify the importance of additional production cuts. In response to weak third quarter met coal benchmark prices, Alpha Natural Resources (ANR) have decided to close its Cherokee met coal mine in Southwestern Virginia and Cliffs Natural Resources (NYSE:CLF) announced to idle its Pinnacle mine. The following chart shows the quarterly met coal benchmark prices.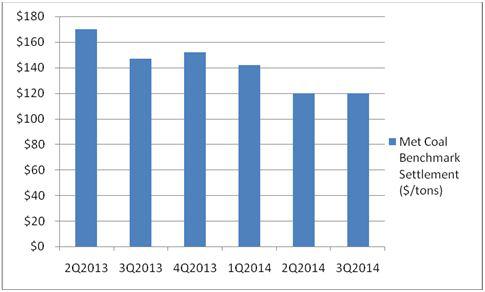 WLT recently disclosed preliminary 2Q14 met coal sales of 2.7 million tons and met coal production of 2.5 million tons. Geological issues affected WLT's June production at Mine No. 7, which decreased production by 100,000 tons. The company maintained its met coal production guidance of 9-10 million tons for 2014.
As WLT has released an operational update for 2Q14, I recommend investors to focus on the update provided by the management on cost savings and inventory destocking in Canada during the 2Q conference call. The management is also likely to update on its liquidity and balance sheet position following the recent $320 million notes offering.
Conclusion
WLT is a pure-met coal play and is among the leading met coal companies of the world. The company has been struggling to deliver a healthy financial performance due to weak met coal markets; met coal markets are oversupplied, which remains a hurdle in a price recovery. Due to weak met coal prices, I believe the Coal Industry, including WLT, needs to undertake additional production cuts, which will portend well for the industry. Also, the tough industry conditions are likely to weigh on the liquidity position of the company, and I believe an amendment to credit facilities by WLT will continue if met coal markets remain weak in future.
Disclosure: The author has no positions in any stocks mentioned, and no plans to initiate any positions within the next 72 hours. The author wrote this article themselves, and it expresses their own opinions. The author is not receiving compensation for it (other than from Seeking Alpha). The author has no business relationship with any company whose stock is mentioned in this article.