June proved to be another great month for Best Ideas portfolio holding Ford (NYSE:F) in China. First-half sales numbers, released Monday, increased to nearly 550,000 wholesale vehicles compared to just over 400,000 in the first half of 2013. Ford's June sales alone increased 17%, to 87,783. The news showcases Ford's continued sales momentum in the country, something we've been monitoring closely for some time. The Ford Focus, Ford Kuga, Ford Mondeo and the Ford EcoSport have been key sources of strength, with the Focus becoming a huge hit with consumers in the country.
A latecomer to China, Ford may be trailing early movers such as General Motors (NYSE:GM) and Volkswagen (OTCPK:VLKAY), but the automaker's rate of sales growth continues to significantly outpace that of the overall market. As a result, we would expect the market share gap to inevitably close, especially in light of the pace of Ford dealership growth in the country. The company, for example, added 88 new dealerships in China in just one day in June (the 19th), and management expects to reach 800 dealer points in China by the end of this year. Ford will continue to climb the market share ladder.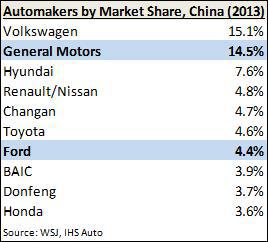 Image Source: Valuentum
Rival GM's June sales in China increased roughly 9%, and first-half sales increased 10.5%, roughly in line with overall market growth in the country. GM has a much larger footprint in China than Ford, so the pace of its growth in the country, while slower, is still quite respectable. GM, too, is expanding rapidly and expects production capacity in China to be 65% higher by 2020. In the US, GM's performance has been mixed. Though the automaker's US sales revealed the best June since 2007, such performance comes on the heels of massive and recurring recalls. The latest total puts the number of GM vehicles recalled near 30 million. The executive suite at GM will have to stay focused to prevent such poor publicity from becoming a serious distraction. To be fair, Ford has not been without recalls either, but they've been on a much smaller scale.
Ford Remains in the Best Ideas Portfolio
GM has come a long way since the depths of the Great Recession, but we believe the best risk-adjusted investment opportunity in the automotive industry is in rival Ford's shares. Ford has an investment-grade credit rating, and its automotive cash generation will only strengthen as it captures pent-up automobile demand from the credit crisis years ago. Ford has a fresh and invigorating new CEO in Mark Fields, who will continue the progress started by turnaround expert Alan Mulally, and we expect the automaker to be the biggest upside surprise in terms of market share in China in coming years.
We first outlined our bullish case on Ford in August 2011, first added shares to the Best Ideas portfolio in November 2011, added to the position in May 2012 at ~$10 per share, and today (as we did as recently as early May), we are reiterating our view that the company is worth north of $20 per share (you can access Ford's landing page and reports here). Our Best Ideas are always included in the Best Ideas portfolio and Dividend Growth portfolio.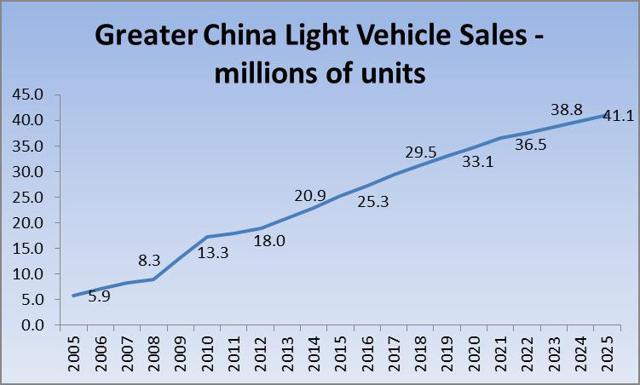 Source: IHS AutoInsight April 2013; Accenture Research Analysis; Valuentum Projections
What is considered a "Best Idea" at Valuentum?
A best idea in Valuentum parlance is a holding in the Best Ideas portfolio and/or the Dividend Growth portfolio. We typically add shares to the Best Ideas portfolio when they register a high rating (a 9 or 10 = a "we'd consider buying" rating) on the Valuentum Buying Index, and hold them until they register a low rating (a 1 or 2 = a "we'd consider selling" rating) on the Valuentum Buying Index. We don't add all firms that register a high score on the Valuentum Buying Index to the actively managed portfolios, due to sector weighting or overall market valuation considerations, among others. The Valuentum Dividend Cushion is a key factor behind adding companies to the Dividend Growth portfolio, and is used in conjunction with a company's annual dividend yield, its price-to-fair value ratio and Valuentum Buying Index rating.
Disclosure: The author has no positions in any stocks mentioned, and no plans to initiate any positions within the next 72 hours. The author wrote this article themselves, and it expresses their own opinions. The author is not receiving compensation for it (other than from Seeking Alpha). The author has no business relationship with any company whose stock is mentioned in this article.
Additional disclosure: F is included in the Best Ideas portfolio.
Editor's Note: This article discusses one or more securities that do not trade on a major U.S. exchange. Please be aware of the risks associated with these stocks.