KKR (NYSE:KKR), one of the leading alternative asset managers, is set to report earnings next week. As shown by the chart below, KKR shares have moved only slightly higher so far in 2014. I believe earnings are a potential catalyst to send shares of KKR surging above the stocks all time high of $26.50.
KKR data by YCharts
Goldman & Blackstone Report Strong Results
One of the primary reasons why I am bullish on KKR heading into earnings is the recent strength in private equity earnings at both Goldman Sachs (NYSE:GS) and Blackstone (NYSE:BX). For its investing and lending segment, which includes Goldman Sachs Merchant Banking, Goldman Sachs reported revenues of $2.07 billion for Q2, which was 46% higher than the same period a year ago and 36% higher than Q1 2014. Goldman's strong results were driven by an investment gain of $1.25 billion primarily from private equities. Blackstone, the largest alternative manager, reported a revenue increase of 164% to $939 million and a economic income (ENI) increase of 278% to $648 million. Both Goldman and Blackstone have benefited from strong equity markets because it enables them to sell companies at a favorable price which results in big gains for its funds, and in turn large incentive fees for Goldman and Blackstone.
KKR Is Most Exposed To Private Equity
While KKR has been moving to diversify away from the private equity business, including a recent investment in a leading hedge fund, the company remains significantly more exposed to private equity than its rivals. In my recent piece entitled KKR: The Best Way To Play The Future of Private Equity, I noted that of KKR has a greater percentage of its AUM in private equity than its peers. KKR has total AUM of $102 billion, $60 billion is in private equity. Comparably, Blackstone has $272 billion in AUM with $66 billion coming from private equity. Carlyle (NASDAQ:CG) has $199 billion in AUM with $64 billion coming from private equity. My point is that KKR is more leveraged to private equity than its peers. For the long-term, this is seen as a negative because the private equity business is more volatile than other areas such as real estate or hedge funds. However, I believe KKR's increased leverage to private equity should help the company report strong earnings results for the second quarter.
Valuation
As shown by the charts below, based on both forward PE ratio and price to book value, KKR is cheaper than its peers. Due to this, I believe it is difficult to argue that KKR is overextended. I believe KKR could easy move higher without becoming overvalued. In addition to my views on KKR's valuation, legendary stock picker and hedge fund manager Leon Cooperman recently named KKR one of his favorite stocks at the Delivering Alpha Conference.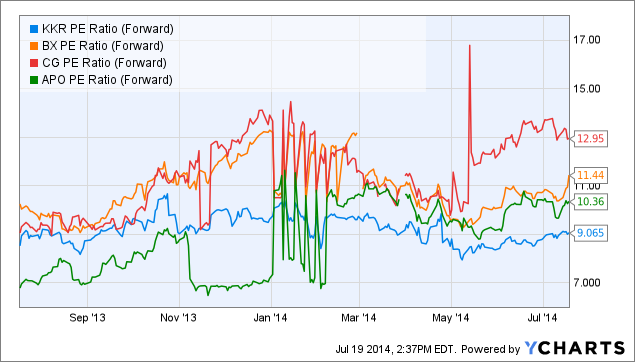 KKR PE Ratio (Forward) data by YCharts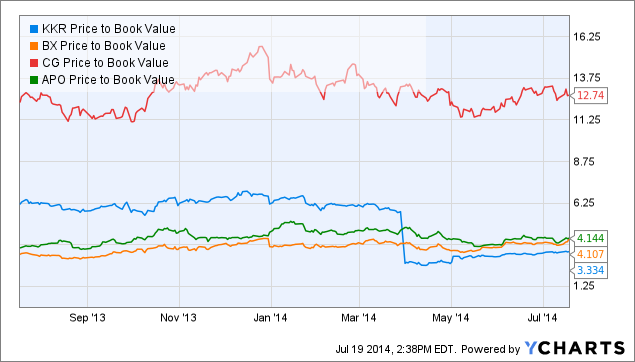 KKR Price to Book Value data by YCharts
Conclusion
I believe that KKR is poised to move to new all time highs following the company's second quarter earnings results. Strong results from private equity segments for both Goldman Sachs and Blackstone leads me to believe that KKR's private equity segment will report strong numbers. KKR stock is poised to benefit because the company is highly leveraged to its private equity segment. Finally, KKR shares have not moved sharply higher in anticipation of second quarter earnings and the stock is not expensive relative to peers. Leon Cooperman's endorsement is another reason why I am positive on KKR. To express my bullish view, I have purchased August 26 strike call options on KKR. While I am long via calls, I also believe simply buying KKR shares outright is a good way to express a bullish view.
Disclosure: The author is long KKR calls. The author wrote this article themselves, and it expresses their own opinions. The author is not receiving compensation for it (other than from Seeking Alpha). The author has no business relationship with any company whose stock is mentioned in this article.