It certainly feels like the palpable nature of the Herbalife (NYSE:HLF) saga is once again close to boiling over. We had last week's events, which included some crazy PR moves, interesting put option buying, and Herbalife's stock finishing the week barely over $60/share. It does seem like the bid strength has perhaps faded away since the company's stock buyback has ended.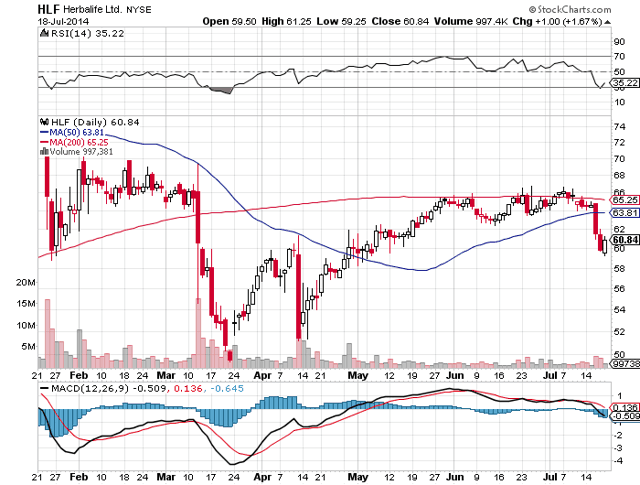 What we're left with now is a balance sheet without the equity it had going into this buyback, and a stock price that's struggling to stay above $60.
It's worth a reminder that Herbalife canceled its dividend for 8 quarters in order to fund the buyback that it just completed. This, from Business Insider, was from the initial press release earlier this year:
The company now expects to repurchase a total of $581 million of its outstanding common stock during the second quarter of 2014 as part of its previously announced $1.5 billion share repurchase program. The $581 million is comprised of the approximately $315 million expected to be purchased in April as part of a 10b5-1 trading plan ($255 million already completed as of Friday, April 25); plus the $50 million included in previous guidance and $216 million that otherwise was expected to be returned to shareholders in the form of quarterly cash dividends over the next eight quarters.
In other news, The New York Post published a piece to end the week last week. In this piece, it detailed a "cease and desist" letter that was sent to a Latino activist who protested Herbalife's Chicago extravaganza. Julie Contreras was asked to make a form retraction of statements she had publicly made.
The NY Post piece concludes:
Julie Contreras, a community organizer with the League of United Latin American Citizens, has been helping Hispanics file complaints with the Illinois attorney general accusing Herbalife of defrauding them.

The company demanded she retract a statement she made July 15 on television that "there is fear in the community that those who speak out will be reported to immigration."

Across town from the protest, Herbalife distributors held a press conference attacking Bill Ackman, who has placed a $1 billion short bet that the company is a fraud. Herbalife also put out a statement defending its nutrition clubs after Ackman promised to expose them as perpetuating the alleged scheme.
While it could be true, this statement actually is defamatory if it can't be proven - which I'm guessing that this cannot. Otherwise, I'm sure I would have come across it in my work over the last couple of years. Ultimately, how do you go out and prove (or disprove) a consensus emotion within a community of people? Regardless, I'm not sure a judge would throw the book at Ms. Contreras in this case, but I'm also not sure she's interested in dealing with a lengthy litigation process. The full letter from Herbalife can be read here.
It concludes: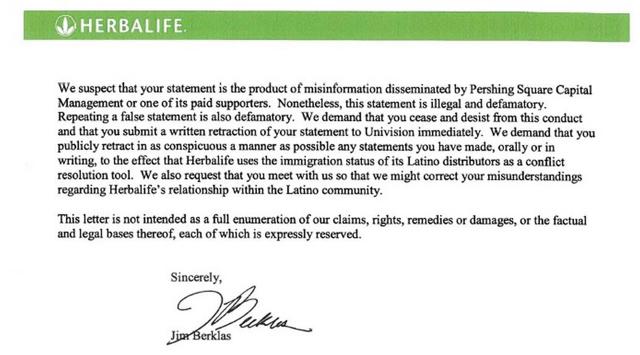 Again, this seems like a great time to remind readers that QTR has in no way been directly or indirectly compensated by Pershing Square. My opinions and beliefs on Herbalife are my own and are a result of my personal due diligence.
So, while I understand Herbalife's right to demand a retraction in this case, this brings about the bigger question of "why is Herbalife now threatening its critics?"
Why is the company simply not addressing the issues asked of it by skeptics? I'm not sure that going after every individual critic is worth the time or resources, unless Herbalife is out of ideas. For more, you can read this interesting piece entitled, "Why Suing Your Critics Is Not Always a Good Customer-Relations Strategy".
The case law out there that governs first amendment cases generally protects an individual in a case where you're talking about a matter of public concern. By Herbalife getting into these battles with its critics on public mediums like Twitter, the company has now also participated in the public debate regarding itself. Tweets like these are just as unfounded as Ms. Contreras' above statement.
Nothing PSQ has said about Herbalife can be proven?
Nothing?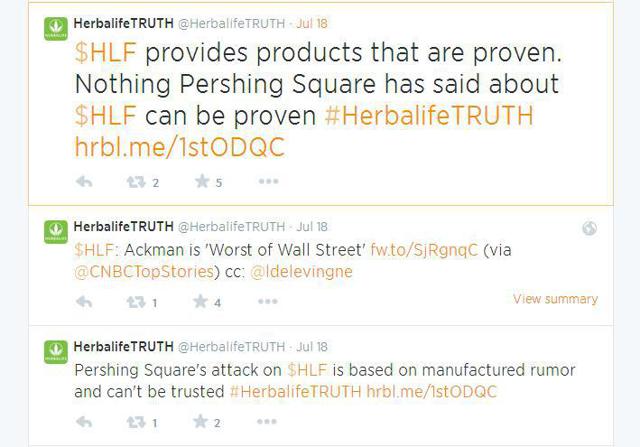 Hardly the truth.
I mean, after all, Herbalife's Statement of Average Gross Compensation proves many of the main contentions made by the PSQ lot.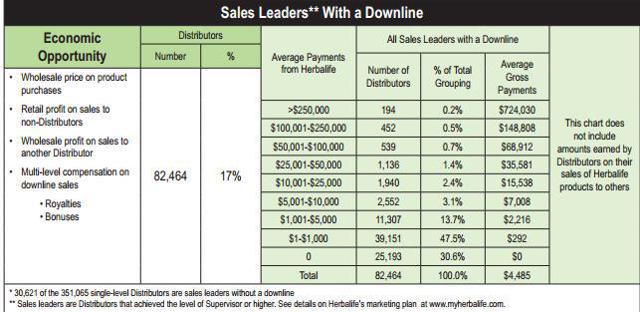 And what about documented quotes, like this one:
"What took us 30 years to do, new people are gonna be able to do in the next 4, 5, 6 years." He then asks the audience, "How many of you would like to make at least a million dollars a year? Every extra million dollars, I find, comes in handy. 2 million? 5 million?"

-John Tartol, Herbalife Board Member, suggesting to distributors in 2012 that they could earn millions in a few years. (source)
I mean, coming out and saying that PSQ's argument is based on rumor is a stretch. Mr. Ackman has done a damn good job of documenting the evidence, as you can find at herbalifepyramidscheme.com. All of PSQ's concerns are based on evidence.
Also, the fact that this Twitter account also retweeted a link to the above NY Post story seems to suggest they want people to know that they are not afraid to fire out C&D letters. As C&D letters fall into the mailbox of those unable to monetarily seek and retain counsel, Herbalife is looking to settle this issue without actually getting into the litigation aspect. It only costs a couple bucks to mail out some certified letters.
So, why hasn't Herbalife sued Mr. Ackman - the start of the ongoing public discussion about the company? Simple - Mr. Ackman has deep pockets, could string out a case on the first amendment and take it all the way to trial if necessary - and Mr. Ackman could also access Herbalife's internal documentation through subpoena power.
Remember the list of original questions that Pershing Square wanted simple answers to a while back? This whole saga could have been avoided if the company had simply sat down and addressed them all in the public forum. Instead, we've gotten what appears to be nothing but obfuscation - causing the saga to play on and both sides to accordingly up their antes.
Look for this battle to get even more heated heading into this next week, where Mr. Ackman will - on Tuesday - disclose findings of a two year probe into Herbalife's nutrition clubs via webcast on herbalifepyramidscheme.com.
Herbalife is set to report on July 28th, as well. Aside from the normal saga, I'll also be looking for insight as to how the company is dealing with its assets and cash in Venezuela. For more on this extremely questionable issue, you can read Shane Dinneen's evisceration of Herbalife's Q1 results here.
I continue to believe that Herbalife is a global confidence game and that the sooner the regulators shut it down, the better.
Disclosure: The author is short HLF. The author wrote this article themselves, and it expresses their own opinions. The author is not receiving compensation for it (other than from Seeking Alpha). The author has no business relationship with any company whose stock is mentioned in this article.