If you like Mexican Food, Chipotle Mexican Grill, Inc. (NYSE:CMG) was a welcome sight when it came to your neighborhood. In fact, you may still love it, but it takes more than that to make this a good investment. We must consider valuation, and unless something changes immediately valuations look excessive.
Given the current growth rates at CMG, the current PE multiple of 55 looks excessive. Chipotle has been growing at about 12% a year for the past handful of quarters, but the stock trades at a level that suggests it is likely to grow much faster than that.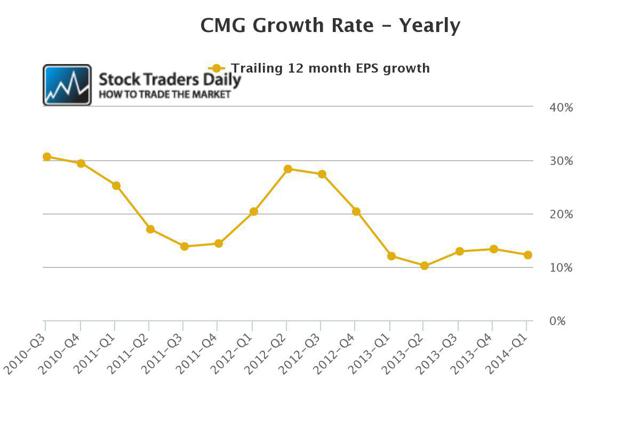 Our observations show that the EPS growth rate for Chipotle peaked in 2012 and has been flat-lining around the 12% level since the first quarter of 2013. Make no mistake, growing earnings at 12% a year is excellent, but the current multiple levied on shares of Chipotle are not in line with a 12% growth rate.
In our estimation, if the stock continues to grow at 12% a year a fair multiple would likely be 36, but the current multiple is 55. Given the growth rate that the company has demonstrated for the past handful of quarters, if it continues on that path there could be a 40% risk due simply to multiple rebalancing.
On a technical know, CMG appears to be in the process of increasing towards our longer-term resistance level as we have defined that in our real time trading report for CMG. The stock trades aggressively, it can move wildly, but it does appear to have slightly more to increase before red flags surface, according to our trading report. Once the stock tests resistance it may be poised to fall rather aggressively.
Disclosure: The author has no positions in any stocks mentioned, and no plans to initiate any positions within the next 72 hours.
Business relationship disclosure: By Thomas H. Kee Jr. for Stock Traders Daily and neither receives compensation from the publicly traded companies listed herein for writing this article.