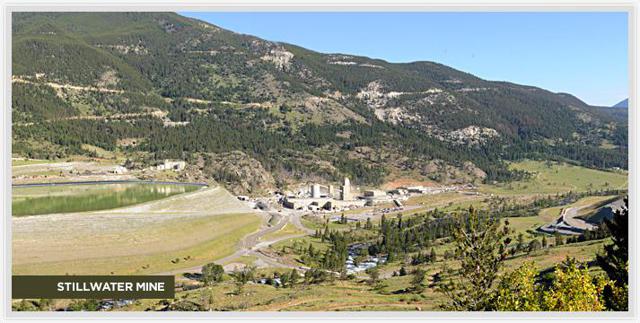 Click to enlarge
Source: SWC website.
Quick Company presentation:
Stillwater Mining Co. (NYSE:SWC) is a mid-tier PGM mine specialized in developing, extracting, processing, smelting, refining and marketing palladium, platinum and associated metals. It is the only mine producer of PGM in the USA (which offers safety and stability due to its location and is unique to the industry), and just one of merely two palladium mines in North-America with North American Palladium Ltd. (NYSEMKT:PAL) in Canada (which presents some very serious financial concerns now. - Read my article about PAL here.)
Stillwater Mining Co. is the only U.S. producer of palladium and platinum. It is the largest primary producer of platinum group metals outside of South Africa and the Russian Federation.
Stillwater Mining Co. is exploring for nickel, copper, gold, and silver ores, too. The company conducts its mining operations at the Stillwater site located near Nye, Montana, and at the East Boulder site located in Sweet Grass County, Montana. Another part, is the recycling business of spent catalyst material to recover palladium, platinum, and rhodium at its smelter and base metal refinery. It is a growing, profitable business.
Nearly all of the other PGM mines are located either in South Africa: Anglo, Impala (OTCPK:AGPPY), Lonmin (OTCPK:LNMIY), Aquarius (OTCPK:AQPTY), Northam (OTCPK:NMPNY) or in Russia: Norilsk (OTCPK:NILSY).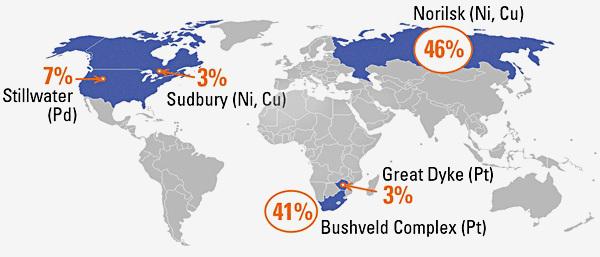 Source: Gold-eagle.com
Stillwater Mining different business segments:
The mining sector: The company has 2 distinct sites in Montana. The first one is called the Stillwater mine with its extensions (Blitz project - 2010 and the lower far West side - 2016) and the second is the East Boulder mine with its extension called the Graham Creek project. These 2 mines are situated within the J-M Reef (Montana). The only source known of PGM in the U.S.
The recycling division: Stillwater Mining Co. has been recycling spent catalyst materials at its metallurgical complex in Columbus, since 1997. Impressive growing business.
The non-core mining "projects": The altar in San Juan province, Argentina (Copper/Gold) and the Marathon project situated in the Province of Ontario Canada (PGM/copper). Both projects have been put on hold indefinitely by the new company management.
Total production highlight including the last Q2 2014 production results, on July 18th, 2014. (Going back to Q1 2013.)
Mined

Koz (2013)

2014

YTD

Q2
Q1
2013
Q4
Q3
Q2
Q1
Palladium
133.6
64.7
68.9
282
76.0
64.5
70.2
71.3
Platinum
40.1
19.3
20.8
84
22.6
19.3
20.8
21.3

Stillwater mine

(1)

174
84
90
366
99
84
91
92
Palladium
65
33.0
31.9
122
32.5
31.2
31.5
26.8
Platinum
18
9.4
9.1
36
10.0
9.2
9.0
7.7

East Boulder mine

(2)

83
42
41
158
42
40
41
35

Total mined

Koz

257
126
131
524
141
124
132
127

Recycled

Koz processed (3) *

236
134.3
101.5
617
120.0
167.5
175.0
154.2

TOTAL

Koz

493
260
233
1,141
252
292
307
282
* These numbers are including the Rhodium amount which is 8%.
Let's compare Q1 and Q2 2014 with Q1 and Q2 2013/2012 and look at the difference in percentage:
| | | | | |
| --- | --- | --- | --- | --- |
| First half of the year | Stillwater | Boulder | Total mined | Recycling |
| 2012* | - | - | 257 | 222 |
| 2013 | 183 | 76 | 259 | 329 |
| 2014 | 174 | 83 | 257 | 236 |
| Difference in % 2013/2014 | -5 | 8 | -1 | -28 |
* I took the total production in 2012 and divided by 2. It may be a little bit incorrect compared to the real Q1 + Q2.
Commentary:
Looking at the production for the first half of 2014, I must admit that I am not very impressed with these numbers and a bit concerned with the mining segment that seems reaching a plateau for the last three years. McMullen, CEO, talked about a way to enhance production at the last Q1 conference call and we need to know what has been done and what production increase we are talking about now.
Coming on to Slide 13, up to our Montana projects. We have 2 large projects that have been underway. The first one is Blitz. This is a longer-term project. It's a 23,000-foot development to the east of the Stillwater Mine, effectively opens up a large area for further development and exploration. It's currently slated for completion in 2018, and we're looking at ways that we can expedite that project.

Graham Creek is the other project, which is at the East Boulder Mine. It basically opens up 3 miles of strike length of that ore body. It's pretty well at completion. We're just in the process of putting the final support equipment in there.
Furthermore, I find the recycling segment clearly disappointing with production going back to the 2012 level, and well under the production numbers indicated in 2013; despite what the company said about enhancing this segment by processing more products and widening the "collection" worldwide.
McMullen, CEO said in the last conference call:
We really do want to continue to grow this business, and between April and January, we've seen about a 47% increase in our volume over that period. We're exploring quite a few avenues to expand this business. We see this is a core business for us. We really would like to expand it, and we're exploring lots of different avenues.
Some clarification here will be appreciated.
Palladium and Platinum spot-price between January 2013 until now.
1 - Palladium spot-price chart.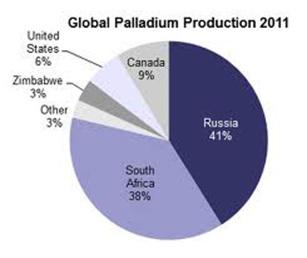 Source: Gold-Eagle.com
(Click to enlarge)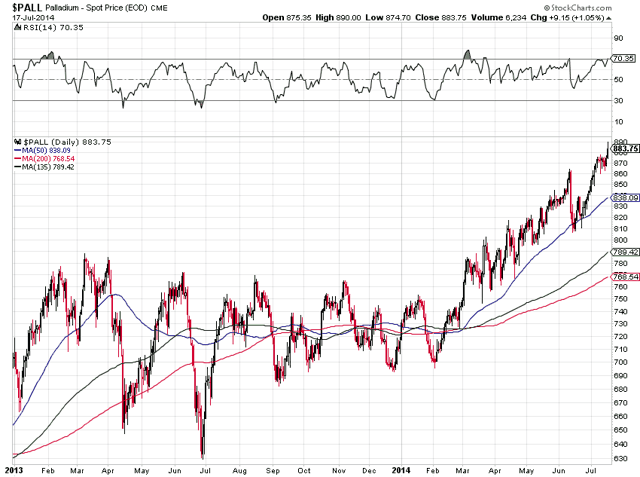 Click to enlarge
The new paradigm is that palladium spot-price has jumped from around $700 in early 2013 to now over $870 per oz. A jump of a whopping 25%, whilst most other precious metals were stagnating at best, especially since February 2014 as we can see on the chart above.
This is a huge improvement in a short period of time, that many analysts were indeed forecasting, due primarily to the increasing demand of the industrial metal worldwide and its constant dwindling reserve available; induced by several endemic geopolitical problems, especially in South Africa, which represents about 38% of the total palladium produced.
Furthermore, Russia is not selling surplus anymore and a new palladium SA ETF has gobbled up a lot of palladium out of the market now. I called this particular situation a "perfect storm" that has aggravated the deficit situation and fueled a rampant speculation. The important question is how high this trend can go before retracing to a more sustainable value for palladium?
2 - Platinum spot-price Chart.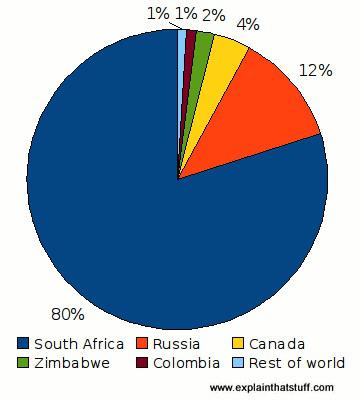 Source: Gold-eagle.com
(Click to enlarge)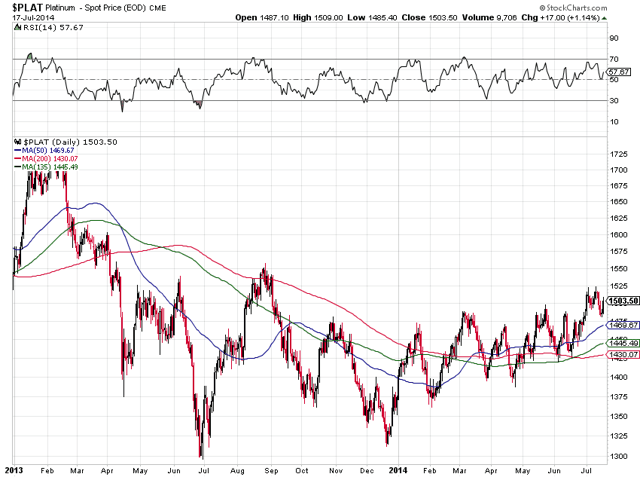 Click to enlarge
Platinum on the other hand has not really improved and seemed trading in relation with Gold spot-price and despite the recent turmoil in South Africa, platinum spot-price is still under the price of platinum in January 2013.
Commentary:
Stillwater Mining Co. has had a tremendous run-up since February 2014 due to the fact that it is the only North American palladium mine that can benefit directly from the metal appreciation. Palladium spot-price has risen about 25% since February and a quick look at the chart since February 2014 is showing that SWC jumped around 60%, which is 2.5 times more than the palladium increase for the same period.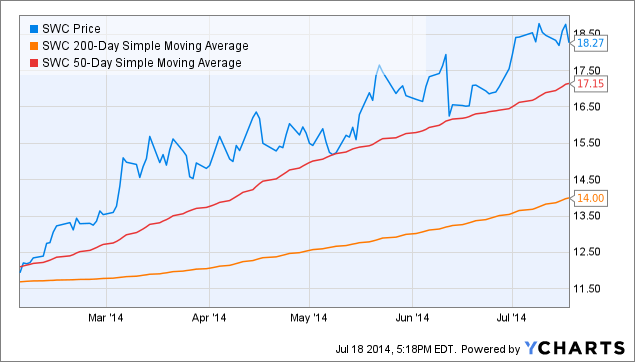 Some analysts have advanced that this trend will keep going up and forecasted over $1,000 per oz by 2015. My humble opinion is that palladium will probably retrace around $820/$830, and then will trade sideways until 2016 unless drastic new events come that I am not aware of.
The huge jump in palladium price is due to a tight, timely circumstantial situation that will resolve in part, down the road. The recent new palladium ETF may have played a main role in this appreciation and the opposite move can happen overnight depending on the momentum. South Africa will return to mining and production will resume normally after a short period.
A lot can be said on this subject and unrealistic scenarios or inflated futuristic spot-price can be always indicated, however, it is not a proper way to invest in SWC or in palladium from a savvy investor's perspective. Just look at the "ever bullish" gold and what happened recently, totally out of the blue.
As we can see, the last Q2 production results are showing a healthy production, and an impressive Q2 earnings probably will ensue. However, these production numbers are not showing the strength and the production level that could justify this actual jump in stock price. We have to conclude that most of the extra recent valuation that SWC has enjoyed since February is due, mainly to the buoyant palladium spot-price. If this hypothesis comes true, then SWC has reached a valuation that is not possibly sustainable for long, and the stock price presents signs of an overbought situation as we speak.
One financial ratio that we can use to evaluate if SWC is momentarily overvalued could be the EV/EBITDA. The EV/EBITDA ratio is actually 16.12, which is quite high and should be closer to 13 or less, although we cannot really compare it with the general industry due to the rare setting that presents the company.
Calculation of the EV/EBITDA ratio:
EV/EBITDA

EV

$ Million

EBITDA

$ Million

PPS

$

Outstanding

Million

Debt

$ Million

Cash

$ Million

16.12
2,035
136.21
18.32
119.8
314.31
474.25
Source: Yahoo.
I am still bullish on Stillwater for the long term, and I believe the company will keep on generating a good positive cash flow for the next five years or more. A simple look at the reserve life of both mines is quite telling. From time to time, so, the company's stock will trade well above its fair value, and it is important to recognize these special situations to get a rightly deserved dividend and wait for the stock to retrace enough to its real value, it always does. I think we have reached, once more, an exuberant valuation, and it is essential to warn savvy investors of the dangers to keep buying the rally without a pause.
One subject that McMullen, CEO, was talking about was the possibility to declare a dividend in 2014. Unfortunately, the company has not decided anything concrete yet, and it is another disappointment in my view. Why is it taking so long?
I hope the next conference call will address some of these issues.
I rate SWC as a HOLD right now, on pure valuation, however, I believe it is a safe bet from a long investor's perspective and even better if management starts to reward shareholders with a 2% or 3% dividend and reduces debt with the extra-cash on hand.
Disclosure: The author is long SWC. The author wrote this article themselves, and it expresses their own opinions. The author is not receiving compensation for it (other than from Seeking Alpha). The author has no business relationship with any company whose stock is mentioned in this article.
Additional disclosure: I have reduced my position recently and sold 70% at $17.75. Waiting for a better valuation to add again.
Editor's Note: This article covers one or more stocks trading at less than $1 per share and/or with less than a $100 million market cap. Please be aware of the risks associated with these stocks.