On July 18, 2014, NQ Mobile (NYSE:NQ) announced that it had fired its independent auditor PricewaterhouseCoopers Zhong Tian, who has been with the company since its IPO in 2011. In their place, it hired Marcum Bernstein & Pinchuk (MBP for short).
After taking a look at the history of Marcum Bernstein & Pinchuk and some of their Chinese clients, the situation looks kind of ominous to me. MBP seems to be an auditor of choice for Chinese companies that are accused of fraud or having issues and troubles with their original auditor, which led to a resignation or a firing.
Here are some of the cases I found.
On April 30, 2013, Ambow Education said it hired MBP as its new auditor after, coincidentally, PricewaterhouseCoopers Zhong Tian resigned as its auditor. That's not the only coincidence for Ambow and NQ Mobile either, it seems. One of the new board members that NQ Mobile announced on July 3, 2014, Justin Chen, was also added to the board of Ambow on March 19, 2013. Currently, the stock of Ambow is trading over-the-counter for pennies.
On September 26, 2011, AutoChina International also announced it hired MBP as its new auditor, after dismissing PwC like NQ Mobile. The stock of AutoChina was delisted soon afterwards, and later in 2012, the SEC alleged AutoChina of stock manipulation.
On August 16, 2011, Yuhe International announced Marcum Bernstein & Pinchuk as its new auditor. In the press release, it said its previous auditor "Child, Van Wagoner & Bradshaw, PLLC resigned on June 17, 2011, and withdrew its auditor's opinion on Yuhe's financial statements for the year ended December 31, 2010 based on management's misrepresentation and failure to disclose material facts surrounding certain acquisition transactions and off balance sheet related party transactions."
On May 5, 2011, ShengdaTech announced its auditor KPMG had resigned on April 29, 2011. On June 28, 2011, it hired MBP as its new auditor. ShengdaTech was eventually delisted from the Nasdaq. The exchange cited issues with its accounting and operational practices, obstructing investigations, and refusing to present all the necessary information as the reasons.
Oriental Dragon Corporation had received a letter of resignation from its independent auditors, Grant Thornton China, on April 26, 2014. Also in the filing it says, "On May 26, 2014, the Company received notice from Grant Thornton that the Company's financial statements for the year ended December 31, 2012, the audit opinion issued by Grant Thornton on those financial statements and the quarterly financial statements for interim periods ended between March 31, 2012 and September 30, 2013 should no longer be relied upon." Later, on June 26, 2014, Oriental Dragon appointed MBP as the company's new auditor.
A stranger situation is First China Pharmaceutical Group. Its auditor EFP Rotenberg LLP resigned allegedly over an outstanding balance of $40,000 on September 3, 2013. Whether that is the real reason or not, the company hired Marcum Bernstein & Pinchuk as its new auditors on October 4, 2013.
I found more situations like these, but I don't believe it is necessary to highlight every single one of them to get the point across that MBP looks like an auditor of choice for Chinese companies having some pretty serious issues with their previous auditors and sometimes with regulators. A number of their clients which were trading on major US exchanges at one time have been delisted. It also seems MBP is not afraid to take on some questionable Chinese clients either.
Plus, taking a look at some of the current clients of MBP and seeing how many of them are penny stocks trading over the counter or on grey markets does not inspire a lot of confidence either.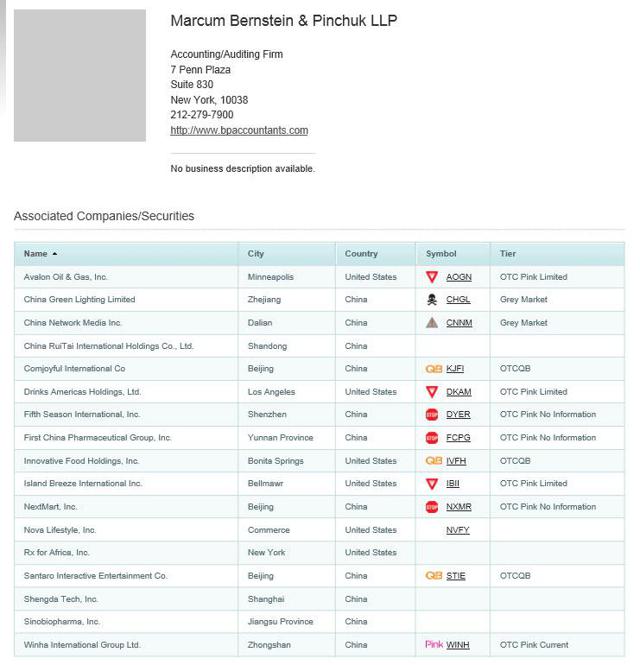 Click to enlarge
Furthermore, it looks like Marcum Bernstein & Pinchuk may already have some sort of prior relationship with NQ Mobile and its management for a while before the firm was named as the new auditor. Drew Bernstein, a co-managing partner of MPB, was one of the individuals that sided with NQ when the claims of fraud on NQ Mobile first hit back in October of 2013.
In a Bloomberg article dated November 4, 2013, it says:
It takes larger customers longer to make payments, according to Drew Bernstein, co-managing partner of Marcum Bernstein & Pinchuk LLP, a New York-based accounting firm focused on Chinese companies, who said he's seen companies with collection periods of as long as two years in China. AsiaInfo-Linkage Inc., a Beijing-based telecom software developer whose main customers are the biggest phone carriers in China, measured 189.5 days for sales outstanding in 2012.

Bernstein said his firm, which provides services to companies' audit committees and management teams as well as to investors, has met with NQ's management since the Muddy Waters report was published. NQ hasn't retained his firm, he said.
So, Marcum Bernstein & Pinchuk LLP had already met with NQ Mobile's management back in November of 2013, if not earlier, for some unnamed reason.
Disclosure: The author has no positions in any stocks mentioned, and no plans to initiate any positions within the next 72 hours. The author wrote this article themselves, and it expresses their own opinions. The author is not receiving compensation for it. The author has no business relationship with any company whose stock is mentioned in this article.