By Alexander Moschina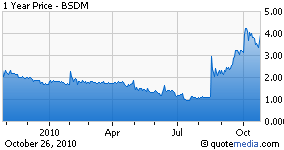 It's the future of cancer treatment. Plus, at just three feet tall, and weighing a mere 25 pounds, it's also one of the smallest devices of its kind. In addition, it uses a fraction of the power used by other machines, but generates much higher temperatures. That means the doctors that use it can spend less money and kill more cancerous cells.
It also means that the tiny Salt Lake City company behind the device is making shareholders very rich. Since the FDA approved its revolutionary product on August 18, shares of this microcap are up 280%. And that's just the beginning. It's about to tap into a developing market that's already worth billions…
BSD Pioneers the Future of Cancer Treatment
Since 1978, BSD Medical Corporation (Nasdaq: BSDM) has developed some of the world's most revolutionary cancer treatments. In 2005, the company won the Frost & Sullivan "Technology Innovation of the Year Award" for its BSD-2000 system. But its biggest moneymaker to date is the MicroThermX.
BSD's patented "phased-array" technology, the lifeblood of the MTX, generates heat that allows doctors to kill massive clusters of cancer cells. A recent study by the University of Oklahoma confirms this.
According to the report, phased-array treatment was effective at multiple stages. When treating early-stage breast cancer, it reduced the tumor size in 80% of subjects. When used to treat large breast cancer tumors, tumor size decreased by 88.4% compared with 58.8% for those receiving chemotherapy.
And other reports, such as those published in The Journal of Radiology and Cancer Therapy, have confirmed that this technology offers numerous advantages over today's therapies. That includes deeper penetration of cancerous tissues and faster recovery times. It even outperforms RF treatment, the current leader.
That's why BSD's market cap doubled following the August 18 FDA ruling. And once MTX units start rolling into Oncology Centers and Hospitals worldwide, the company will really take off.
What's more, not only is the device a technological breakthrough, it will also create a long-term revenue stream for the company… the likes of which this industry has never seen…
The MTX Breakthrough Creates a Long-Term Revenue Stream
The MTX uses a "high-end disposable" – a single-use antenna that makes it quick and easy to set up the device. It's a triumph for medical staff, who can spend up to an hour prepping other machines.
This time-saving innovation will no doubt strengthen demand for BSD's product. BSD president, Harold Wolcott says sales of replacement antennas will also "provide a significant ongoing revenue stream." He continues: "We believe that the [MTX] provides significant advantages… that will allow us to capitalize on this rapidly expanding market."
Expanding, indeed. In a modern operating room, lasers are as common as scalpels. Energy-based technology is used in more than 17.5 million procedures annually… with that number growing.
According to a recent report by New MedMarket Diligence, this market will soon be worth $10 billion. This gives BSD the potential to catapult its market cap by more than 11,000% from its current market cap of just over $90 million. There is, of course, one other possibility – especially in light of this company's tiny market cap…
It's acquisition season. Companies are scooping up medtechs left and right. And that means Christmas could come early for BSD investors. Potential buyers had better hurry up with their bids, though, as it won't be long before this little company blasts off.
Disclosure: Investment U expressly forbids its writers from having a financial interest in any security they recommend to our subscribers. All employees and agents of Investment U (and affiliated companies) must wait 24 hours after an initial trade recommendation is published on online - or 72 hours after a direct mail publication is sent - before acting on that recommendation.
Disclaimer: The Oxford Club LLC/Investment U and Stansberry & Associates Investment Research are separate companies, and entirely distinct. Their only common thread is a shared parent company, Agora Inc. Agora Inc. was named in the suit by the SEC and was exonerated by the court, and thus dropped from the case. Stansberry & Associates was found civilly liable for a matter that dealt with one writer's report on a company. The action was not a criminal matter.