Last week, Time Warner (NYSE:TMX) reportedly turned down an acquisition offer from 21st Century Fox (NASDAQ:FOX) for a total of $80 billion. Rupert Murdoch is unlikely to give up and walk away, however, given his known stubbornness and history of acquisitions.
Changing dynamics in the media industry
The media-entertainment industry is looking for ways to consolidate in order to cut costs, produce higher-quality content, and improve chances of success in the age of the internet. The competition between content providers continues to intensify as new contestants enter the market every day. Websites like YouTube (NASDAQ:GOOG) now make it easier for regular people with limited budgets to create their content and compete with TV channels for millions of viewers. The low barrier of entry makes it difficult for media giants to protect the status quo. Furthermore, websites like Netflix (NASDAQ:NFLX) and Amazon Prime (NASDAQ:AMZN) continue to grow market shares each quarter, and traditional TV shows have to face ever-increasing competition for viewers.
Combination of large media companies will create even larger companies that will have more leverage and a stronger case for future fee negotiations. Just as in every industry, the media industry also benefits from better margins when power of scale is being utilized. From sports events to TV shows, having a large size is always more advantageous in getting better deals from both content providers and advertisers, which is an important aspect of being successful in this industry.
Time Warner is still on the fence about the deal
Jeffrey Bewkes, the CEO of Time Warner, declined the aforementioned offer saying that the company would have a better chance to compete and grow by itself than it would as part of 21st Century Fox. It is not uncommon for a company's management to downplay the possibility of a merger in an effort to increase the bid price. In fact, Rupert Murdoch has a history of acquisitions, such as The Wall Street Journal and MySpace, where he was initially rejected but was able to turn things around when he came up with higher offers. These deals did not always work out for Mr. Murdoch, but he was always very keen on getting what he wanted, even though he ended up paying too much in some of those cases.
If eventually approved by the management and shareholders of Time Warner, 21st Century Fox will be paying for the acquisition using stocks and cash, but this also comes with a caveat. The shares that will be given to the current shareholders of Time Warner will not have voting rights. While these shares carry the same value as shares with voting rights in the market, this structure where Time Warner shareholders hold non-voting shares gives too much power to the current management of 21st Century Fox, including Mr. Murdoch himself. Time Warner's CEO Jeffrey Bewkes probably did not like this part of the deal at all. This situation is somewhat funny too, because the shareholders of Time Warner would own 60% of the new company, but they would have nearly no decision-making power regarding the company's operations, according to the latest offer.
What would the new company look like?
If the two companies finally reach an agreement, they will have a combined value of $150 billion, roughly the same as Disney's (NYSE:DIS) market value. This would make the combined company one of the largest media companies in the world. It is highly unlikely that the US government would approve this deal without making these companies trim some assets. For example, the combined company would own both Fox News and CNN, claiming a huge market share in news broadcasting, and this would definitely raise some scrutiny from the federal government. The government could also reject the acquisition flatly, but it is unlikely to do so when it allowed Comcast to buy NBCUniversal in a similar case not long ago.
The latest proposal adds a premium of 20% to Time Warner's value compared to where it was before the offer was leaked. The combination of the two companies would have a noteworthy portfolio of cable channels including but not limited to HBO, TNT, TBS, Fox News Channel, and it would have the rights to air sports events, such as NBA, NCAA, and NASCAR events. Furthermore, Time Warner's Warner Bros. segment would be combined with the Twentieth Century Fox segment of Fox, and this would become one of the biggest film producers in the world.
Currently, 21st Century Fox' market value is about $78 billion, and Time Warner's market value is likely to surpass $80 billion, if the deal eventually goes through. Time Warner's most profitable segment is Turner, with $9.98 billion in revenues and $3.54 billion in operating income. This is the segment that includes CNN, and this segment is likely to trim some assets in order to get the deal approved by the federal government. The biggest money-maker for 21st Century Fox happens to be its portfolio of cable networks, with $10.88 billion in revenues and $4.18 billion in operating income.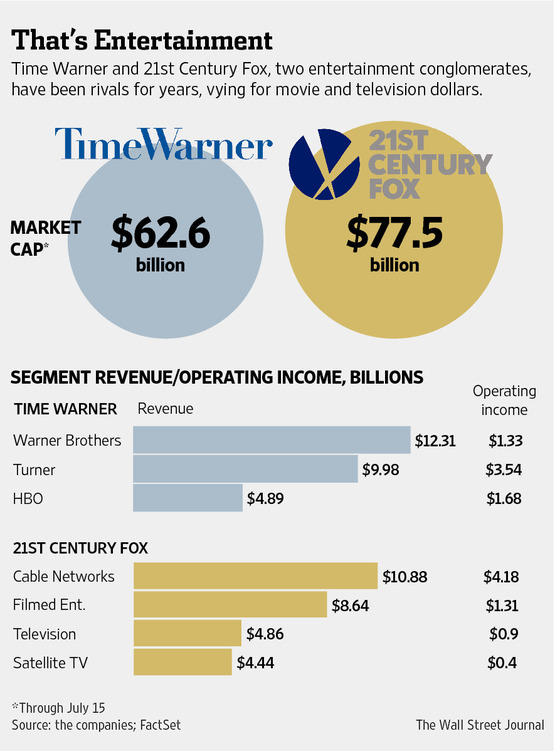 (Source of the chart above: The Wall Street Journal)
All in all, the combined company will generate about $60 billion in revenues and $15.3 billion in operating income before factoring in any synergies or asset sales that would result from the merger. Currently, the dividend yield of 21st Century Fox is 0.77%, compared to Time Warner's yield of 1.47%, and the investors of Time Warner might lose some dividend yield unless the board of 21st Century Fox decides to double the dividend payments.
What does this mean for the investors?
Still, Time Warner investors might have very little to complain about. As a result of the acquisition rumors, the company added nearly 20% to its share price in two trading days. Investors of Time Warner are confident that Rupert Murdoch will make a comeback with a stronger offer. The premium of the first offer is already priced in, and Time Warner's investors are looking for more money to be thrown at them. Unless the deal becomes very expensive, the shareholders of 21st Century Fox do not have much to lose from this deal either. They will get a larger company while maintaining their voting power (if Time Warner investors agree to keep non-voting shares), and they might even get a dividend raise in case 21st Century Fox wants to keep up with Time Warner in dividend yield. Furthermore, the combined company is likely to become a dominant force in the media industry for years to come.
If approved by shareholders and boards of both companies and the federal government, the merger makes sense for both sides, as long as it happens at a price that will keep both parties happy. It is too early to start cheering, though, because we are still at very early stages of this process.
Disclosure: The author has no positions in any stocks mentioned, and no plans to initiate any positions within the next 72 hours. The author wrote this article themselves, and it expresses their own opinions. The author is not receiving compensation for it (other than from Seeking Alpha). The author has no business relationship with any company whose stock is mentioned in this article.