The recovery from the stock-market bottom in March 2009 has been five years in the making, but as the cyclical threat of an eventual global downturn looms, the aerospace industry is one of the few industries that we think will continue to be resilient in the face of such pressures. We expect commercial aircraft build rates to continue to climb at least through 2018.
If the multi-year backlogs of unfulfilled deliveries at the large airframe makers aren't enough, Boeing's (NYSE:BA) updated 20-year outlook for commercial aerospace demand, released June 10, was about as rosy as can be. The reason for such a long-range view has to do with the nature of aircraft building. When airframe makers build next-generation aircraft, they are essentially building a plane for the next two decades, as it may take 5 years or more from the drawing board to first flight and another 10-15 years before hitting maximum production efficiency on the assembly line. Such a long-term forecast is necessary to develop product strategy.
Valuentum has long-favored aerospace exposure in the Best Ideas portfolio, and we continue to think the industry weighting makes sense-even this far into the economic recovery. Please note that when we say aerospace exposure, we mostly mean the aerospace supply chain, which includes firms such as Precision Castparts (NYSE:PCP) and United Technologies (NYSE:UTX), not the airline industry, which includes firms such as American Airlines Group (NASDAQ:AAL) and JetBlue (NASDAQ:JBLU). Though both the commercial aerospace and commercial airline industries are levered to air travel demand, their respective economics are completely different. Where one benefits from increased aircraft build rates, the other suffers from what we believe are the worst structural characteristics of any industry in our coverage.
Boeing's 20-year outlook takes the following shape:
"The aviation industry continually adapts to market forces. Key among these are fuel prices, economic growth and development, environmental regulations, infrastructure, market liberalization, airplane capabilities, other modes of transport, business models, and emerging markets. Fuel is now the largest component of airline cost structure. This fact has spurred manufacturers to produce more efficient airplanes, such as the 787 and the 737 MAX, and encouraged airlines to optimize other cost and revenue centers to maintain profitability in the face of high fuel prices..."
"...Our long-term forecast incorporates the effects of market forces on the development of the aviation industry. Economic growth, as measured by gross domestic product, is a primary contributor to aviation industry growth. Gross domestic product is forecast to rise 3.2 percent over the next 20 years, which will drive passenger traffic to grow 5.0 percent annually and cargo traffic (which also depends on global trade) to grow 4.7 percent annually."
Source: Boeing
Though such a forecast may seem optimistic, we note that Boeing's 20-year outlooks, which are provided annually, have traditionally been proven conservative-the 1994 outlook, for example, is the most recent version to have been bested by actual numbers. Though commercial aircraft orders will always be cyclical, the commercial aerospace industry has proven to be quite resilient. Since 1980, the industry has bounced back from 4 recessions, 2 financial crisis, 2 Gulf wars, 1 oil shock, 1 near pandemic (SARS) and 9/11. There's not much more that can try to knock commercial aerospace expansion off its long-term upward trajectory.
Boeing's backlog of unfulfilled deliveries at the end of the first quarter of 2014 was $374 billion, up from $319 billion at the end of 2012 and $295 billion at the end of 2011. This implies that, in the event of an economic downturn, Boeing has the flexibility to move customer deliveries forward to still hit targeted numbers (without having to make costly adjustments to its supply chain). Because many delivery slots aren't available for years, cancellations have typically been a non-issue from customers, especially for the workhorse 737 family and revolutionary 787 Dreamliner.
Airbus' backlog is equally impressive. The aerospace giant's overall backlog, as of June 30, was 5,546 jetliners, composed of 4,372 A320 aircraft, 243 A330s, 742 A350s and 189 A380s. Regional jet operators such as Bombardier (BBD.B) and Embraer (NYSE:ERJ) will also contribute to growing aerospace build rates in coming years. We think build rates will continue to advance through 2018, regardless of what the economic environment throws at commercial airline travel.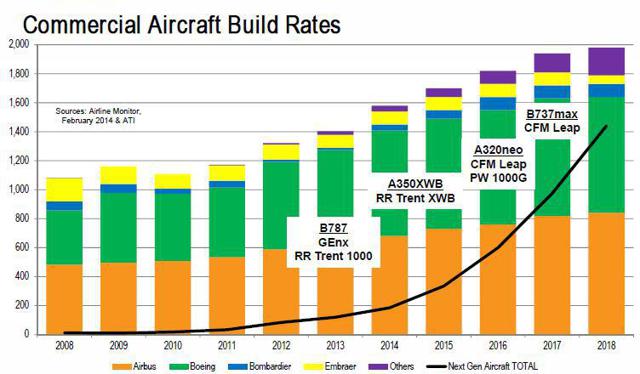 Image Source: Allegheny Technologies (NYSE:ATI)
Our Favorite Aerospace Idea
We think it's difficult to go wrong in aerospace, but metal-bender Precision Castparts has long been a favorite of ours. The firm makes the structural castings (metal blocks) and the rotating airfoils (blades) that form aircraft jet engines. Though a structural casting has a relatively longer useful life, a jet engine's airfoil components frequently need to be replaced upon maintenance (think razor, razor-blade model). Precision's components are also critical to flight safety, so it retains a high degree of pricing power with its long-time customers, which can't afford the risk of switching to unproven rivals.
The firm not only benefits from the burgeoning backlogs at the airframe makers, but also is not levered to whether Boeing or Airbus wins in the large commercial aircraft market or whether Bombardier or Embraer wins in the regional jet market - Precision Castparts' products are ubiquitous. The company is also led by one of the best CEOs in our coverage universe in Mark Donegan, and he knows how to take costs out of businesses and new acquisitions like no other that we've seen. The potential margin expansion associated with the firm's recent Titanium Metals acquisition will be significant, and we think the Street will be surprised at the profit growth associated with the transaction once it's fully integrated.
Our fair value estimate of Precision Castparts is nearly $300 per share, offering material upside to holders on the basis of this valuation. Investors should understand, however, that stocks don't converge immediately to fair value, and an equally likely outcome to fair-value convergence could see Precision's shares fall to $200 or lower before rising yet again. In any case, the company remains a position in the Best Ideas portfolio (as it does not pay a meaningful dividend). Precision Castparts' landing page can be accessed here.
What is considered a 'Best Idea' at Valuentum?
A best idea in Valuentum parlance is a holding in the Best Ideas portfolio and/or the Dividend Growth portfolio. We typically add shares to the Best Ideas portfolio when they register a high rating (a 9 or 10 = a "we'd consider buying" rating) on the Valuentum Buying Index and hold them until they register a low rating (a 1 or 2 = a "we'd consider selling" rating) on the Valuentum Buying Index. We don't add all firms that register a high score on the Valuentum Buying Index to the actively-managed portfolios due to sector weighting or overall market valuation considerations, among others. The Valuentum Dividend Cushion is a key factor behind adding companies to the Dividend Growth portfolio and is used in conjunction with a company's annual dividend yield, its price-to-fair value ratio and Valuentum Buying Index rating.
Disclosure: The author has no positions in any stocks mentioned, and no plans to initiate any positions within the next 72 hours. The author wrote this article themselves, and it expresses their own opinions. The author is not receiving compensation for it (other than from Seeking Alpha). The author has no business relationship with any company whose stock is mentioned in this article.
Additional disclosure: PCP is included in the Best Ideas portfolio.