Sphere 3D Corp.'s (NASDAQ:ANY) debut on the NASDAQ Global Market this week heralds the arrival of a new and powerful competitor to the Information Storage and Virtualization sectors - two of the fastest growing segments of the world economy.
The incumbents in the space are Citrix Systems, Inc. (NASDAQ:CTXS) with a $10 billion market cap, EMC Corporation (NYSE:EMC) with a $54 billion market cap, VMware, Inc. (NYSE:VMW) with a $41 billion market cap, and Microsoft Corp. (NASDAQ:MSFT) with a $367 billion market cap.
The reason why I think Sphere 3D is a serious contender is as a result of several acquisitions the company has made in the last year, combining Sphere's Glassware 2.0 virtualization platform - by all accounts, a revolutionary approach to virtualization - with V3 Systems' Virtual Desktop products and Overland Storage's global data management and storage business.
The target is the $100 billion Virtualization/Storage space, and early indications suggest that Sphere 3D's Glassware 2.0 is already displacing the incumbents in enterprise-scale applications.
If you look at the new corporate structure of the combined Sphere 3D Corp., it bears an uncanny resemblance to that of EMC Corp. before it floated 15% of VMware back in 2009, essentially creating two value creation machines where formerly there was one.
Is Sphere 3D the nucleus of that successful model? I happen to believe it is, and here's why.
Virtualization and Storage Industries: Explosive Growth Ahead
There are a few great anecdotes around that capture the real scale and scope of the explosion in information and data generated by business worldwide. Now saddled with the simplistic yet succinct "Big Data" tag, that label already appears understated.
But the best anecdote, to convey in a one sound bite what is happening in the world of Big Data, is this one from Eric Schmidt, CEO of Google:
"Every two days now we create as much information as we did from the dawn of civilization up until 2003".
Now, think of it in terms of one of the latest buzzwords in enterprise computing, 'BYOD', which stands for 'Bring your own device'. In other words, enterprises have learned that both productivity and employee satisfaction are dramatically enhanced when they can conduct their tasks on their preferred devices. At the same time, employees are demanding access to applications and cloud-based data sources on those devices.
Exhibit 1: Worldwide Public IT Service Spending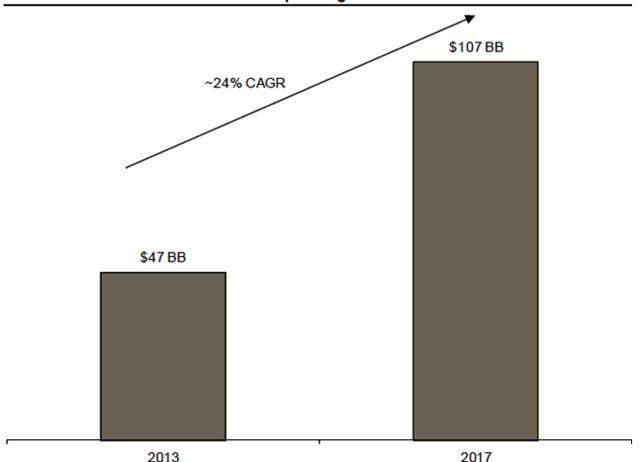 Source: Cormark Securities, IDC
Exhibit 2: Worldwide Connected Devices Unit Shipments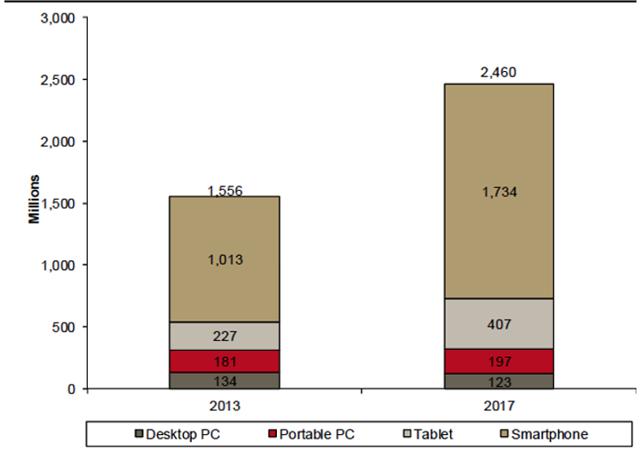 Source: Cormark Securities, IDC
Exhibit 3: Worldwide VDI Spending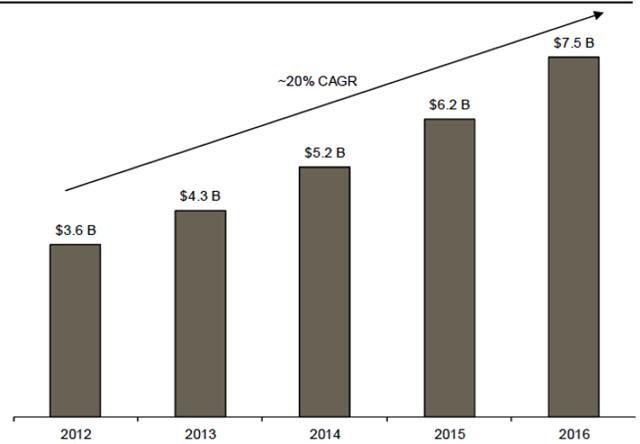 Source: Cormark Securities, IDC
What Will Sphere 3D Look Like upon Completion of the Merger with Overland?
In understanding the value proposition for investors arising from the combination of Overland with Sphere 3D and its already completed acquisition of V3 Systems, the thesis is simple: The whole is worth more than the sum of the parts. A lot more.
First, let's look at what put Sphere 3D Corp. on the map: it's called Glassware 2.0, and it does one thing, but does it better than everything else out there, including its mega-cap competitors. Glassware 2.0 allows you to extend the life of software indefinitely by making software available to any device regardless of its operating system. For simplicity's sake, imagine being able to access virtual versions of any application, from mainframes to windows 8 on your iPad, with near-identical performance and minimal latency, as if you had it installed on your iPad.
The company's software achieves this without straining the capacity of the network through resource hungry virtualization code or virtual machine architecture, as is the traditional standard in this space:
Exhibit 4: Traditional Virtualization Architecture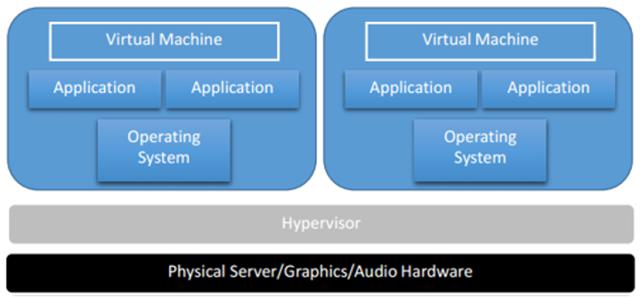 Source: Self
Exhibit 5: Sphere 3D's Next Generation Virtualization Architecture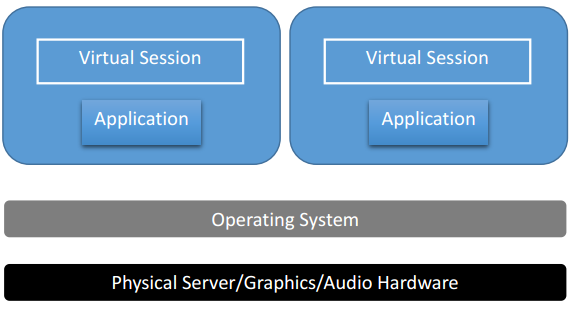 Source: Jacob Securities
For consumers, it's not a huge deal. But for enterprises and institutions who have distributed networks around the world, with members running every conceivable combination of smart devices, laptops and workstations, the challenges of providing uniformly configured software apps with secure and fast connections to data sets stored in the Cloud is daunting to say the least. And, up until now, very expensive.
Citrix and VMware are analogous to Sphere 3D, whereas EMC, the largest information storage provider in the world, is analogous to Overland Storage; in addition Sphere 3D acquired V3 Systems Inc., which is poised to give California darling and billion dollar start up Nutanix a run for its money.
Citrix is notoriously onerous and complex to deploy and administer across enterprise IT infrastructure, and has a limitations that prevent it from scaling linearly, often requiring replication of both hardware and software iterations across the same organization when confronted with differentiated core tasks.
Unfortunately, Citrix and even VMware have a problem with virtualizing the more complex and mission critical applications. An article in TMCnet states: "traditional virtualization technologies are great for handling commodity work, but they are fundamentally unsuited for applications that organizations depend on to run their most important, sensitive, business-critical processes - such as those that drive customer relationships, financial transactions and supply chains - or mission-critical applications."
VMware is the 900 pound gorilla in virtualization software and increasingly, in hardware, and is majority owned by EMC Corporation. That combination makes the utmost sense once you understand that the vast majority of enterprise data is stored on server farms that are best accessed via virtualized software programs converged on a 'hypervisor' single interface for users.
In fact, to really understand the differences and similarities among VMware and EMC Corp. on the one hand, and Sphere 3D, V3 Systems and Overland Storage on the other, you really needn't look further than the evolutionary history of the former two. Both started as independent entities pursuing their individual destinies, who, when combined with the purchase of struggling VMware by cashed up yet stagnating EMC, found their combined offering an irresistible and profound game changer in the Information Technology as a Service (ITaaS) sector. It was this converged solution that suddenly gave enterprises a more economic approach to storing reams of data that needed to be accessed and modified remotely by a distributed workforce around the world.
Think of it as mp3s finally making it into the mainstream and replacing CDs once it was available on devices like the iPod. Software drove the hardware sales which drove software market penetration.
Of course, VMware's product offering and EMC's storage offerings have greater breadth than anything Sphere 3D can offer (yet); however, when the acquisition of Overland Storage is complete, expected to occur by the end of August 2014, the gap will begin to narrow. The combination of Sphere 3D and Overland Storage represents exactly the same combination that was the seed that grew VMware and EMC into 50 billion dollar enterprises with sales in the billions each year.
Exhibit 6: 2014 Business Highlights - Transitioning into a Commercial Enterprise
Completed acquisition of the Virtual Desktop Infrastructure technology ("VDI technology") of V3 Systems, Inc., a privately held virtualization company, including the V3 Appliances design, Desktop Cloud Orchestrator ("DCO") software and other Intellectual Property related to the VDI technology. Hired certain key individuals, including Mr. Stoney Hall to head Global Sales, and former founder of V3 Systems, Mr. Peter Bookman, who is taking on responsibility, amongst other things, for accelerating the building of the company's Intellectual Property Portfolio;
Converted 3 provisional patents to full patent filings in Q1 2014, bringing the total number of full patent filings to 12;
Recognized over $1 million in revenue in Q1 from Glassware 2.0 licenses, V3 Appliances, Professional Services and Desktop Cloud Orchestrator, including the company's first Desktop as a Service ("DaaS") agreement, with an international services company;
Derived revenue from customers in Canada, the United States, Europe and elsewhere; verticals sold to in Q1 2014 include Government, Construction and Financial Services;
Finalized partnership with Dell to integrate the Glassware 2.0 platform and DCO software, with Dell DRIVE;
Signed a collaboration agreement with Novarad Corporation. The Collaboration agreement will allow Sphere 3D and Novarad to offer an on premise appliance for the delivery of Novarad software to healthcare providers without the requirement to refresh workstation hardware. By delivering an Infrastructure as a Service ("IaaS") offering, customers can take advantage of a pre-built solution based on a verified architecture that reduces deployment risk and accelerates time to availability.
Expanded relationship in Q1 2014 with Corel beyond previously announced VAR and Distribution agreements. Provided Glassware 2.0 as a platform for WordPerfect X7 companion iPad offering. Corel is estimated to have over 100 million active retail users in 75 countries;
Raised USD $5 Million through the sale of a senior secured 8% convertible debenture, convertible at USD $7.50 per share.
Source: Sphere 3D MD&A
V3 Systems' Role
V3 Systems was acquired by Sphere 3D in March of 2014 for just under $10 million. The thing about V3 Systems that Sphere 3D needed was its leadership and talent in Virtual Desktop Infrastructure architecture and a proven delivery mechanism for their Glassware 2.0 software. In other words, the appliance that can come pre-installed with either Glassware 2.0 or any other virtualization software or both.
The company was founded by Peter Bookman, who now serves as Sphere 3D's Head of Global Strategy.
According to Sphere 3D's press release announcing the acquisition in February 2014:
"Founded in 2010 and based in Salt Lake City, Utah, V3 is a technology leader in desktop cloud management solutions. V3 is the creator of the Desktop Cloud Orchestrator ("DCO") software, which allows administrators to manage local, cloud hosted, or hybrid virtual desktop deployments and the V3 Appliance; a series of purpose-built, compact, efficient and easy-to-manage servers. As a VMware OEM embedded partner, V3 has revolutionized the speed, ease of use, deployment and even the data center required for virtual desktop infrastructure (VDI). V3 has won numerous awards including a DEMOgod Award, Best Startup Company at the Best of INTEROP 2012, and a Utah Innovation Award in 2013. The V3 customer list includes the FBI, U.S. Department of Labor, U.S. Naval Academy, University of Texas, Blue Cross Blue Shield, and Children's Hospital of Alabama, among others."
So V3 Systems provides a key component that allows Sphere 3D to control their future architecture both form a hardware and software perspective, unlike VMware's reliance on Nutanix and recent disappointment with them as a partner.
Overland Storage: Cold Storage and a Global Trap Line
Overland Storage has a long and really quite interesting history itself. It got started back in 1980 as Overland Data in San Diego, California, and built a business focused on the storage of data on tape drives. Through acquisition and its own product development, the company became one of the largest tape Storage Vendors in the world.
In fact, Overland continues to win awards, even recently having won Tape-based product of the year at the 2014 Storage Awards with its NEO 8000e Tape Library and its Tandberg Data Storage Library T40+ honored as a runner-up in the competition; it was also nominated in numerous disk storage categories.
People in the Enterprise IT universe tend to view tape storage as primitive, but there are thousands of companies who have critical data stored over decades on tape and for whom it is cost-prohibitive to update.
According to IDC, "worldwide data growth will reach the unfathomable amount of 40,000 exabytes by 2020 -- or approximately 5,247 gigabytes of data per human on the planet. Furthermore, according to the DatacentreDynamics 2012 Global Census, the worldwide data center energy requirements to store and process this accumulating data grew 63%, in just one year, to reach 38GW in 2012, or roughly the equivalent of 30 nuclear power plants."
So, despite the fact that most of the IT universe has been moving first to disk-based, and now increasingly to cloud-based storage (which is still disk-based storage accessed through the internet), Overland has been continuing to expand making serious advances in tape storage, including their patented Virtual Tape Library products, while simultaneously advancing its own brand of disk storage infrastructure appliances - SnapServer and Snapscale.
As stated on the company's web site, "Companies can focus on building their business instead of worrying about data growth, data loss or data management with SnapScale clustered NAS, SnapSAN, SnapServer NAS, NEO Series tape libraries, and REO Series VTL product lines combined with dedicated global service and support from Overland Storage."
On a recent investor conference call to explain Sphere 3D's interest in Overland Storage, Sphere 3D CEO Peter Tassiopoulos stated:
Overland sells its award-winning solutions through a global network of partners that include leading international OEMs, such as HP, IBM and Fujitsu, 1000's of value added resellers, and a number of distributors and integrators. Not only has Overland won product awards, they have earned numerous awards and accolades for their commitment to the channel.
Earlier this year, Overland completed the acquisition of Tandberg Data. The Tandberg acquisition had the effect of doubling the size of Overland to a company with annualized revenue in excess of $100 million. It also complemented Overland's existing data management product portfolio and enables Overland to offer a broader spectrum of data management solutions to customers that range in size from small medium businesses all the way up to the enterprise.
In summary, the combination of Overland and Tandberg created substantial critical mass including:
in excess of 1,000,000 units deployed
solutions are available in over 70 countries
strong IP portfolio with over 100 patents globally
currently has a number of OEM relationships with the world's leading technology brands.
Painting the Big Picture: Sphere 3D + Overland Storage = VMware + EMC
So perhaps now it is a little bit clearer as to why Sphere 3D's shares have soared by an astounding 2,064% over one year. If you look at each of the parts, they don't individually constitute any tremendous value. But when you look at what the combined service offering entails, and the partnerships now in place, the value proposition becomes quite apparent.
In addition, it's possible the appreciation here is more an indication of a legitimate resurgence of the tech sector and the increased attention given to the space as a result of rotation out of declining sectors, such as resources, rather than complete acknowledgement of Sphere 3D's financial prospects.
Financially Speaking
It's simply too soon to project the numbers or even try to forecast what the future revenue picture is going to look like for the combined entity, and doing so prior to the closing of the Overland acquisition would be premature.
Early stage tech companies don't lend themselves to traditional valuation methods. There are typically no revenues (and only negative cash flows), and visibility into real revenue tends to be murky until the first commercialization effort pans out and is observable.
As Sphere 3D's revenue model becomes more apparent, and the company transitions to being revenue positive over the next couple of quarters, forward EV/Sales multiples should expand, providing further lift to shares and investor confidence in Sphere 3D's outlook.
In the press release announcing the definitive merger agreement with Overland, the following statement appeared:
For the three and nine months ended March 31, 2014, Overland had revenue of $20.24-million (U.S.) and $41,482,000 (U.S.), respectively, and incurred a loss of $6,633,000 (U.S.) and $15,539,000 (U.S.), respectively. Audited revenue for the 12 months ended June 30, 2013, was $48.02-million (U.S.) and a loss of $19,647,000 (U.S.). As at March 31, 2014, Overland's assets were $91,788,000 (U.S.) and had liabilities of $50,696,000 (U.S.). As at June 30, 2013, Overland's assets were $31,403,000 (U.S.) and had liabilities of $41,699,000 (U.S.).
Sphere 3D, for its part, is anticipated to begin reporting significant revenue this quarter, and so at this point, it is impractical to try and value the company via its financials. It recently closed a $10 million bought-deal financing, so is sufficiently capitalized for the near term.
Risks
(1) Sales Mis-execution - Sphere 3D needs to commercially capitalize on its first mover advantage in next gen virtualization with Glassware 2.0, and has a limited window of opportunity to do so. Should the company's channel partners fail to achieve sales traction, companies with competitive offerings to Glassware could capture the market position sought after by Sphere 3D
(2) Funding - As an early stage venture, Sphere 3D will have ongoing working capital and research and development funding needs in excess of the cash it generates from operations. The company's ability to continue its growth is predicated on its continued success in raising capital.
(3) Competition- Companies currently operating in the virtualization space have achieved considerable customer penetration selling "traditional" virtualization solutions (as referenced from above). The customers of these companies may been unwilling to switch to an alternative solution, such as Sphere 3D, meanwhile their vendors will likely attempt to transition to the same type of technology Sphere 3D has developed. Should Sphere 3D and its partners fail to maximize their first mover advantage and grab market share for their next gen offering, results and share price would be adversely affected.
Conclusion
It will take a significant amount of capital to fully deploy such an ambitious business plan, but Sphere 3D has a few things going for it in that regard. First of all, with only 23 million shares outstanding, the company has an incredibly tight structure that will enable it to raise substantial amounts of capital on terms that will not prove excessively dilutive to current shareholders.
Secondly, the company is the beneficiary of an incredible amount of industry press, because the bloggers and tweeters and posters in the technology world are all abuzz with the idea that Glassware could displace VMware and Citrix, and the combined company could take a big bite out of EMC with its superior data virtualization offering.
Third, this is a company whose meteoric rise thus far shows no sign of abating. And with the commencement of trading on NASDAQ this week, U.S. institutional investors will be able to start buying Sphere 3D. That's when the real fireworks could begin.
Exhibit 7: Short Position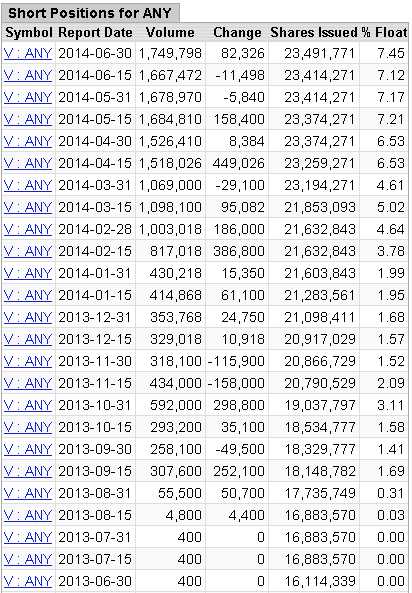 Source: StockWatch
Getting onto the NASDAQ allows ANY shares greater liquidity, and allows a lot of U.S. funds which may not have had the mandate to invest in Canadian-listed or Over-the-Counter stocks to now invest. And likewise for retail investors hesitant of the same issues. As the story continues to develop, there is major risk for a short squeeze at any time (yes, pun intended). So whether you are long or short, some has got to give here.
Overall, this virtualization software company has had an incredible stock market run, and some investors are sitting on very large returns; however, there has been a lot of new and interesting developments in recent months suggesting there is still a long way to go for this stock.
I like the technology, now it's up to management to continue to execute. The Overland-Sphere merger should close in the next couple weeks, and Q2 financials are due out before the end of August. I'll primarily be looking for revenue inflection which will mean that users are adopting the platform and we could have a serious new contender in the space.
Given its current market capitalization, Sphere 3D is the best offering out there to rapidly rise to the top of the proverbial pile of storage and virtualization converged products available for enterprise.
Disclosure: The author has no positions in any stocks mentioned, and no plans to initiate any positions within the next 72 hours. The author wrote this article themselves, and it expresses their own opinions. The author is not receiving compensation for it. The author has no business relationship with any company whose stock is mentioned in this article.