Barron's did an expansive and featured expose on the case for owning Halliburton (NYSE:HAL) this weekend. It was a well-timed piece, given that Halliburton reported earnings this morning. This author has been a long-term bull on this oil services firm for some time, especially in November 2012, when the shares of this energy shares were going for just $30 a share during a lull in North American drilling activity.
What I liked about the article is that it provided some fresh insight on the current industry fundamentals, as well as several well-articulated arguments on why the company will continue to deliver very solid results.
Global drilling activity is at its highest level in 25 years, and North American activity in near all-time highs. Credit Suisse recently raised its estimate of global drilling activity growth this year to 6% to 8%, from 5% to 6% previously. The earnings this morning from Halliburton, as well as the results last week from Baker Hughes (NYSE:BHI) show North American demand is very strong. Both these companies get over 50% of their revenues from North America, even as they experience significant growth in overseas sales.
Specifically to Halliburton, the company's $1B investment in its internal deepwater infrastructure has allowed it to expand that specialty to 30 countries, and the company aims to grow its revenue from this business 25% faster than the growth of the overall space.
Halliburton is a one-stop shop for exploration and production plays in North America, where it can supply the technology, expertise and materials to significantly expand production right down to 6,000 rail cars to supply the sand used in "fracking".
This success in expanding production is starting to allow Halliburton to raise prices and expand margins. It also should eventually have a huge opportunity to expand this knowledge overseas as more countries get on the fracking revolution train. This includes China, which has just started to "frack" in its first major commercial field. Revenue rose 50% last year from Saudi Arabia as well.
The company is also becoming much more shareholder-friendly. The company has raised its dividend 67% since the end of 2012. Halliburton also added $1 billion to an existing $5 billion stock buyback authorization.
Halliburton is the market leader in the domestic pressure pumping market. 60% of the contracts should be renegotiated by the end of the year. Given the current strength in this market, Halliburton should be able get solid price increases on these contracts.
This morning, the company reported earnings that met bottom line expectations with a 20% year-over-year gain. The company beat the consensus on revenue by over $200 million. Earnings in the S&P 500 are projected to gain approximately 5% to 6% year-over-year in 2014 on a 3% to 4% increase in revenue. In contrast, Halliburton is tracking towards a ~25% gain in earnings in 2014, on the back of a ~10% increase in sales.
Both the market and Halliburton are trading at 16-17 forward earnings, despite Halliburton's superior growth. The company also trades at about a 15% discount to competitor Schlumberger (NYSE:SLB), even though their earnings and revenue trajectories are almost exactly the same. Given Halliburton's long-term growth drivers and the current valuation of the stock, I believe this growth story will continue to deliver in the immediate future. ACCUMULATE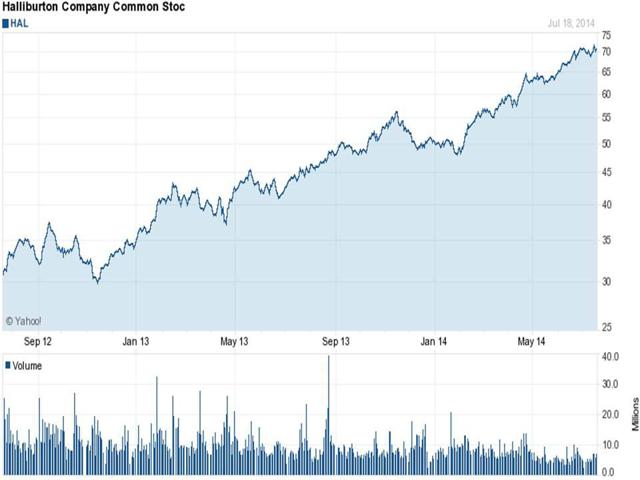 Click to enlarge
Disclosure: The author is long HAL. The author wrote this article themselves, and it expresses their own opinions. The author is not receiving compensation for it (other than from Seeking Alpha). The author has no business relationship with any company whose stock is mentioned in this article.