Last Tuesday, we claimed that Glu Mobile's (NASDAQ:GLUU) Q3 revenue could DOUBLE the consensus view and raised our price target to $10. Seemingly incredulous, short-sellers called our report a "pump piece" and initiated a smear campaign on the Yahoo Finance chat boards against Glu's hit game (Kim Kardashian: Hollywood) and PTT Research.
Fast forward to this morning and we find that the smear campaign seems to have backfired. Over the weekend, Kim Kardashian: Hollywood leapfrogged two competitors (including the venerable Pandora) to become the third-highest grossing (revenue producing) application on the entire iOS platform.
From a revenue-generating perspective, we estimate that KK:H is now quickly gaining on King Digital's (NYSE:KING) Candy Crush. We believe this is actually coming at the expense of Candy Crush, whose target market is young casual gamers (the exact demographic that KK:H has taken by storm).
To put this into perspective, KK:H is the first new application to crack the top 3 this year. In fact, mega-hits like Candy Crush, Clash of Clans, Game of War, and Pandora have held a stranglehold on the top four spots throughout 2014.
Figure 1: GLUU leapfrogs Pandora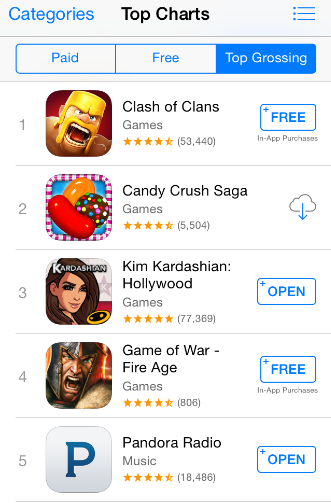 Source: Apple App Store
In addition to the game's viral success, Cowen & Co. followed our lead this morning, stating exactly what we said last Tuesday. Specifically, Cowen has doubled its Q3 estimate and raised its target price from $6 to $10.
Perhaps the bears should have watched my video, detailing exactly how I derived my new forecast (and how much Kim Kardashian stands to make). Instead, most traders are staring at their charts. Unbeknownst to them, none of the richest people on the planet are technical analysts. In fact, in one way shape or form, they are all long-term investors (either investors or executives) -- not the least of which is the world's richest investor, Warren Buffett.
The elite understand that the value of the stock is not based on the chart pattern, but rather the underlying value of the company. To establish the value of GLUU, PTT Research completed a deep fundamental analysis in October of last year, just prior to initiating coverage on GLUU.
At the time, we felt that the stock (which was $3 at the time) was poised to triple to $9. To be clear, our thesis was not (and is not) based on any one game. Rather, we believe that GLUU's business strategy has reached a fundamental and profound inflection point. This is based on three major pillars, which we have outlined in previous reports:
Engine-based R&D philosophy, lowering game costs and increasing frequency of hits
New monetization strategy, which maximizes the revenue for any game
Acquisition strategy - on track to yield hundreds of millions in revenue from just two acquisitions, at a combined cost of under $20 million.
To date, GLUU has been executing against its strategy flawlessly. Our original thesis remains intact. In fact, the company has managed to surpass even our expectations by becoming one of the three highest grossing applications in the iOS universe. The implications for GLUU's valuation should be undeniably apparent to anyone who examines Figure 2 below.
Figure 2: Top 5 Mobile Gaming Vendors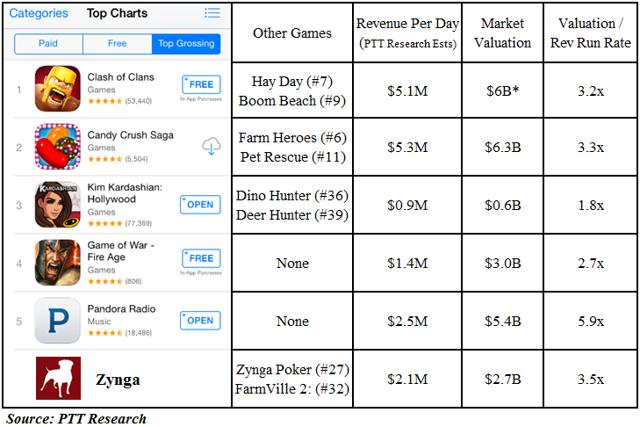 As you can see, GLUU now owns the third highest grossing game on the iOS platform. Shareholders should take note of the Market Valuation column. There, you can see that GLUU is the currently the cheapest company among the top five application holders by a factor of 9x.
Looking at each company's market cap to revenue run rate ratio, we find that GLUU is currently undervalued relative to its next competitor by 50%. This alone implies that shares of GLUU should be trading at $10.50 as we speak. But this doesn't take into account that the next competitor, Machine Zone, is a one-game company that was leapfrogged by "Kim Kardashian: Hollywood" over the weekend.
Even Zynga (NASDAQ:ZNGA), which has fallen from grace, has no games in the top 25, and has experienced declining revenues for most of the last 10 quarters, maintains a market valuation that is 4.5x higher than GLUU's. In fact, GLUU's peer-group is trading at an average 3.7x multiple to their respective revenue run rates. Assigning that multiple to GLUU would yield a fair-value assessment of $14.
Investors will note that we currently have GLUU pegged at $900,000 in revenue per day. That equates to over $80 million per quarter (over $320 million annually). This exceeds Wall Street's 2014 consensus estimate by a stunning 100%. Indeed, it's clear that investors who are looking at GLUU's past results or the current Street estimates have been getting a false picture of GLUU's reality.
In our reports last week, we stated that our revenue and price target estimates should both be considered conservative. Indeed, those statements ring even truer after this weekend's remarkable performance by GLUU. It's clear that the success of Kim Kardashian's game and Glu Mobile are mutually-exclusively accelerating.
With GLUU's Q2 earnings due to be announced next week, short-sellers will soon come face to face with the company's new fundamental reality. With continued momentum, we now believe that shares of GLUU could rise by 50% and reach our $10 price target before year-end. Additional detailed analysis can be found on our free public blog at poisedtotriple.com.
Disclosure: The author is long GLUU. The author wrote this article themselves, and it expresses their own opinions. The author is not receiving compensation for it. The author has no business relationship with any company whose stock is mentioned in this article. I am also short shares of KING.