Situation: Zillow is humorously valued even compared to its high growth internet peer group. Zillow trades at 146 times forward earnings versus the 76 median forward earnings of its comparable companies. The competitive moats around Zillow are mostly its userbase and its IP does not seem to be a large barrier to entry. Our full powerpoint presentation is available here.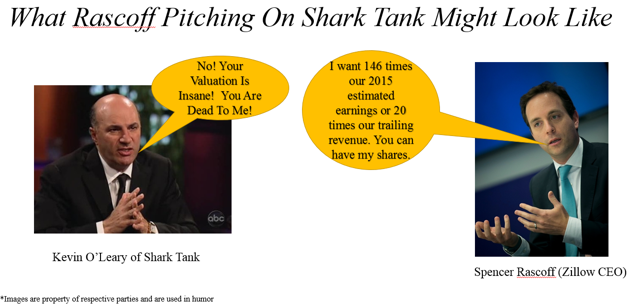 Click to enlarge
Source: ABC(O'Leary) and Investors Business Daily(Rascoff)
What Does Zillow Do? Zillow (NASDAQ:Z) operates the leading real estate and home-related information marketplaces on mobile and the Web, with a complementary portfolio of brands and products that help people find vital information about homes and connect with local professionals. In addition to their living database of homes, accessible on Zillow.com, they also own and operate Zillow Mobile, their suite of home-related mobile applications; Zillow Mortgage Marketplace, where borrowers connect with lenders to find loans and get competitive mortgage rates; Zillow Digs, a home improvement marketplace where consumers can find visual inspiration and local cost estimates; Zillow Rentals, a marketplace and suite of tools for rental professionals; Postlets; Diverse Solutions; Agentfolio; Mortech; HotPads and StreetEasy.
12 Month Price Target: $100 (Derived From Comparable Company Analysis)
Strategy: GARP
Bull Case Scenario Supports Limited Upside Bear Case Shows Major Downside Potential At Current Valuation: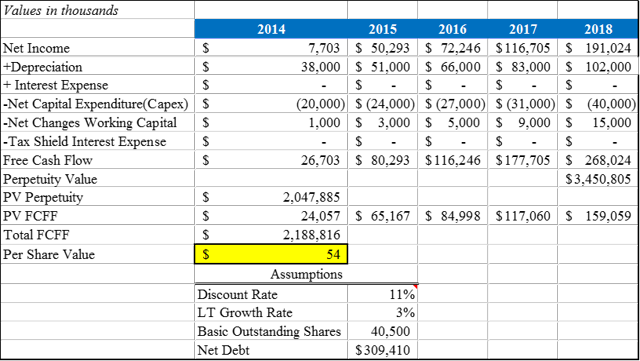 Click to enlarge
Source: Image By Author, Using Zillow Financial Reports
Bear Case using lower LT growth rate of 3%(typically 3-5% in terminal value) and higher discount rate of 11%(discount rate based on WACC of peer group companies such as Linkedin) a $54 price target is derived, which is close to where the lowest analyst price target of $55 is.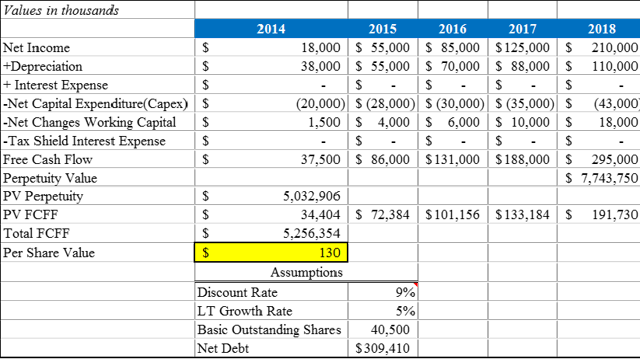 Click to enlarge
Source:Image By Author, Using Zillow Financial Reports
Bull Case assuming high net income growth increasing to $210 million by 2018 and a 5% LT growth rate and lower discount rate of 9%(discount to peer group), we obtain a $130 price target. Only a 5% premium to the current stock price, offering long investors limited upside.
Comparable Company Analysis:

Click to enlarge
Source: Image By Author, Using Relevant Company Financials
Zillow trades at a large premium to its other high multiple, fast growing competitors. Using the mean P/E of the comp. set (76) on 2015 highest projected earnings estimate($1.20) yields a price of $91 per share. Conservatively we are only looking for move to $100.
Market Size: Size Does Matter, But At Right Price: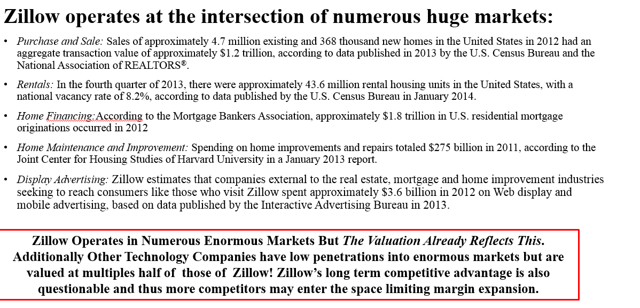 Click to enlarge
Source: Image By Author, Using Zillow 2013 10-K Market Analysis
Bullish Sell-Side Reports Inherently Bias: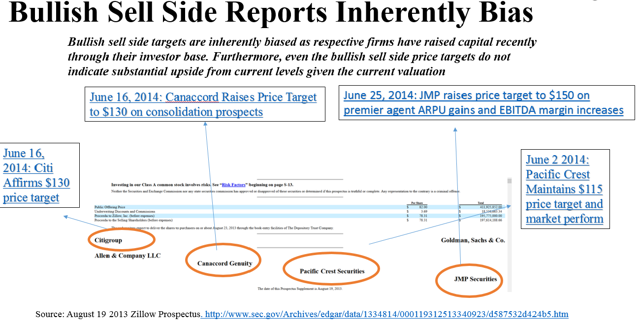 Click to enlarge
Competitive Advantage Is User Base: Zillow despite its mult-billion dollar market capitalization only had 6 issued patents in the U.S. as of their most recent 10-K. Additionally, Zestimates are mentioned in Zillow's 10-K filing as a Competitive Advantage, However Are Zestimates (Zillow's proprietary method to determine a current value for real estate property) a sustainable competitive advantage?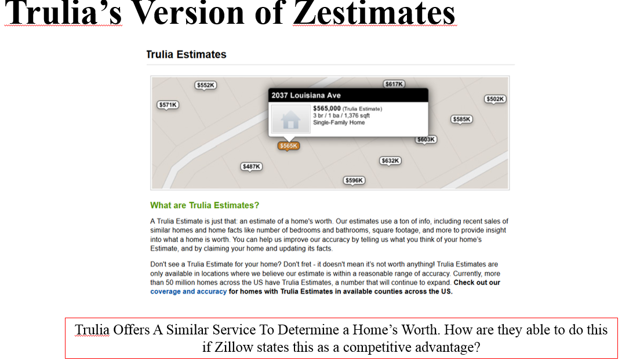 Click to enlarge
Source: Trulia Website
When Do High Multiple Stocks Correct?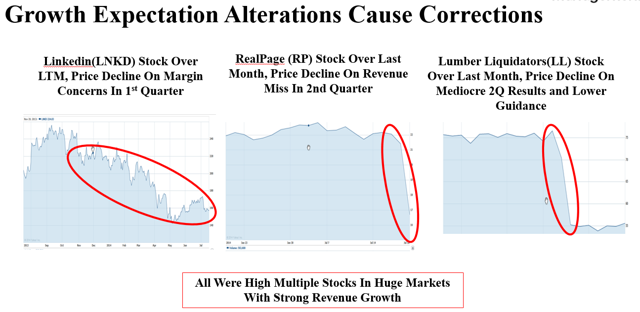 Click to enlarge
Source: Yahoofinance Price Charts
Key Risk Factors: The largest risk factor is that the short squeeze takes the stock to $170, completely ignoring any conventional valuation. Other risk factor is that ARPU and margins improve without any flaws and revenue growth continues at light speed and despite its lofty valuation the stock never corrects because the company continues to produce strong results. We view this scenario as unlikely given increased competition, in our view the unsustainable competitive advantage, and insiders selling shares with their detailed knowledge of companies growth potential. Even if this occurs we feel the upside(short's downside) is limited given where the stock is already trading.
Disclosure: The author is short Z. The author wrote this article themselves, and it expresses their own opinions. The author is not receiving compensation for it (other than from Seeking Alpha). The author has no business relationship with any company whose stock is mentioned in this article.