It now appears highly likely that the Russians played a part in the shooting down of flight MH17. Data continues to be collected from satellites and other means of technology to prove this point but it seems that the world has enough to sway public opinion. This incident does show us one thing, and that is that these so-called 'localized skirmishes' do in fact have international implications and this is causing investors to pay closer attention to the other hot spots in the world, specifically Iraq and Gaza.
Today is no "Merger Monday" as there is no M&A activity to report and no new rumors floating around after this weekend. Whether that is a result of the geopolitical events from the past week or due to earnings season, we are not sure but it is worth noting.
Chart of the Day:
All of the turmoil in the world is driving capital back to the US, with the bond market soaking up a good amount of these capital inflows. During times such as these capital always seeks safety and right now the US treasury market is benefiting.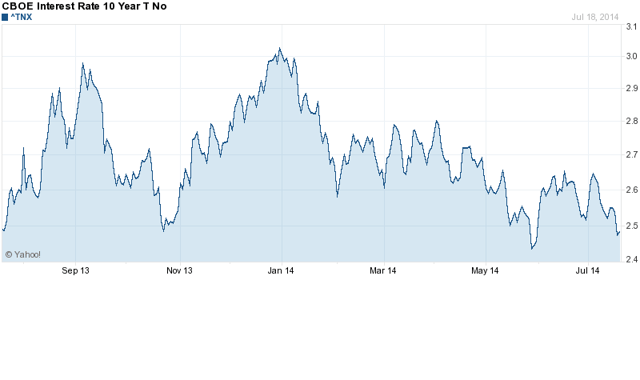 Click to enlarge
Source: Yahoo Finance
We have no economic news today but will see a number of data points released Tuesday.
The Asian markets are mixed today:
All Ordinaries -- up 0.15%
Shanghai Composite -- down 0.22%
Nikkei 225 -- CLOSED
NZSE 50 -- up 0.35%
Seoul Composite -- down 0.05%
In Europe, the markets are lower this morning:
CAC 40 -- down 0.44%
DAX -- down 0.83%
FTSE 100 -- down 0.34%
OSE -- down 0.29%
China Woes
Once again Yum! Brands (NYSE:YUM) and McDonald's (NYSE:MCD) are embroiled in another food quality scare in China. The problem this time is centered around a supplier which allegedly sold expired beef and chicken to customers after repackaging it with new expiration dates. Chinese authorities have already shut down the meat supplier in question and begun the process of tracking down all of the product they sold into the supply chain. Both the KFC and Pizza Hut units of Yum! Brands were affected so it will be interesting to see how quickly and harshly the consumer reaction to rogue supplier impacts results at the company. This could also have an impact upon the 700 or so stores the company was planning on opening up in China this year.
Investors Rally Around New CEO
Technology company Zhone Technologies (NASDAQ:ZHNE) rallied roughly 30% on volume of 8.8 million shares during Friday's session after the company announced that James Norrod would become the company's new CEO and President. Mr. Norrod has 25 years experience managing some impressive companies and it is this experience which investors cheered about. Mory Ejabat will remain with the company, filling the Executive Chairman role.
Drug Wars
The battle over Allergan's (NYSE:AGN) independence continues as tensions rise between the boards of both Allergan and Valeant Pharmaceuticals (NYSE:VRX). Both companies are stepping up their attacks on the other, with Valeant appealing to the SEC and other financial regulators in Canada in an attempt to keep Allergan from making further negative statements against the company to its investor base.
Along with its earnings release, Allergan announced that it would do some restructuring which would result in the elimination of 250 vacant positions and 1,500 job cuts, or about 13% of the company's workforce. The company believes that the restructuring will save $475 million next year, but it remains to be seen whether this will be enough to convince investors that the current management team can deliver more value to shareholders than the current Valeant offer.
Disclosure: The author has no positions in any stocks mentioned, and no plans to initiate any positions within the next 72 hours. The author wrote this article themselves, and it expresses their own opinions. The author is not receiving compensation for it (other than from Seeking Alpha). The author has no business relationship with any company whose stock is mentioned in this article.