Background:
Aquinox Pharmaceuticals (NASDAQ:AQXP), based in Vancouver, is developing a new, and potentially paradigm changing approach to treating inflammatory diseases and cancer. The company was founded in 2006 as a spin-off from research conducted at the University of British Colombia, the BC Cancer agency, and the Vancouver Coastal Health Research Institute.
Aquinox's existence and drug candidate portfolio is centered around the premise that a unique biochemical enzyme known as SHIP1 is nature's way of regulating the all important phosphoinositide 3-kinase (PI3K) pathway in blood cells. Now, PI3Ks are already heavily researched by big pharma and biotech companies when it comes to developing treatments in cancer, immune disorders and metabolic diseases. PI3ks have been linked to a broad group of cellular functions and biological functions that contribute to some of the above mentioned disorders. Supposedly, blocking the PI3k enzyme can potentially offer therapeutic benefit. However, Aquinox believes that nature's natural way of down-regulating the PI3k pathway, SHIP1, is a differentiated and more powerful approach in treating various diseases.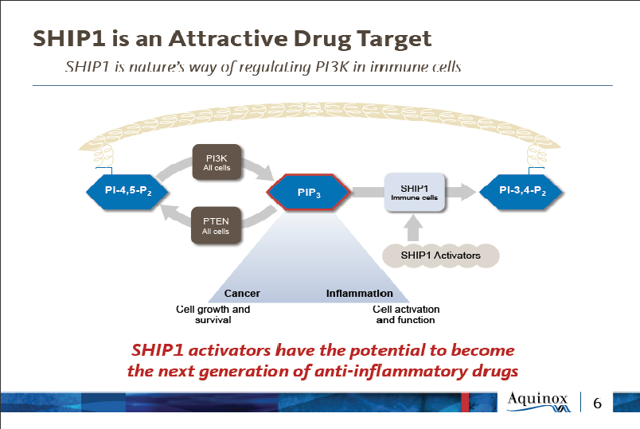 Click to enlargesource: Aquinox Pharmaceuticals
Drug Development:
Aquinox has developed a portfolio of SHIP1 agonists, with '1125 as lead, that are intended to activate SHIP1 to help treat a broad range of inflammatory diseases and potentially cancer.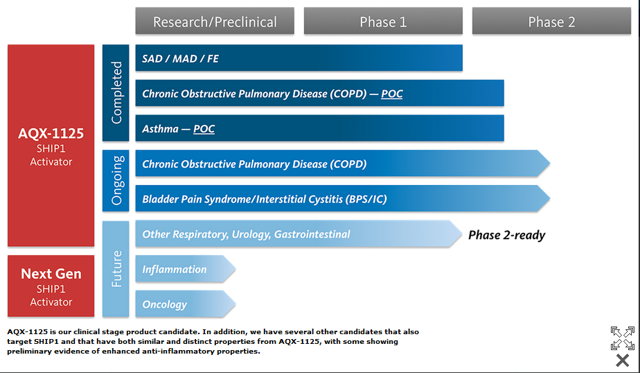 Click to enlarge
source: Aquinox Pharmaceuticals
'1125 is attractive in that it's oral, small molecule and not metabolized by the body. After positive and supportive pre-clinical/phase I data, the company ran two proof-of-concept trials with '1125 to assess its efficacy and safety in a model of chronic obstructive pulmonary disease, or COPD, and asthma.
Model of COPD Results
The model of COPD trial was conducted to evaluate the anti-inflammatory properties, safety and pharmacokinetics of '1125 following a lipopolysaccharide challenge in healthy subjects. The trial, at the 450mg dose, met its primary endpoint by reducing sputum neutrophils by approximately 62% (p=0.062) (N=18) compared to placebo. '1125 also showed a reduction in sputum IL-6 and, showed a trend towards a reduction in sputum IL-8, both of which are important cytokines in the activation and recruitment of neutrophils. In addition to the effects on neutrophils and cytokines, a trend towards reduction in other immune cells in sputum, namely eosinophils and macrophages, was seen. The most frequent adverse event were gastrointestinal upset (minimized when drug taken with food).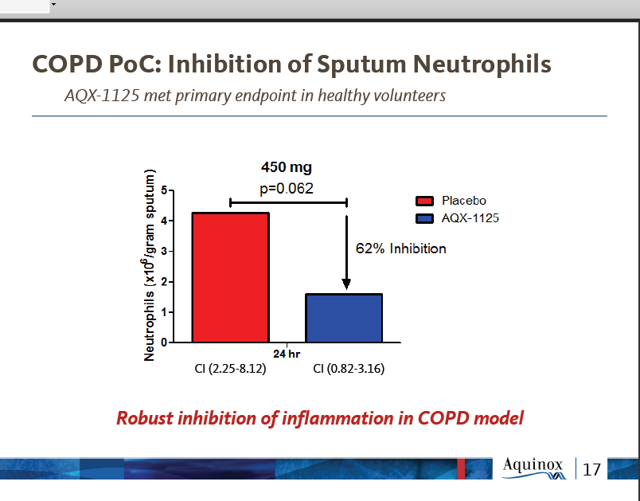 Click to enlargesource: Aquinox Pharmaceuticals
Below is shown how '1125 stacks up against some competitors in reducing sputum neutrophils.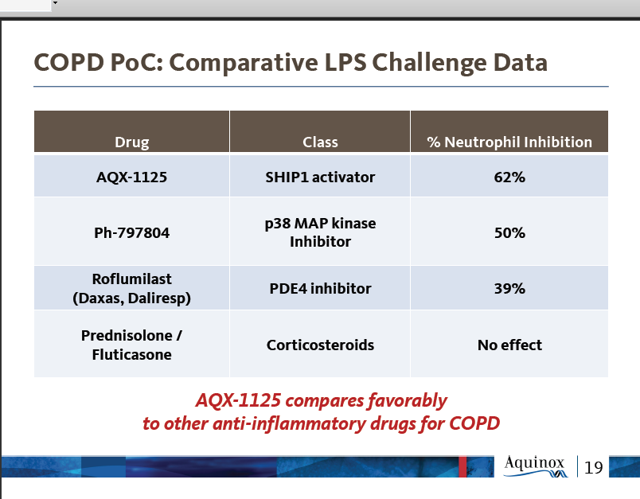 Click to enlarge
source: Aquinox Pharmaceuticals
Asthma Results
The second POC trial evaluated the anti-inflammatory properties, safety and pharmacokinetics of '1125 following an inhaled allergen challenge in mild-to-moderate asthmatics. The trial met its primary endpoint by demonstrating an approximate 20% improvement in the late asthmatic response (LAR) with 450 mg of '1125 vs. placebo (p = 0.027) (N=22). Furthermore, a reduction in all immune cells that were measured in sputum was seen. Like the model of COPD trial, the most frequent adverse event was gastrointestinal upset that is reduced when '1125 is taken with food.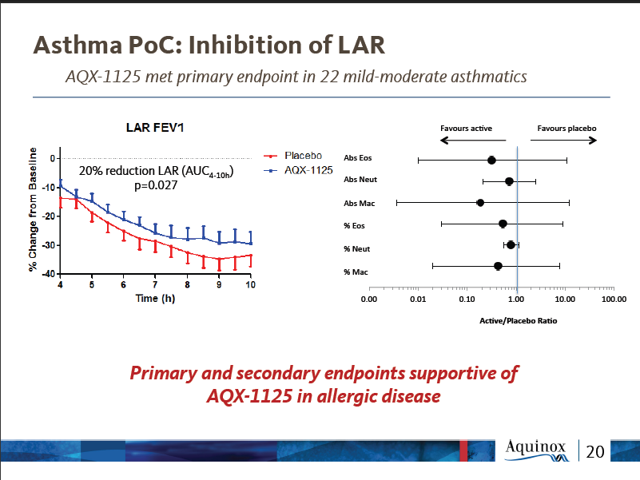 Click to enlarge
source: Aquinox Pharmaceuticals
Current Phase II Development
Based on the positive efficacy and safety data above, the company initiated two phase II trials. Both of these trials read out in the near future and are instrumental to the value of the company moving forward.
The first is a 400 patient trial in moderate-to-severe COPD. The primary endpoint is the effect of 200mg '1125 vs. placebo on recurrent exacerbations over 12 weeks. Top-line data is expected 1Q 2015.
The second is a 70 patient trial in moderate to severe bladder pain syndrome/interstitial cystitis, or BPS/IC. The primary endpoint is the effect of 200mg '1125 vs. placebo on reduction of mean pain score at 6 weeks vs. baseline. Top-line data is expected 4Q 2014.
Aquinox plans on initiating two more phase II trials with '1125 in unnamed additional indications. These are slated to begin Q4 2014 and Q2 2015 respectively.
Market Opportunity:
If successful, the market opportunity for Aquinox and SHIP1 activators is enormous.
According to the company, moderate-to-severe COPD is estimated to afflict ~16M in the US and between 65M to 200M worldwide. Despite current therapies, many patients still suffer exacerbations and adverse events from these therapies. Thus, there is a high unmet need for oral and safe anti-inflammatories that can treat the disease more effectively.
According to the company, BPS/IC is estimated to afflict ~14M in the US and ~323M worldwide. There is no current effective long-term treatment for this disease. Accordingly, there is also a high unmet need for an oral anti-inflammatory in this indication.
There are numerous other indications that '1125 may be effective in including: additional lung/airway, additional urinary tract, gastrointestinal tract, and certain cancers. All told, there is exciting market potential.
Competitors:
Aquinox is in a unique situation where they are clearly the leader and pioneer in the SHIP1 activator field. There are no other companies that are currently developing SHIP1 activators. A fact due to barrier of entry and just how new this area of science is. However, there are numerous competitors that are on the other side of the equation in this field - developing therapies to try and inhibit PI3k. These include large companies like GlaxoSmithKline (NYSE:GSK), Boehringer Ingelheim, Pfizer (NYSE:PFE), Novartis (NYSE:NVS), AbbVie (NYSE:ABBV), etc.
Big Pharmaceutical Company Interest in Aquinox:
Based on all the above, Aquinox has positioned itself to be a very big disrupter in the biotech space if the SHIP1 thesis proves to be true in treating certain diseases like COPD and BPS/IC. Clearly, this is of interest to big pharma. The CEO, David Main, has already gone on record and stated:
"Virtually every pharmaceutical company that has an inflammation program has been talking to us..."
This interest is more than evident when looking at just who has been investing into Aquinox's prior venture rounds. Pfizer Venture Investments, PVI, and Johnson and Johnson Development Corporation, JJDC, in particular have significant stakes in AQXP equity - 12.3% and 16.6% respectively.
These two companies do not take venture investing lightly. For example JJDC states:
"JJDC invests in companies with technologies that we believe have the potential to make significant impact on patient health."
and states for its investment criteria:
"Johnson & Johnson Development Corporation's (JJDC) investments have stringent selection criteria and are supported with validated data and research. JJDC is interested in venture business opportunities that have large addressable markets, clear competitive advantages, IP protection, an executable clinical and commercialization plan, which are led by experienced management."
Aquinox may be a partnership and/or acquisition target if data continues to impress.
Current Fundamentals:
Aquinox recently debuted with an IPO in March. The company raised $47M in net proceeds and currently has a cash balance of $56M. Aquinox has no debt.
Based on a current quarterly cash burn of ~$3M, this is more than enough cash to last through multiple value drivers (the two upcoming phase II readouts), initiate additional clinical trials of '1125, and progress their next generation SHIP1 activators forward.
There are only 10.7M shares outstanding, which leads to a current market cap of $88M and a measly enterprise value of ~$32M.
Risks:
Despite the promising story behind Aquinox, there are risks associated with the company. The biggest of these being the novel and somewhat unvalidated approach they are taking with activating SHIP1. Being a newer field, there is relatively little scientific literature supporting the efficacy of SHIP1 activators in their role of regulating the PI3k pathway in treating different diseases. In my opinion, this risk is mitigated to some extent due to the positive data generated from the POC studies and the backing and investments by PVI and JJDC.
Additionally, the entire company's pipeline is centered around SHIP1 activators. If the two phase II trials fail, it will certainly cast serious doubt on the future of those compounds as well.
Conclusion:
Aquinox is an exciting, young company that has the potential to change how certain inflammatory diseases and cancers are treated. The company has two very important phase II trials that read out in the near future.
With a market cap of only $88M and $56M cash, the risk/reward at this level is compelling. Some may even consider the company very cheap considering the upside. Jefferies biotech analyst Biren Amin captures this risk/reward and investment opportunity when he models his different "upside" and "downside" scenarios for Aquinox. His "upside" scenario is positive outcomes in both Phase II trials and a price target of $40. His "downside" scenario is '1125 failing both Phase II trials and a price target of $4-$5 (essentially cash level, which currently is $5.25/share). Remember, these price targets are just for the current two indications Aquinox is testing in. There would be considerable more upside for any future success in additional indications (e.g., cancer).
To conclude, at $8.30, and largely under the radar, Aquinox is an attractive buy for those who are risk tolerant. The upside dramatically outweighs the downside, in multiples, for those who believe in the potential of SHIP1 activators.
Disclosure: The author is long AQXP. The author wrote this article themselves, and it expresses their own opinions. The author is not receiving compensation for it. The author has no business relationship with any company whose stock is mentioned in this article.
Editor's Note: This article covers one or more stocks trading at less than $1 per share and/or with less than a $100 million market cap. Please be aware of the risks associated with these stocks.