Over the past month, there have been two new issues in the equity Closed-End fund (CEF) market space, one a spin-off from an existing fund and the other an IPO. Though the funds are different in many ways, there is one glaring anomaly that is occurring between them that I will get into in a moment.
The first new issue is the Duff & Phelps Select Energy Master Limited Partnership fund (NYSE:DSE), a $465 million fund that came public as an IPO on June 26th and will focus in the energy Master Limited Partnership (MLP) sector, a very hot sector over the last few years as evidenced by the success of other energy MLP CEFs that have been around for awhile.
If you are not familiar with Duff & Phelps, they are a very popular asset management firm that offers several CEFs, mostly in the utility and infrastructure sectors. Their flagship fund, the DNP Select Income fund (NYSE:DNP) is one of the largest and most successful CEFs ever, having gone public in 1987 and paying a reliable $0.065/share monthly distribution (7.6% current market yield) going back to the 1990's.
Then 3-years ago in July of 2011, Duff & Phelps brought public the Duff & Phelps Global Utility Income fund (NYSE:DPG), a new CEF that focused in the utility and MLP sectors. DPG had a fairly unexciting beginning and suffered through 2012 when the utility sector was fairly flat on the year. But since then, DPG's NAV has been very strong in its sector and so far this year, it's NAV is up a whopping 19.3% YTD, one of the best performers of any CEF.
But the market has hardly given DPG any valuation bump as its Premium/Discount level is essentially a ramp down ever since it came public. This is shown in the following Premium/Discount chart of DPG since its IPO on July 11, 2011.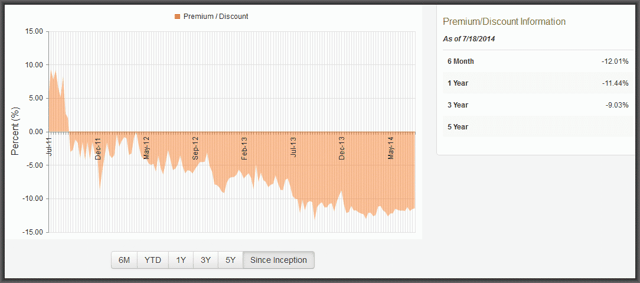 Click to enlarge
In fact, it got so ridiculous when one considers that many utility CEFs, like the Gabelli Utility Trust (NYSE:GUT) or even Duff & Phelps DNP utility fund, often trade at premiums because of their dependable high yields and distributions, that I strongly endorsed the fund last September, Terrific Opportunity In DPG, when it traded down to a -13.3% market price discount. Since I wrote that article, DPG has appreciated 26.7% on a total return market price basis vs. 16.8% for the SPDR Select Utility Sector (NYSEARCA:XLU), even though DPG still trades at a laughable -11.5% discount as of July 18th, 2014.
Duff & Phelp's New Kid On The Block
I'm not sure if DPG should be a lesson for Duff & Phelp's newest issuance DSE, but if history is any guide, investors should be wary of any new issuance CEF because of their initial pricing structure.
DSE went public less than a month ago on June 26th, 2014 at a $20 market price and a $19.06 Net Asset Value (NAV). As is typical with new issue CEF IPOs, there is a 4.5% or so sales credit which is immediately taken out of the NAV, meaning investors start with a fund priced at a 4.5% premium from the get go. What tends to happen is that the market price often drifts down to the NAV and by the end of the calendar year in which the fund came public, the fund is often used as a tax-loss generator and falls even further to a discount.
This is exactly what happened to DPG in 2011, which you can see in the chart above and it has happened with virtually every other CEF IPO. Now some of the weakness or strength in a new issue CEF can be attributed to the sector in which it focuses and energy MLP's have been very strong over the last few years, but valuations for most MLP CEFs have been widening this year despite their stellar NAV and market price performances. Most MLP CEFs have gone from premium valuations over the last few years to mostly discounts today despite rising NAVs and distributions. This is shown in the following table of the 10 largest MLP focused CEFs available to investors.

Click to enlarge
Here you can see the widening discounts based on a 3-year average, a 1-year average and the current premium/discount, in which all of the top 10 MLP funds now trade at a discount.
Obviously, there is growing concern in this sector probably due to an expectation of higher interest rates in the future or perhaps just an expectation that the best days of energy MLPs are behind them. Of more concern for DSE shareholders is the fact that every MLP focused CEF that has come public over the last couple years have all started at a similar $20 market price and a roughly $19.06 NAV and they have all dropped from market price premiums when they came public to sizeable discounts today.
This includes some of the biggest CEF IPOs in recent years such as the Neuberger & Berman MLP Income fund (NYSEMKT:NML), which came public at $1.1 billion on 3/26/2013 and has dropped from an opening 8% market price premium to a current -10% discount, the ClearBridge American Energy MLP (NYSE:CBA), which came public on 6/26/2013 with about $1.2 billion in assets and has dropped from about a 6% initial premium to a current -6% discount, the First Trust MLP & Energy Income fund (NYSE:FEI), which came public on 11/28/2012 at about $900 million and has dropped from about a 5% premium to a current -7% discount and the Goldman Sachs MLP Income Opportunity fund (NYSE:GMZ), which came public on 11/26/2013 while raising $826 million and has dropped from about a 5% initial premium to a current -4% discount.
Fortunately for the energy MLP sector, these fund's NAVs have done so well that most have overcome their significant drop in valuation by showing current market prices over their $20 IPO price. But all that is in the past and the question now is whether after so much success in this sector and so many new issue CEFs throwing billions in assets into MLP stocks, is the MLP sector saturated? If so, then is there any reason to expect that DSE will hold its current 4.6% premium market price at $20/share? If history is any guide, then probably not.
Gabelli's New Kid On The Block
On the other end of the valuation scale, we have the spin-off Gabelli Global Small and Mid-Cap Value fund (NYSE:GGZ). GGZ is a new $100 million CEF that was funded from shareholders of the Gabelli Dividend & Income Trust (NYSE:GDV). GDV shareholders gave up $1.20/share in NAV to receive new shares of GGZ. Unfortunately it seems, a lot of GDV shareholders are none too thrilled to be owning a small & mid-cap value fund in this market environment.
Since the spin-off was completed on June 23rd, GGZ currently sits at a $10.54/share market price, a -12.1% discount to its NAV, even though it was funded with $12/share cash. Unlike an IPO in which a CEF starts at a premium valuation, a spin-off such as GGZ can start with a market price on par with its NAV. And yet in the case of GGZ, the fund actually opened at a -10% discount and has dropped even further from there.
Think about that for a second. Yes, small and mid-cap value stocks have been struggling over the past month as evidenced by the iShares Russell 2000 Value ETF (NYSEARCA:IWN) dropping about -2.5% since GGZ hit the market as a spinoff and yet GGZ's NAV has hardly budged, down only to $11.99/share from $12.00.
Selling Cash At $0.88 On The Dollar
What this means is that GGZ is still mostly cash (as is DSE for that matter) and yet investors are willing to sell it for a current $10.54 market price. That's in essence selling cash at 88 cents on the dollar! Who would be doing that? The irony is that if you're a GGZ shareholder, you actually want the small and mid cap sectors to go down. It just makes small and mid cap stocks that much more attractive for the portfolio managers who have close to $100 million to put to work.
Energy MLPs vs. Small & Mid-Cap Value
This article is in no way trying to evaluate the sectors of these two new equity CEFs going forward. Based on valuation trends, the energy MLP CEF sector has actually been performing worse than the small and mid cap CEF sectors, which were already reflecting low valuations.
We won't know the make-up of DSE's or GGZ's portfolios until the fall when the first updates and quarterly reports come out. We also won't know about any use of leverage or initial distributions and yields from these funds for awhile as well. But just based on current valuations between these two new equity CEFs, I would be buying GGZ and among the Duff & Phelp CEFs, I would be swapping DSE for DPG.
Remember, DPG trades at a -11.5% discount, a 6.3% annualized yield and has a leveraged 34% representation in MLPs along with its global utility stock portfolio. That to me is significantly more attractive than a new energy MLP issue that may be coming late to the MLP party and yet trades at a 4.5% premium.
Conclusion
A final note on equity CEF valuations. I place an exceptionally high emphasis on CEF discounts and premiums, more so than most. And the reason has much more to do than just buying assets at a premium or discount, though that would be reason enough.
No, the primary reason why you pay attention to a fund's NAV in correlation to its market price is because of this one simple fact...the yield your fund pays doesn't come from the market price, it comes from the NAV. So if you're going to buy a CEF at a premium based on its market yield, you better realize that you are also paying a premium for that yield too and that the fund has to support a yield higher than what you are receiving.
And if your fund's NAV can't support that distribution and yield, then it's only a matter of time before your fund's market price follows its NAV downward. Every CEF that I have written about over the years has followed this simple rule and yet there continues to be plenty of investors who ignore it. All I have to say is caveat emptor.
Disclosure: The author is long DPG. The author wrote this article themselves, and it expresses their own opinions. The author is not receiving compensation for it (other than from Seeking Alpha). The author has no business relationship with any company whose stock is mentioned in this article. Long GGZ, short DSE