Immune Design Corp (Pending:IMDZ), a clinical-stage immunotherapy firm, focused on the development of cancer treatments, plans to raise $60.5 million in its upcoming IPO.
The Seattle, Washington-based firm will offer 4.7 million shares at an expected price range of $12-$14 per share. If the IPO can reach the midpoint of that range at $13 per share, IMDZ will command a market value of $221 million.
IMDZ filed on June 23, 2014.
Lead Underwriters: Jefferies LLC; Leerink Partners LLC
Underwriters: Wells Fargo Securities, LLC
Summary of IMDZ's Products and Business
IMDZ is a clinical-stage immunotherapy firm, seeking to use its two discovery platforms, which it calls DCVex and GLAAS, to develop new in vivo treatments for cancer. The firm's technologies use the body's immune system to generate cytotoxic T cells (CTLs) to attack tumors.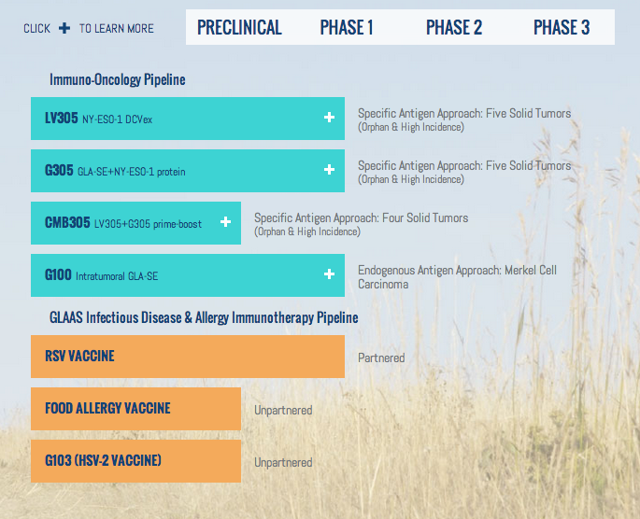 (Source)
The two discovery platforms are designed to create complementary effects. The DCVex platform creates products that deliver the genetic information of a specific tumor to dentritic cells, the cells that initiate the immune response to create CTLs. This induces the body to create millions of CTLs designed to attack a given patient's tumor. The GLAAS platform delivers a molecule accompanied by a specific tumor antigen that leads to activation of dentritic cells to produce CD4 T helper lymphocyte cells. While these cells cannot kill tumor cells themselves, they help to expand the quantity and function of CTLs specific to the same tumor antigen and support other anti-tumor immune responses.
IMDZ is currently developing a trio of product candidates based on its discovery platforms. LV305, developed from the DCVex platform, is in the midst of a Phase 1 clinical trial for the treatment of five types of solid tumor; IMDZ expects the trial to be completed in 2014.
IMDZ is currently enrolling Merkel cell carcinoma patients in a Phase 1 clinical trial for G100, a product candidate developed through the GLAAS platform. The firm expects the trial to be completed in early 2015.
CMB305 is a combination of LV305 with G305, an agent developed through the GLAAS platform. IMDZ plans to put CMB305 through a Phase 1 clinical trial for a subset of tumor types examined in the trials for its other candidates, and expects data from the trial in 2015.
Valuation
IMDZ offers the following figures in its S-1 balance sheet for the three months ended March 31, 2014:
Revenue: $25,000.00
Net Loss: ($8,223,000.00)
Total Assets: $25,830,000.00
Total Liabilities: $2,259,000.00
Stockholders' Equity: ($63,870,000.00)
IMDZ's minimal current revenues are to be expected of an early-stage biotech firm, and should not be taken as an indicator of the firm's prospects for future success. IMDZ will not be able to generate significant revenues until one or more of its product candidates have been commercialized.
Competition From Established Biotech and BioPharma Firms
IMDZ's products, should they receive regulatory approval, will face competition from both the products of numerous other firms attempting to develop oncology products and from traditional methods of cancer treatment, such as chemotherapy. Many of IMDZ's potential competitors are established biotech and biopharmaceutical firms with access to far greater financial and marketing abilities than IMDZ.
Management Highlights
President and CEO Carlos Paya has served in his current roles and as a director of IMDZ since 2011. He previously served as president of Elan Corporation and vice president, Lilly Research Laboratories at Eli Lilly & Company (NYSE:LLY).
Dr. Paya was also a professor of Medicine, Immunology, and Pathology, and vice dean of the Clinical Investigation Program at the Mayo Clinic in Rochester, Minnesota.
He holds his M.D. and Ph.D. degrees from the University of Madrid and underwent postdoctoral training at the Institute Pasteur in Paris, France.
Conclusion
We are neutral to positive on this IPO.
Though IMDZ's product candidates are still a great distance from receiving regulatory approval or finding commercial success, the firm represents a novel approach to cancer treatment that we believe will prove attractive to investors and could be extremely lucrative if it does reach the market.
Despite few underwriters, IMDZ boasts a leadership team with an impressive scientific background, which is an encouraging sign.
An investment in IMDZ is a gamble on its ability to commercialize its products, as with any clinical-stage firm, but we feel that IMDZ is a better bet than most.
We invite readers wishing to join the discussion on IPOs to click the +FOLLOW button above the title of this article -- and those looking for the latest developments to click +Get real-time alerts.
Note: As a large sample of information sources does not yet exist for IMDZ, we have taken much of the information for this article directly from IMDZ's S-1 filing.
Disclosure: The author has no positions in any stocks mentioned, but may initiate a long position in IMDZ over the next 72 hours. The author wrote this article themselves, and it expresses their own opinions. The author is not receiving compensation for it (other than from Seeking Alpha). The author has no business relationship with any company whose stock is mentioned in this article.