Emerald Oil (NYSEMKT:EOX), an E&P company focused in the Bakken and Three Forks shale of North Dakota, is set to have a great rest of 2014. In 2013, the company made the transition from being a non-op to a operational E&P company. The transformation was a big one, but Emerald is finally easing into it. They currently hold about 91,000 acres in the Williston Basin, spread between both North Dakota and Montana. Since the beginning of 2013, the company has added over 73,000 acres to their holdings, representing 80% of what they have now. Also in 2013, they dumped non-operated acreage to strengthen the balance sheet and focus on operated areas. They are still actively looking to add to their operated acreage with a $150 million land acquisition budget for this year. 91% of the current acreage is located in ND and 9% is located in MT. They expect more development in Montana to really start later on this year, most likely late Q3.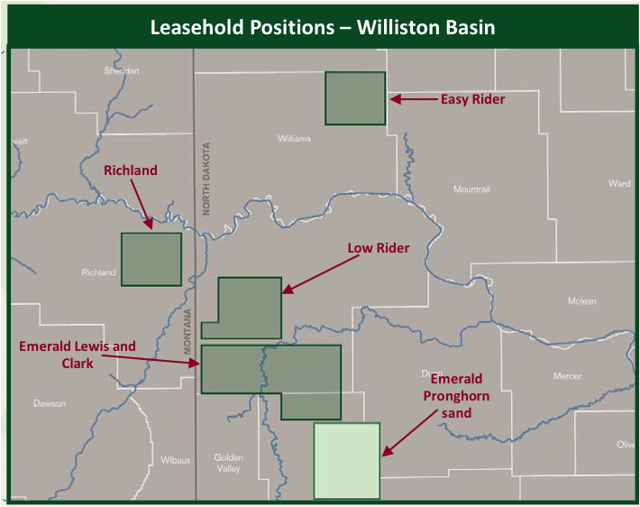 (Source: Emeralds website)
Over the past year, Emerald has been able to greatly increase production. Between Q1 of 2013 and Q1 of 2014, the company saw production rise 136% from 1,000 boe/d to about 2,500 boe/d. Q1 this year was expected to be pretty bad. Freezing cold weather forced limited work days, and expenses rose greatly. In the Q4 call, things looked pretty bleak for Q1. But after the bleak outlook, Emerald managed to pull off a relatively decent Q1. Given that Rudisill had cited days in February that the temperature was between -20 to -40 degree fahrenheit where it was physically impossible to get anything done, they still saw 3% production growth from Q4 to Q1.
The real catalyst that will be sending Emerald's production growth to the next level began in early April. The company brought online a 3rd rig to accelerate drilling, and in late Q3 this year, they are adding a 4th rig. Essentially doubling their number of rigs will help speed up drilling immensely. Their current acreage development has an opportunity of about 700 drilling locations, which with only 4 rigs could not be accomplished until almost 2026. Each rig can drill an estimated 13 wells a year, but of course over time I would expect them to add more rigs. This year, probably due to the terrible weather in Q1, the plan has them drilling just 26 new wells, with a budget of $250 million for drilling. In the Q1 call, Rudisill mentioned that he expects they will drill 38 wells in 2015, with an estimated capex between $350-375 million.
After the decent Q1 results, they did something that really solidifies my faith in the company, they raised FY guidance. Clearly, the company is confident that production will continue to grow at a great pace. Guidance for Q2, which is estimated to be reported around August 6th, is set at 3,500 boe/d. And the exit rate for 2014 is predicted to be almost 5,000(4,900 is the estimate). Total reserve estimates rose 147% to 13.2 Mboe from 5.4 Mboe in 2013.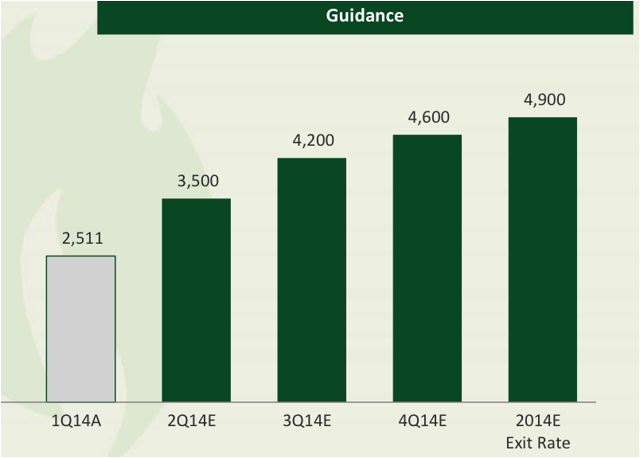 (Source: Emeralds website)
As Emerald really turns toward profitability, it is important to note they have the rest of the 2014 capital budget already covered. The company just recently incurred its first debt, but it remains relatively small. They currently have about $200 million in cash and another $100 million of revolver availability. Liquidity is about $300 million currently. It seems the largest issue people have with Emerald is the management, which I would agree is not the best. G&A expenses are quite high for the position they are in right now, but I would expect that to even out and become less of an issue as they continue to grow.
Emerald is undervalued when comparing its land position with its peers. The $/acre average among its peers (KOG, NOG, TPLM, OAS) is $8,775. Emerald's per acre is only $3,147. This points to significant upside. This shows Emerald's assets are extremely undervalued. To add, there is definitely new speculation on whether Emerald is now a takeover target with the newest merger between Kodiak (NYSE:KOG) and Whiting (NYSE:WLL).
Emerald is set to have a great rest of the year and a great 2015 as well. The average estimate for Q2 earnings is 4 cents a share and 16 cents for FY14 compared to a loss of 75 cents for FY13. Revenue is expected to grow over 120% for FY14 compared to FY13 and they are even expected to have revenue increase another 70% in FY15. Analysts remain very bullish on the company, with 8 maintaining a buy rating and one having a hold rating. The mean price target is $10.00, representing an upside of over 30% from the current price.
In conclusion, Emerald appears to be in a great position. Production continues to grow at a fast rate and they should see profit through the year and into next. Their new wells show great potential and the fact they raised guidance is very good. After finally completing the transition from non-operational to operational they should finally experience a strong year.
Disclosure: The author is long EOX. The author wrote this article themselves, and it expresses their own opinions. The author is not receiving compensation for it (other than from Seeking Alpha). The author has no business relationship with any company whose stock is mentioned in this article.
Additional disclosure: Always do your own research before investing.