We are initiating coverage on a company that not only is a solidly performing example of what a small business is, but a company that could perform exceptionally well over the short and long term. Technology has always been and always will be a top player in the U.S. stock market. Investors are seen flocking to new ideas and established ideas that, in their minds, have potential. Yes, some are speculative technologies and, with that, risk is absolutely increased.
On the flip side, finding an established tech which not only reinvents itself but also has a long history of research and development (R&D) is key. These companies -- some big names, most not -- are the places to look. These are the companies which make investors money and potentially lots of it.
InvenSense (NYSE:INVN) is a pioneer and global market leader in devices and related software for the motion interface market that detect and track an object's motion in three-dimensional space, including gyroscopes, accelerometers, compasses and pressure sensors. The company also serves the audio sensor (microphone) market through the acquisition of the MEMS Microphone product line of Analog Devices, Inc. INVN's MotionTracking devices, audio products and software combine micro-electro-mechanical system (MEMS) with mixed-signal integrated circuits (ICs) and proprietary motion and system-related algorithms and firmware that intelligently process, synthesize and calibrate the output of sensors for use by third party software applications via an application programming interface (API).
InvenSense's devices are different than the competition because of the company's ability to design and change with times as the need for technology, and mobile equipment is required to be scaled down in size and increased in performance on what seems to be a weekly basis. Their products are small, even micro in some cases; their scalability and high level of integration is paramount and the fact that their products are performance-driven, reliable, and cost effective is why their costumers keep coming back and how they continue to accrue new users and customers on a daily basis.
While the company's products are broadly applicable across an enormous spectrum of technology end users, INVN has a select grouping of "targets" that they gear their product specifically to in the consumer electronics sector. Some of those specific applications are:
smartphones, tablets, ultrabook and laptop computers
console and portable video gaming devices
digital still and video cameras
smart TVs (including digital set-top boxes, televisions and multi-media HDDs)
navigation devices
industrial sensors
toys and health and fitness accessories.
The company has a unique and effective marketing strategy. Their method is to continue to target the consumer electronics market with their integrated MotionTracking and audio devices that not only satisfy the end user's requirements, but meet or exceed the performance and cost requirements of these electronics manufacturers they're catering to. Not only that, but they are very clear that they will continue to produce products, which are easy to integrate and set new industry performance benchmarks.
Industry Background
Over the last decade, advances in technology have led to a rapid growth and development of consumer electronics devices used for communication, entertainment, convenience and business that include sensor technology, specifically InvenSense's. In order to distinguish products and increase sales in incredibly competitive markets, consumer electronics device manufacturers just like INVN have been anxious to select and create new proprietary sensor devices based features and functionalities, expand use cases and create new, compelling user interfaces and interactive experiences using technologies such as touch screens and voice-controlled and motion-based functions.
In today's market, a majority of the cutting edge mass market smartphone manufacturers like Samsung, with their revolutionary Galaxy S-5 and Apple with their iPhone 6, have successfully introduced consumers to motion-based features which enables navigation, gaming, health and fitness applications. More advanced motion sensing and voice and motion processing capabilities make it possible for motion-based video gaming, voice and motion based device control, navigation, health and fitness and advanced display functionality and have become a part of the industry standard for smartphones, tablet and wearable devices.
These capabilities are also being incorporated into a plethora of other consumer electronics devices. The momentum behind the adoption implementation of motion interfaces in consumer electronics and other applications illustrates how technology can change the way consumers interact with their electronics devices, as well as set consumer expectations and standards for future consumer products. At the leading edge of all of this, there is InvenSense, who is pioneering this technology and bringing new types of motion and trackable technologies to the market.
Because they are a leader, a developer and a researcher, they have been able to take this market and expect what direction technology may go in and, in some cases, dictate which way it may actually go. When you're in a position like INVN is, you can set the stage. You can dig a trench and show the river of technology exactly which way it needs to flow.
As an investor, you need to know why a company has the potential to do well. Just having a solid business model is really not enough. When it comes down to investing your hard earned money, you want to know that you're investing in a company that puts it on the line -- a company that says, "this is what we do and how we do it and this is why we'll succeed." It also helps to have outside and non-biased information that backs up what the company says.
Earlier this year, in March, the company had a very solid new item that shows where the market intends to take this company. In the article it also states it was covered by financial house RW Baird, and it was all aces. Have a look:
Baird analysts Tristan Gerra issued a bullish note on the company, saying they may have won nearly all of the Samsung Galaxy S5 business. The analyst reiterated an Outperform rating, raised estimates and raised his price target from $23 to $28.

Raising our estimates and price target based on our belief InvenSense may have won nearly all of the Samsung Galaxy S5, higher than we had previously expected. Additionally, we see InvenSense as well positioned to win a new tier-one smartphone OEM given its 6-axis performance advantage and as the company has solved prior packaging issues. The rise of wearable, Apple launching a smart watch this year, along with OIS, pressure sensors, and MEMS microphones, represent multiple growth opportunities for InvenSense.
In the article, the analyst for RW Baird mentioned Apple's (NASDAQ:AAPL) wearable devices. This is something that could be a very strong opportunity for InvenSense. Apple is projected to produce 5-6 million units of their wearable device this year and has not yet announced who will supply the internal gyroscope. INVN is very well positioned to take this task and given its products, and may be the supplier -- time will tell.
Baird also commented on INVN's projected price and gave the company a projected target of $28 per share. From the current price, that is a very strong gain, but we believe that $28 is a bit on the low side. Below, we've included another chart on INVN. In this chart, we've included Andrew's Pitchfork. The pitchfork, which was developed by Alan Andrews, is a trend channel tool consisting of three lines. There is a median trend line in the center with two parallel equal trend lines on either side. These lines are drawn by selecting three points, usually based on reaction highs or lows moving from left to right on the chart.
While INVN clearly is not a trend stock, more a performance based stock, trends still exist. Looking at the chart and seeing how the trend is increasing, its possible that $28 could just be the beginning.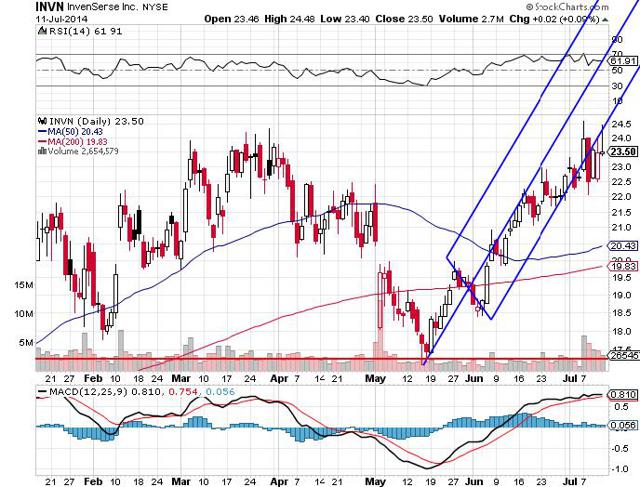 Click to enlarge
Earnings
On May 1, the company released earnings for Q4. Net revenue for the fourth fiscal quarter of 2014 was $59.0 million, up from $55.2 million for the fourth fiscal quarter of 2013. Net revenue for the fiscal year 2014 was $252.5 million, up from $208.6 million for the fiscal year 2013.
Competition
InvenSense competes with companies that in some cases, may have substantially greater financial clout and that being said, may or may not have the ability to have larger research, development and advertising budgets.
InvenSense primarily competes with the following companies:
Over time, just like anything else, there will be new companies entering the market who will compete with InvenSense or perhaps existing companies who design or manufacturer the "next big thing." The key to being successful is to keep reinventing the company; developing new, more efficient products which penetrate the market and keep being touted and used as the industry standard. Research and development is something this particular segment can't have enough of. Just because a company is leading today doesn't mean it will tomorrow.
In the End
In the end, we expect that InvenSense will continue to be a market leader and perform exceptionally well if it retains the ability to be innovative and have a solid product with great features and still be cost effective. If not, it will surely be replaced with any one or two of it's competitors. It hasn't been announced of yet, but with the Apple wearables, iPhone 6 and the future Samsung Galaxy pending, it could be a truly magnificent year for INVN and the industry in general if INVN wins the contracts that RW Baird believes they will.
Disclosure: The author has no positions in any stocks mentioned, and no plans to initiate any positions within the next 72 hours. The author wrote this article themselves, and it expresses their own opinions. The author is not receiving compensation for it (other than from Seeking Alpha). The author has no business relationship with any company whose stock is mentioned in this article.