Kimberly-Clark Corp (NYSE:KMB) is an American personal care corporation that mainly produces paper-based consumer products. It manufactures products in 37 countries and sells them in over 175 countries worldwide. The company is set to release its second-quarter results on July 22, and analysts expect a year-over-year (YoY) increase in earnings from an estimate of $1.34.
Historical Performance
Kimberly-Clark is up 7% year-to-date after performing consistently well. It has outperformed closest competitor The Procter and Gamble Company (NYSE:PG) by 8.8%, and the S&P 500 Household and Consumer Products Index by 5.7%.
Historically, the company has beaten analysts' earnings estimates by 0.7% on average, and it has consistently beaten estimates for the last nine quarters. Kimberly-Clark outperformed analysts' expectations during the previous quarter by 0.54%, with adjusted earnings per share of $1.47. The expansion into high-margin products and emerging markets, as well as its cost reduction programs, has enabled it to outperform expectations and grow quickly.
Although the company beat earnings expectations during the latest quarterly results, it underperformed sales expectations. Kimberly-Clark missed revenue expectations of $5.32 billion by 0.8%, posting the revenues of $5.28 billion for the quarter. The primary reasons for weaker than expected sales included a soft cold and flu season, strong shipments in the prior year, and a fall in the volume of the North American Tissue segment. The unfavorable impact of foreign exchange rates and strategic changes in Europe further affected the company's sales, leading to a YoY fall in sales for the quarter.
Apart from that, Kimberly-Clark has posted an average organic growth of 4.3% over the last four quarters, and any significant deviation from this number in the last quarter can impact investors' sentiments and cause the stock to move.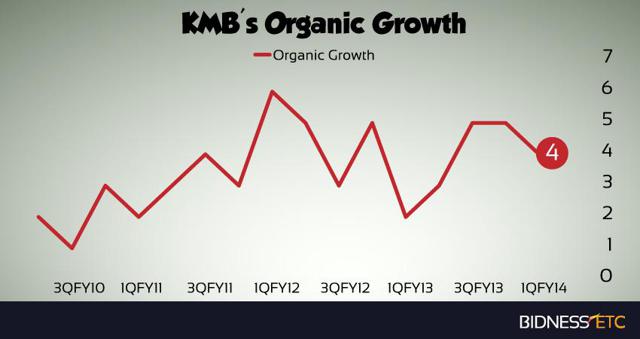 Key Developments
The consumer products manufacturer's FORCE (Focused On Reducing Costs Everywhere) program, continues to be an important source of cost savings for the company. This has enabled Kimberly-Clark to support its earnings through cost savings despite low revenue growth. The company will likely outperform earnings expectations for the quarter due to the cost cutting still in place.
Kimberly-Clark is planning to spin off its healthcare business. Investors should pay attention towards any discussion from the management related to this matter as this can be a significant stock driver. The segment operates on low margins and has been underperforming other segments. Therefore, its separation can support the company's earnings growth in future. The spin-off will also allow the company to support its growth through increased focus on the core offerings.
Valuation
Investors have already bid up the stock in the expectations of strong results. Looking at the company's five-year price-to-earnings (P/E) multiple average, the company has traded at a discount of 10.78% to the five-year P/E multiple average of the S&P 500 Household and Consumer Products Index, but is currently trading at a premium of 8.96%.
Moreover, KMB is 22.1% higher than its five-year average, with a forward P/E of 17.7x. If the company beats estimates, its stock price might not show any significant movement in the next few days as the expectations of strong growth are already priced in.
However, if the company misses estimates, its valuation multiple can contract, and cause the stock price to fall. Bidness Etc expects the company to miss sales estimates due to the continuing weakness in the demand for household products and emerging markets, but beat earnings estimates through improvement in efficiency and share buybacks.
Disclosure: No positions.