In my opinion, the price of silver (NYSEARCA:SLV) has formed a triple-bottom since late-2013, with the ultimate bottom coming in August of 2013 at $18.50 silver. Currently, the price sits at $20.90 an ounce, which is above silver's 200-day moving average of $19.92. To put it simply, you make money when you buy low and sell high - not the other way around - and the technicals for silver look like a screaming buy right now.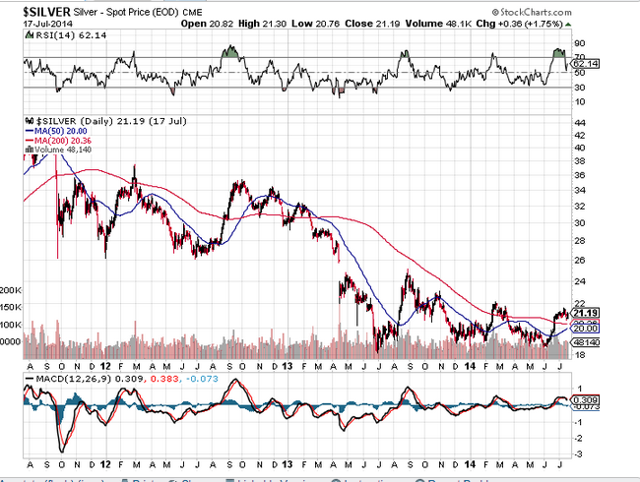 Silver is often referred to as the poor man's gold because of its price; trading at just $21 an ounce means that the everyman can afford to invest with just little money required. Gold, on the other hand, trades at $1,300, making it less affordable to invest. Gold and silver miners, however, are another way investors can gain exposure to a rising gold/silver price and protect against inflation.
If investors think silver is due for a rebound like I do, then take a hard look at a few silver mining companies (NYSEARCA:SIL), which provide leverage to a rising silver price.
Why Silver Over Gold?
Silver is a smaller market and much more volatile than gold; however, I would argue that there is far more upside in the price of silver than gold for several reasons.
First, the primary demand for gold is jewelry. Silver, however, is referred to as "the indispensable metal" because of all its uses. Silver has unique properties of strength, malleability, reflectivity, and conductivity, making it an "irreplaceable force in the global market", according to The Silver Institute.
The demand for silver comes with numerous sources, besides investment demand. Silver is used in photography, medicine, automobiles, solar panels, batteries, etc. In fact, total physical demand for silver last year was a record 1.08 billion ounces, with the largest component of the demand coming from industrial applications (586.6 million ounces), according to the Silver Institute.
Next, the historical gold to silver ratio is 16:1, but the current gold to silver ratio sits above 63. Additionally, silver production is only 9 times greater than gold production - yet it costs 63 times more. If we put the gold to silver ratio of 30:1, instead of the current ratio of 63, then silver would be worth $43.30 at current prices.
Finally, silver miners are struggling to earn a profit at $20 silver. If the price of silver were to drop below the cost of production - which currently stands between $18-$20 an ounce, depending on the producer - then many mines would cease operations, thus limiting supply. I believe this puts a floor on the silver price, and I expect higher prices over the long-term as a result.
For these reasons and more, I am far more bullish on silver than I am on gold. I believe the price could climb as high as $30 an ounce by the end of 2014 and in the coming years, I think a price target of $50 is likely, due to the strong industrial and investment demand and no new significant supply from operating mines. If inflation also starts to pick up, we might look back at these price targets and consider them far too conservative.
Why Invest in The Miners?
Silver mining stocks are similar to gold miners, in the sense that they provide leverage to a rising price of the metal they produce. If silver were to hit my price targets, I have no doubt that the mining companies would outperform the physical meta by a great deal.
We can look back at 2011 for one example. Silver has a spectacular run during 2010-11, more than doubling in price. However, several small-cap silver miners did far better: Great Panther Silver (NYSEMKT:GPL) returned close to 500%, Endeavor Silver (NYSE:EXK) returned more than 200%, while Alexco Resources (NYSEMKT:AXU) returned around the same.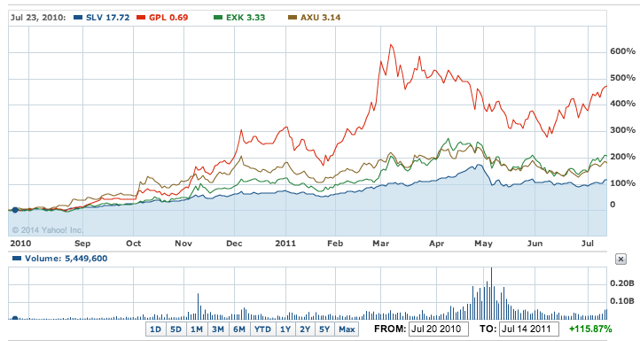 Click to enlarge
If silver were to double in price from the current levels of $21 an ounce, we could see similar performances from some of these miners.
Here are my top 3 miners to gain leverage to a rising silver price:
#3 Couer Mining Inc. (NYSE:CDE)
Couer Mining is the largest company on this list, but that doesn't necessarily mean the stock has the least potential. With a current share price of $8.77 and 103 million shares outstanding, the company has a market cap of $907 million.
Couer's main assets include:
- The Kensington gold mine in Alaska, which is expected to produce more than 105,000 ounces of gold in 2014.
-The Rochester mine in Nevada, which should produce 4.1-4.4 million silver ounces and 28,000 to 31,000 gold ounces in 2014.
- The Palmarejo mine in Mexico, producing 6.7-7.2 million silver ounces and 87,000 to 95,000 gold ounces in 2014.
- The San Barolome mine in Bolivia, producing 5.7 to 6 million silver ounces in 2014.
- The exciting La Preciosa project in Mexico, which contains a whopping 125 million silver ounces measured and indicated, and 32 million ounces inferred.
Couer has a massive resource base of silver, with 386 million ounces in the measured and indicated categories, and another 96.4 million inferred. Additionally, the company has a nice mix of gold, with 2.46 million gold ounces measured and indicated, and 1.05 million inferred.
The reason why I like Couer so much going forward is the company's sensitivity to a rising silver price; the company has estimated a 53% increase in the company's net present value with just a 10% higher silver price. This is higher than the next-highest estimate, for Hecla Mining (NYSE:HL) at 38%. The company also trades at a discount to its peers, at 7.8X enterprise value (NYSE:EV) to EBITDA, compared to 12.6X for senior producers and 9.5X for intermediate producers.
Finally, the company is well capitalized, with $318 million cash and equivalents and $464 million in total debt ($145 million net debt)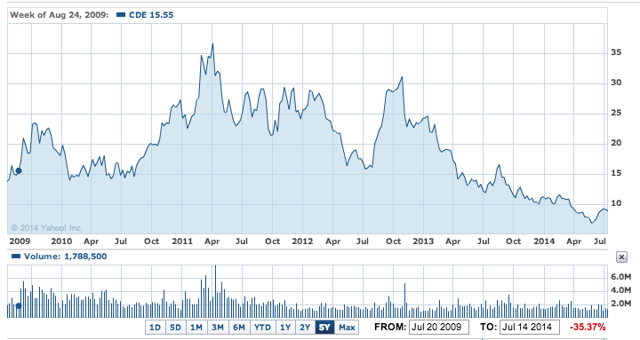 Click to enlarge
You'll see that the stock price has struggled lately - but with a silver price of $30 an ounce, I see no reason why Couer wouldn't outperform the silver price by a great margin. I have a $20 target on shares, representing upside of at least 100%.
#2 Endeavor Silver
The aforementioned Endeavor Silver provided investors with great leverage to the silver price on the previous leg up in 2011, returning more than 200% in that time period. I believe shares could rise even further on the next leg up as the company has come a long way since 2011.
With 101.4 million shares outstanding and a current share price of $6, the company has a market cap of $604 million. The 52-week range of the stock is $3.12 - $6.28.
So far this year, Endeavor has been a great performer, returning more than 42%, which is more than the price of physical silver and the silver miners index: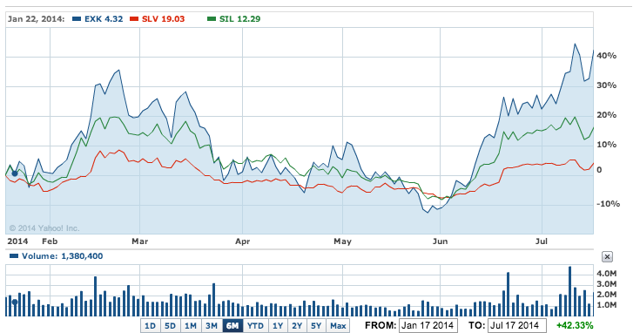 Click to enlargeEndeavor owns and operates three high-grade underground silver mines in Mexico - Guanacevi, Bolanitos and El Cubo - which produced 6.8 million ounces of silver in 2013.
One of the reasons I like Endeavor Silver as a long-term pick is the company's rapid growth. Currently, Endeavor has a reserve and resource base of 191 million silver equivalent ounces - this is more than double the 2010 figure of 90 million. It's hard to believe it, but just 10 years ago, the company only had 5.4 million silver equivalent ounces to speak of.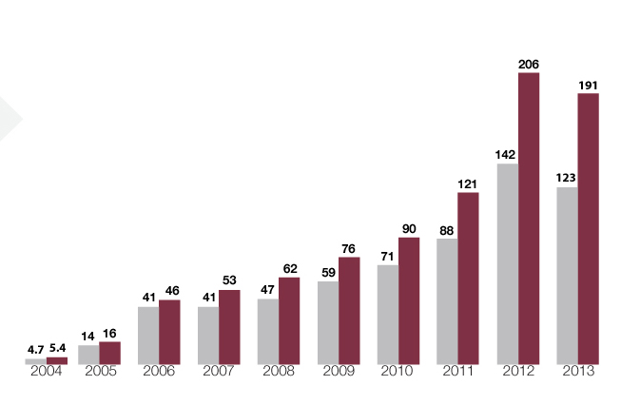 Click to enlarge
Rapid growth has also been seen in the company's production: in 2013, Endeavor produced 11.3 silver equivalent ounces, almost double 2012's total of 6.4 million. From 2004 to 2013, the company has grown its production annually at an astonishing rate of 45%.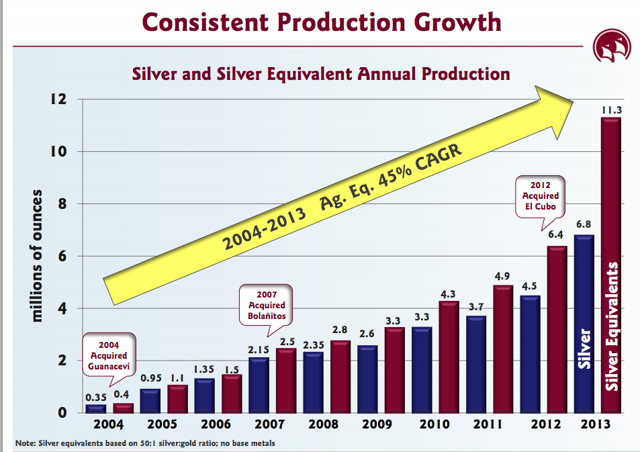 Click to enlargeWhat if you had been an investor in Endeavor Silver when the company acquired the Guanacevi mine, and held shares up to this day? Well, you would have been rewarded handsomely: since early 2004, shares of Endeavor Silver are up 870%; at the height of the silver rally in 2011, shares were up 1,288%!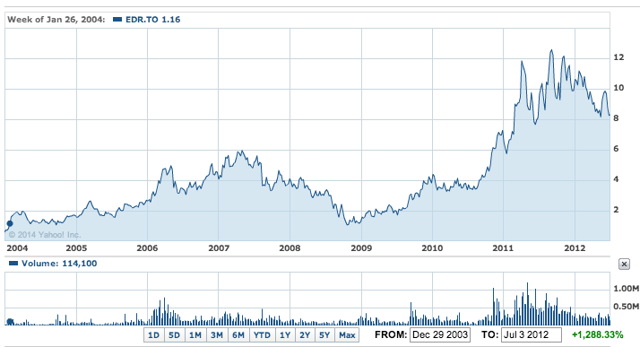 Click to enlarge
I think the best is yet to come for Endeavor Silver. The company holds outstanding leverage to a rising silver price, with just a $1 change in silver and a $60 change in gold resulting in a $11.4 million annual gain in EBITDA, according to the company.
For the first quarter of 2014, the company reported low all-in sustaining costs of just $12.15 per ounce; 2014 guidance for Endeavor is 10.4 to 11 million silver equivalent ounces at $19 all-in sustaining costs, but it looks like the company should be able to beat these estimates. If silver were to increase 50% in price from current levels, I see no reason why Endeavor can't at least double in price from $6 a share, giving investors at least 2x leverage to the price of silver.
#1 Great Panther Silver
Great Panther Silver continues to be my favorite silver stock for a number of reasons.
First, the stock is by far the smallest on this list, as the company carries a market cap of just $172 million. For this reason alone, I think Great Panther has bigger potential upside than most producing silver miners. This can be seen so far in 2014, where Great Panther has returned 51.16% - better than Endeavor's performance of 41%. However, you can also make the case that Great Panther carries the most risk.
You'll see in the chart above that during run-ups in the silver price, Great Panther outperforms. In late 2010, for example, Great Panther traded at just $.70 a share at one point. Once silver rocketed higher from $15 to $40 an ounce, however, shares followed suit, touching $4.55. That's a spectacular gain in such a short period of time.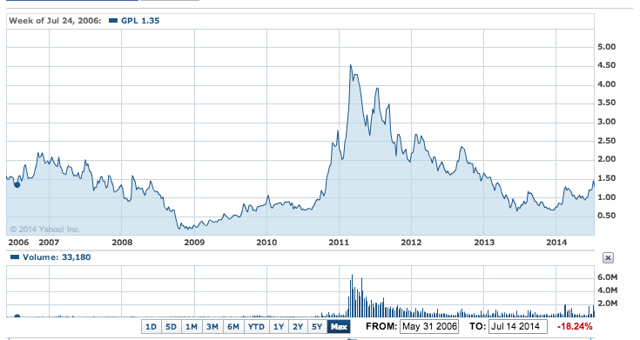 Click to enlarge
Here are some facts about Great Panther, which I think reduce the company's overall risk:
- The company is a primary silver producer, with 58% of its production from silver and 32% from gold. The company owns two 100% owned mines in Mexico - Topia and Guanajuato.
- I like Great Panther because of the company's growth potential: the company owns the exciting San Ignacio project, which carries an indicated resource base of 1.245 million silver equivalent ounces at 165 g/t silver, and 5.645 million in the inferred category. the company also owns the El Horcon project, containing an initial inferred resource of 2.5 million silver equivalent ounces. Big exploration potential remains at both projects.
- Like Endeavor, Great Panther is growing fast: in 2011, the company produced 2.2 million silver ounces, but this number is expected to climb to 3.1-3.2 million this year, representing a compound annual growth rate of 12.5%.
- The company recorded high all-in sustaining costs in Q1 2014, at $27.66 an ounce; however, the company is working to reduce operating costs and overheads to reduce costs in the coming quarters. In addition, initial production from San Ignacio is expected shortly. For 2014, the company forecasts all-in costs in the $20 range.
- Great Panther has a solid balance sheet, with $21.7 million cash and $36.9 million working capital.
I'm expecting big things from Great Panther in the coming quarters, and if the silver price rises, I think investors are in for some pretty big gains. I also think Great Panther is a solid takeover target for a larger silver mining company; perhaps the two previous company's mentioned would be a good fit.
In conclusion, investors bullish on the price of silver should strongly consider positions in these silver mining stocks because of the leverage they provide.
Disclosure: The author is long SLW, EXK. The author wrote this article themselves, and it expresses their own opinions. The author is not receiving compensation for it (other than from Seeking Alpha). The author has no business relationship with any company whose stock is mentioned in this article.
Editor's Note: This article covers one or more stocks trading at less than $1 per share and/or with less than a $100 million market cap. Please be aware of the risks associated with these stocks.